Since everyone seems to be looking for something to do on New Year's Eve, Lindsay and Nick thought of giving their friends something big to celebrate with — their wedding. Bursting with sparks from gold glitters and fervor from the deep red colors, their celebration was elegant and relaxing. Not to mention fun, especially when they dressed up Bogey, their dog, on a tux with a gold tie. Ah, such a cutie! Let the sparks flourish to infinity, Lindsay and Nick!
Click image to enlarge
1

Like. Click to Vote
>
Our Story
Nick and I met in 2003, sophomores in college. He attended Carroll College in Waukesha, I went to UW Milwaukee. A mutual friend introduced us.
The Proposal
Nick proposed to me on Dec. 14, 2013. We decided to to get married on December 31, 2014. New Years Eve! Everyone seems to be looking for "something to do" on New Years. We hoped to provide our guests with a fun and relaxing evening where they could get dressed up and celebrate!
The Theme
New Years Eve! Elegant but fun! A celebration of love for not only Nick and I, but also our sweet daughter Nya. A wonderful way to begin the New Year with our closest family and friends.
Wedding Outfit Inspiration
Elegant but fun New Years Eve of champagne, shades of gold, cream, and black.
I sent homemade valentines to my bridesmaids asking "Will you be my bridesmaid?" I told them they could pick any dress that was in a "shade of gold". Knowing that they all have amazing taste I was confident that they would all look beautiful, and they did!
Even our dog Bogey was dressed for the occasion! One of my bridesmaids mother was kind enough not only to bring him to Tundra Lodge for pictures, she also made him a "tux" with a white collar shirt and a gold tie along with white shirt cuffs for his paws.
Our Do-It-Yourself (DIY) Projects
We used a cream colored bench as our "guestbook" and asked our guest to sign it with gold and black markers, which we will use in the entrance way of our cottage as a wonderful keepsake. We made a large monogramed gold glittered "R" which made a neat statement on the mantle of the fireplace in our reception area Instead of favors for our guest we set up a memorial table, with WW2 pictures of Nick and my grandfathers, as well as my grandfather's Marine jacket. We had brochures from The Honor Flight set out and we donated what we would have spent on favors to the Honor Flight in recognition of our grandfather's service to our country.
Highlights from the Ceremony and the Reception
Our ceremony was a 5:00pm at Tundra. Buds and Bloom did a wonderful job of transforming a portion of the ball room into our ceremony site. With beautiful up lighting, draped walls, and huge white trees embellished with crystals and tea lights, lanterns running up the isles, and our DJ, JRock Entertainment played songs that ment a lot to us. Nick carried our daughter Nya up the isle which caused many of our guests to tear up a bit.
Our main goal was to share our day with the people we loved most. My sister was my matron of honor, and Nicks twin brother was his best man. His sister was a bridesmaid, and my brother in law was a groomsman. My 3 adorable nephews who are a very big part of our lives were are ringbearers. Micah (9) Jonah(6) and Lucah(3) . Micah also read a gospel reading during the ceremony.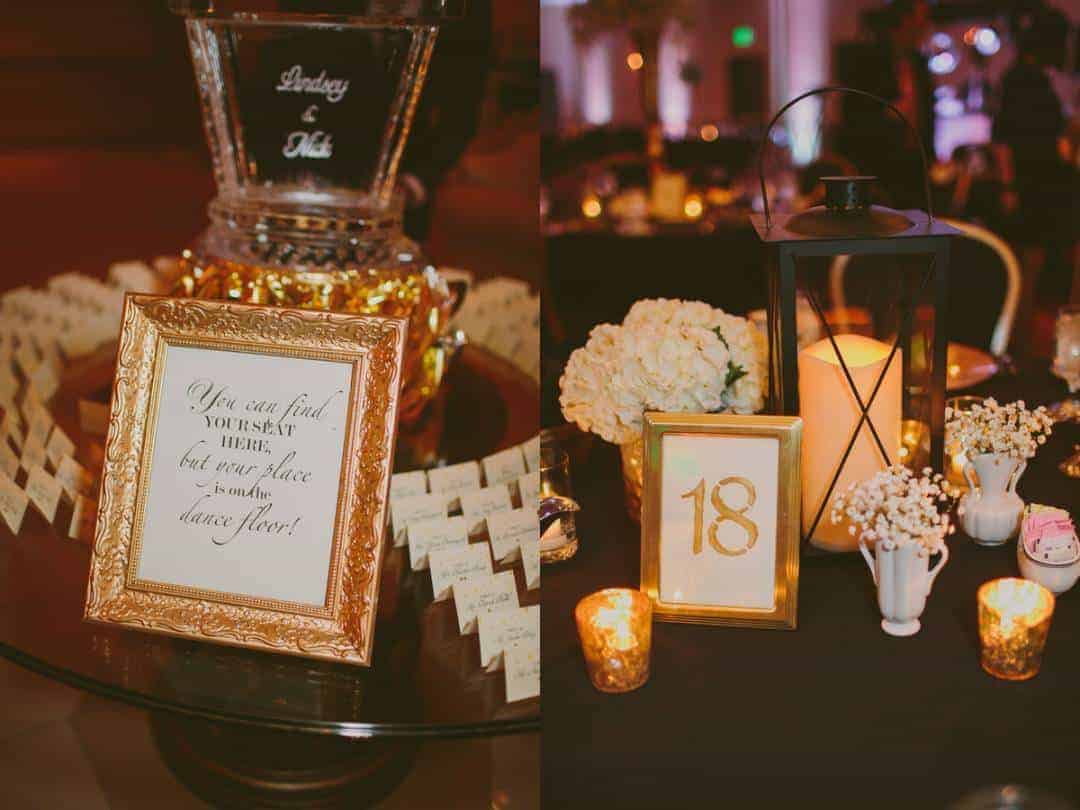 All of our bridesmaids and groomsmen are long time close friends, some even back from grade school. Even my wedding planner (Events to a T) was a good friend from college.
We had a beautiful monogrammed ice sculpture made by Krystal Kear Ice Sculptures, in the center of our reception. Our guests were served yummy appetizers, with our signature drinks, Brides: Midnight Kiss was served with a sparkling pom stir stick, Grooms: Old fashioned (good old Wisconsin drink and Spotted Cow beer brewed in Wisconsin).
Our first dance was to the song: "What are you doing New Years Eve" Our good friend and groomsman, Chris Saladin owner of Pereqnium Entertainment Group set up the video cameras for the ceremony and produced an spectacular video of our lives.
The count down to New Years Eve: We served pizza and appetizers at 11pm, and set out a fun display of hats, horn, beads, and noise makers for our guest as we got ready to ring in the New Year. We set up a New Years video countdown on the dance floor, and the guests gathered in a circle on the dance floor with Nick and I in the center. We all counted down the last seconds together..10, 9, 8, …and as the confetti began to fall from the air, the noisemakers clanged, we celebrated the New Year in the best way possible as husband and wife surrounded by our family and friends.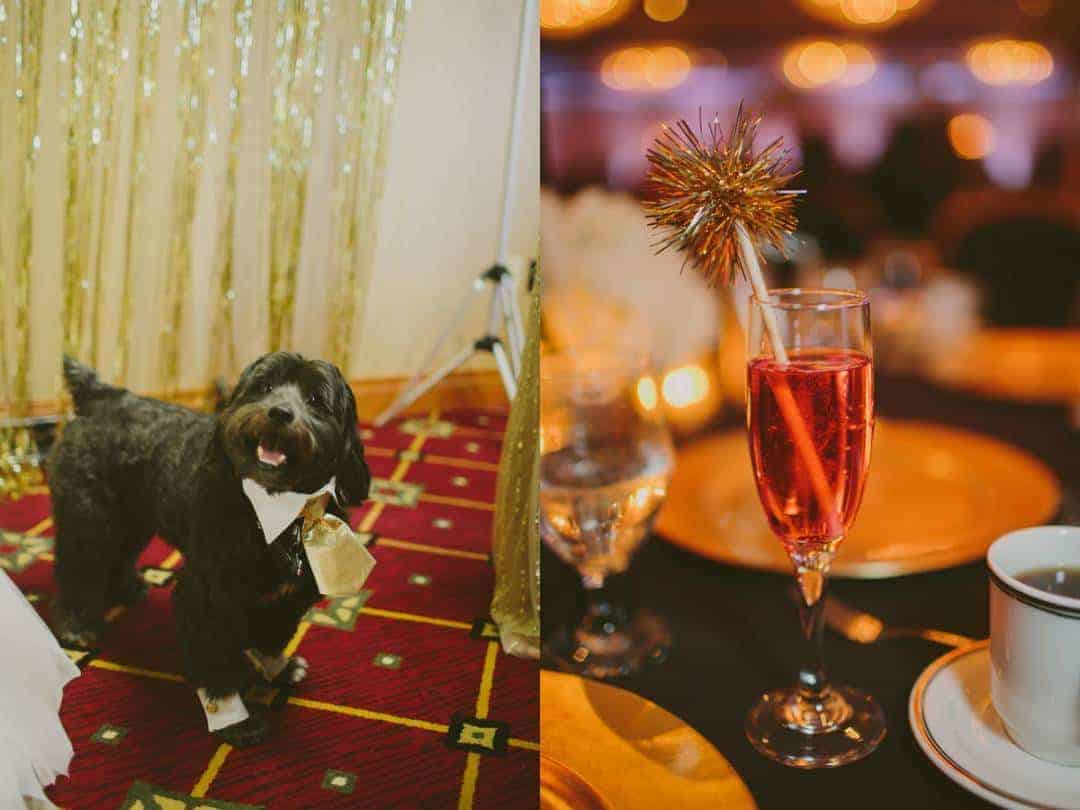 Favorite Part of the Day
Nick and I chose to do a "first look" We hand wrote our vows to each other and read them seperatley before seeing each other. Sharing our special thoughts and promises to each oher privatley ment so very much. We also wanted to share the first few moments with our daughter Nya and of course our dog Bogey. I think our photographer Shaunea Teske did an amazing job of capturing that moment.
A Memorable Moment
We were blessed to share our ceremony with over 200 family and friends! Each of our guests were invited because they played an important part in our lives. Looking at all of them while Nick, our daughter Nya, and I lit our unity candle and listening to our friend sing "Somewhere Over the Rainbow" was so special. Our dream really did come true.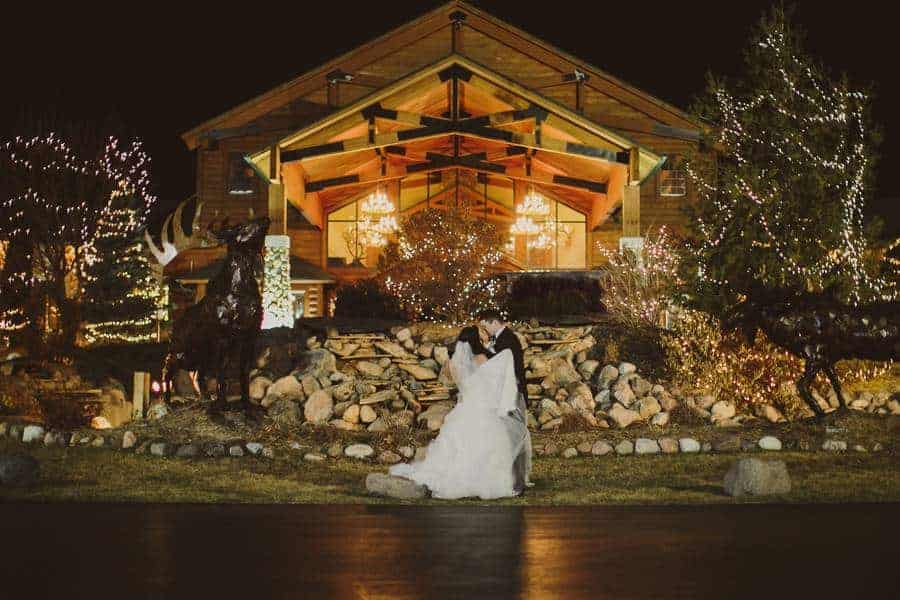 VENDORS
Photographer:  Shaunae Teske Photography
Cake Designer: Bernie's Bake Shop
Floral Designer: Buds N Bloom Design Studio
Event Planner: Events to a T
DJ: JRock Entertainment
Tuxedo and Mens Attire: Men's Wearhouse
Hair Stylist: Mint Salon
Cinema and Video: Perseqnium Entertainment Group
Dress Store: Tie the Knot Bridal Boutique
Reception Venue: Tundra Lodge Resort