Casey and Danielle's wedding day was years in the making and everything was worth it! They finally had it and together they will be enjoying the life as a married couple. Their wedding was elegant and it pictured their bravery as they incorporated their military life. It had a significant touch because of the "Sword Arch" that represented safety as they face the next chapter of their lives. Let us be with them as we happily witness their love and honor for each other by looking at these beautiful photos taken by Sarah Bradshaw Photography.
Click image to enlarge
Like. Click to Vote
>
Extra Special Details
The Bride's Dress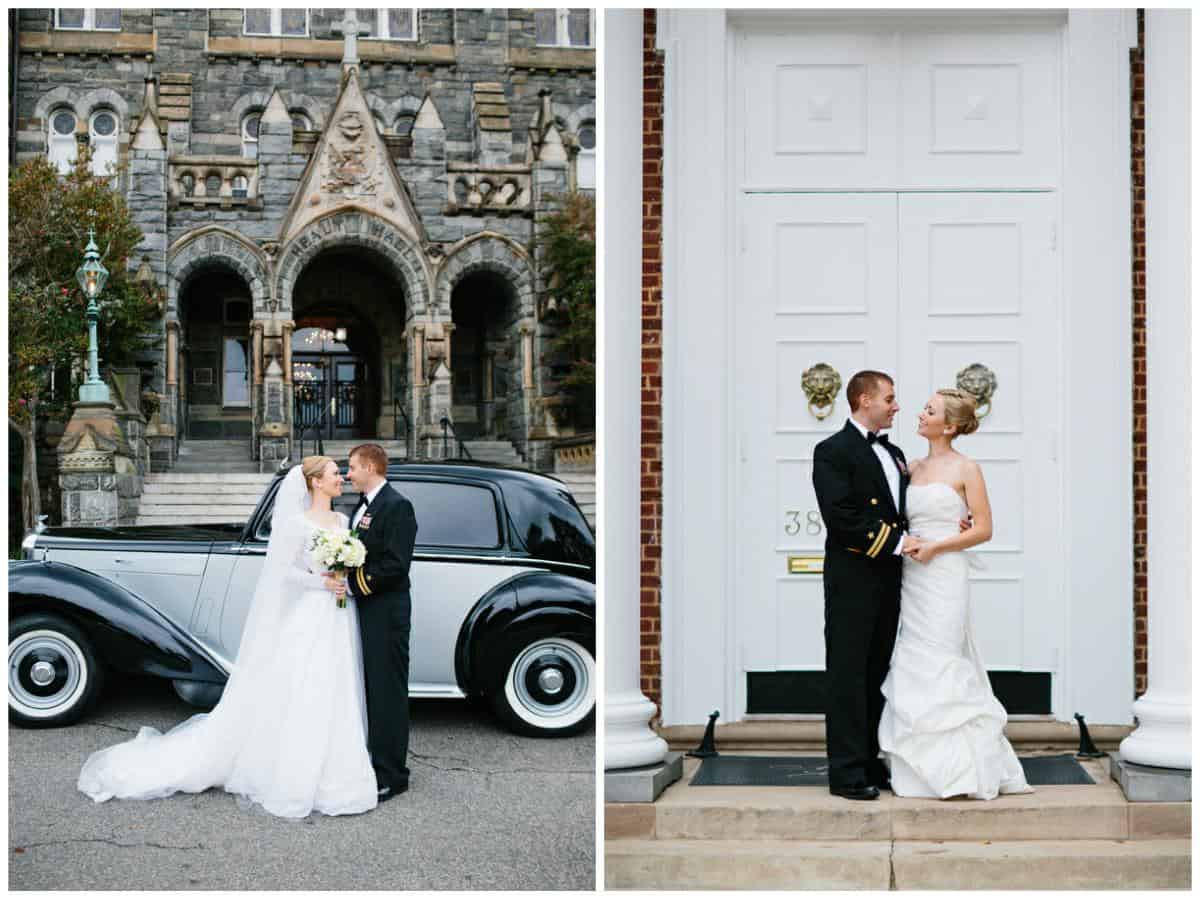 She wore an antique dress that her mother reconstructed and a family heirloom veil.  Her mother's family is from France, so they do not get to see them often, but they sent them a package about 6 months before the wedding and when they opened it, they saw the veil and tulle for the dress and a little black and white photo album of the brides that wore the veil before her, dating back to the early 1900s. She was so touched but she was also a bit concerned because she had already purchased her wedding dress, which happened to be a modern, strapless style dress that certainly would not match an antique veil, so her mother started reconstructing the vintage dress with the tulle they sent and she wore it for their ceremony and changed into her strapless wedding dress for the reception. She felt like the luckiest bride, able to wear the best of both worlds all in the same day!
The First Look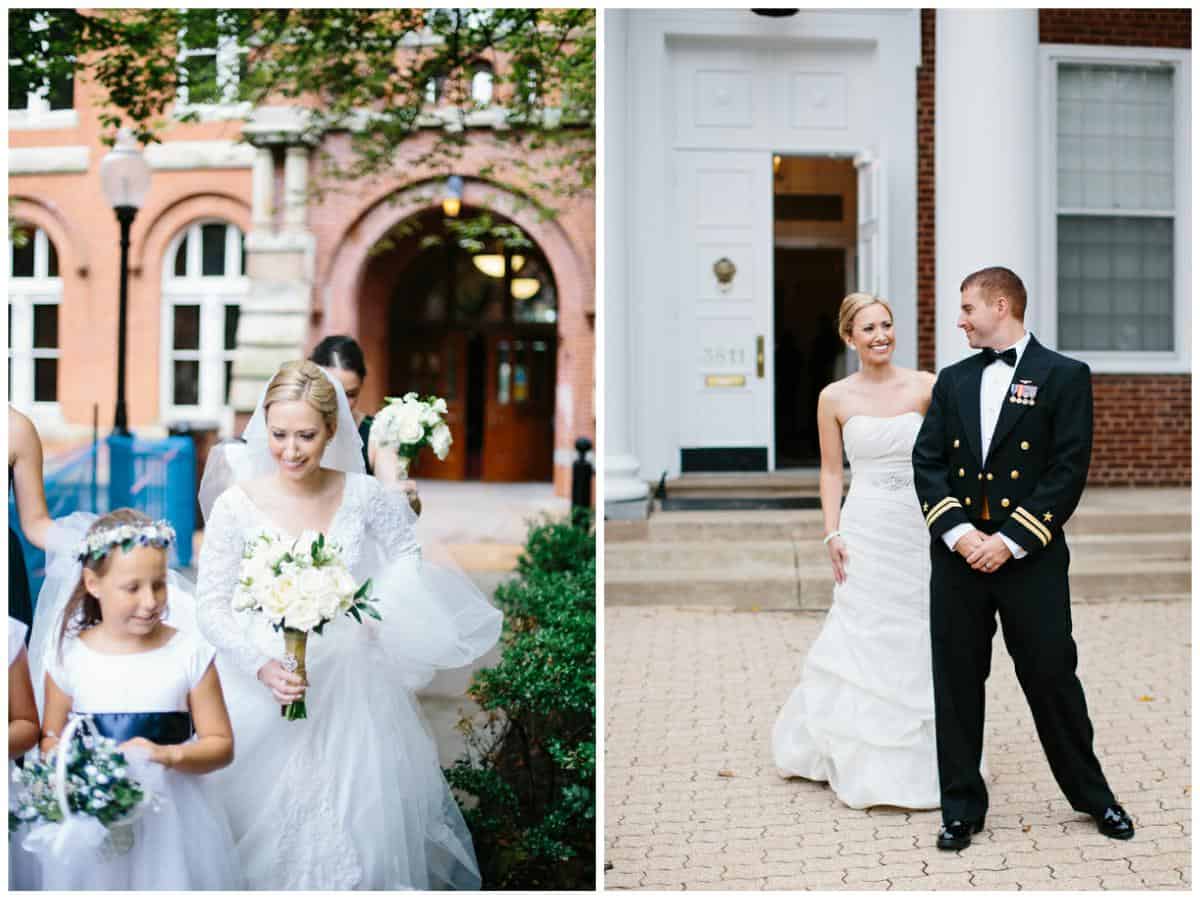 She also wanted to do a first look with her husband but he really wanted the first time he saw her as his bride to be as she walked down the aisle, so they compromised and had a "first look" in her second gown, at their reception before they were formally announced into the ballroom, which offered them another "best of both world's" moment!
The Fiancé
He was deployed for most of the wedding planning, so it was important to her that she try to keep him included in at least a few areas of the wedding planning. He did help choose the date and location before he shipped out but he also chose their menu. Their caterer was great in pushing their tasting to just a few short weeks before the wedding so that he could attend and join the experience. He is quite the food and wine enthusiast so he was very excited for the tasting, so much so that he chose their entire menu! She was so happy that he was able to play a large role in the planning process from abroad, so, this was another extra special moment for both of them!
The Sword Arch Moments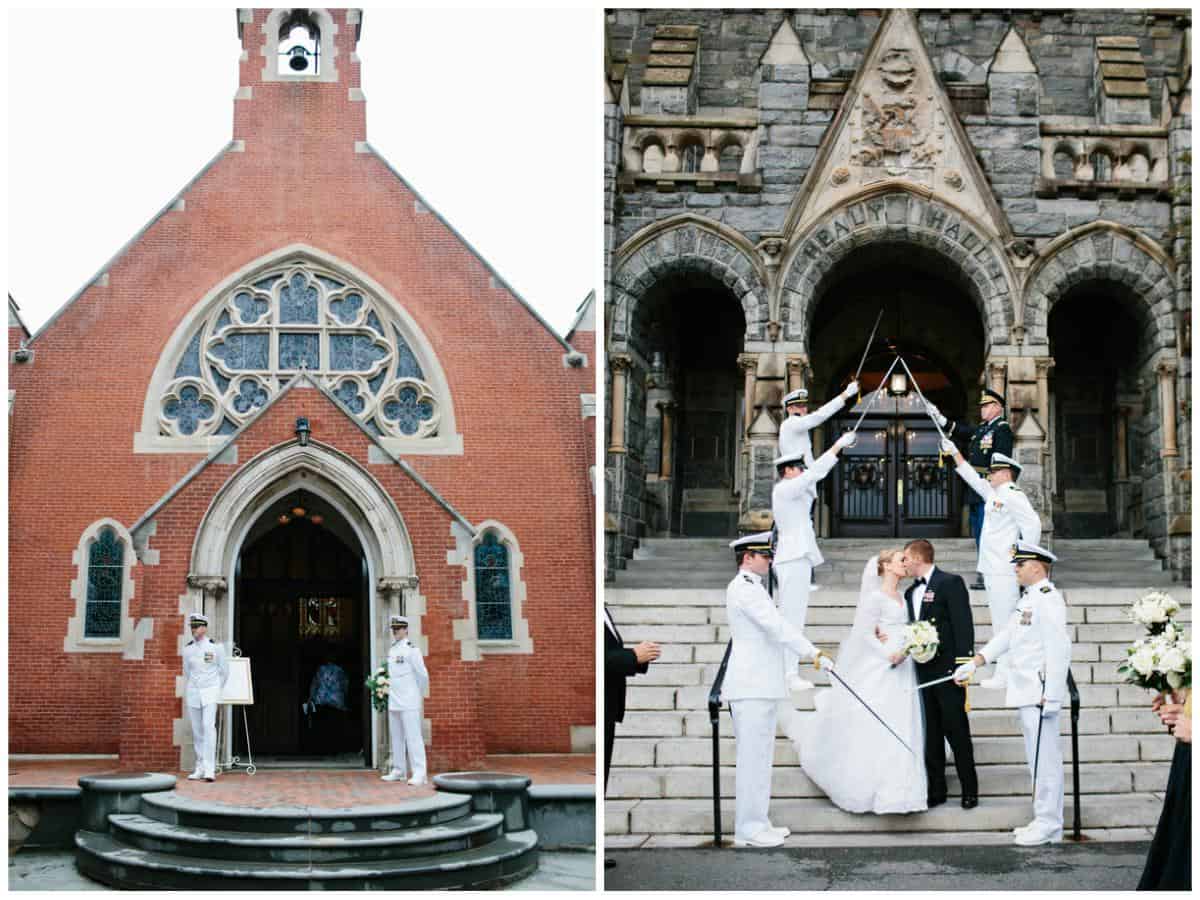 The arch represents the safe passage into marriage and as the couple passes through each honor guard block one of the guards will say "The price of passage is a kiss". Leading the honor guard was the bride's father, a symbolic means of giving his daughter away and providing a safe passage for her into married life. As the couple reaches the last block, the same phrase for passage is announced and as the couple passes through the block the guard on the bride's side will give her a gentle "swat" of the saber on the derrière, welcoming her into the life of the Navy boldly announcing "Welcome to the Navy!". This was certainly a highlight of their wedding!
Tips from the Bride
♥ I was determined to stay within our budget of $30,000, but I also wanted to get the best value for our money, and wanted to allocate our funds and focus in areas that I felt were most important. When I first began planning our wedding, I asked myself what I remembered most about weddings that I have attended and some things that stuck out to me as being memorable are the food (because everyone remembers when the food wasn't so great!) and the ease (or difficulty) that I had to get to and from the ceremony, reception venue, and home. So, for us, we put more effort (and expense) into our food, and providing comfortable transportation from the hotel to the chapel and reception venue, and back to the hotel at the end of the evening. I also attended a wedding about 7 years ago where the bride had written personalized notes to each guest! This really touched me and made me feel welcomed and I never forgot it! I did not have time to write 125 personalized notes to each guest, but we tried to make the evening welcoming to everyone by having personalized touches throughout the evening with pictures of us with our guests throughout our lives at the rehearsal dinner, and a thank you card at each table setting at the reception and my husband and I made sure we made it to each table to personally thank and hug each guest that attended and helped us celebrate our big day!
♥ There were also items that I could barely remember from past weddings that I attended like the DJ, the flowers, the cake, the favors, etc. so these were areas that I did not put much time into and where I tried to save money. Something interesting that came out of this was the amazing idea that unfolded with our "cakes." I am not a huge cake person as it is and I've seen a great deal of uneaten cake left at weddings that I knew I did not want to spend a ton of money on ours. So, we ended up using a 3-tiered faux cake (also known as a display cake) as our main eye-catching piece and decided that we'd just have a smaller cake that we'd use to cut into at our reception. This cake slowly evolved into a "grooms" cake and a friend of ours was talented enough to create a cake designed exactly like the aircraft carrier my husband had been deployed on. It was such a huge hit! Everyone kept coming up to take pictures of the cake and this was the one that we ultimately cut into. There was a little bit of an extra surprise as we cut into it, she had made the cake batter the colors of his squadron, which we really got a kick out of! After the cake cutting, the staff took both cakes to the back (to what most would suspect to cut them) but instead, we had ordered 3 different flavor sheet cakes (a white chocolate mousse, a carrot and a vanilla with strawberry cream cake) and our guests enjoyed choosing the flavor of their choice and many guests enjoyed more than one slice since there was so much cake to go around! In total, we spent about $250 on all of our cakes which ended up being the deal (and the unsuspected hit!) of the night! This was something that we would definitely not have thought of, but our caterer suggested the idea and told us one, that the quality of a simple sheet cake is great! Two, it is easy for the staff to quickly cut and serve our guests (no waiting for the big fancy tiered cake to be disassembled and cut!). And three, and most importantly to us, that it is relatively inexpensive, so we were sold!
♥ One last piece of advice that I would like to pass on to other brides that really helped me stay focused as I planned our wedding was shared with me by our wedding coordinator. I began feeling a bit overwhelmed by all the options that I had as we planned our wedding and Pinterest was becoming my worst enemy. I would pin new ideas daily and kept adding more details to the wedding. Our coordinator kept reminding me of the 3 words that I first used to describe the wedding that I wanted: Romantic, Elegant, and Timeless. Whenever I had a new idea, she would ask me, "is this adding romance to your wedding? Is it adding elegance? Is it timeless?" One of my biggest fears was that I would pin something that seemed like a good idea at the time and then in 10 or 20 years when I would be looking through our pictures that our wedding would look overdone or too "trendy." I wanted to look back in 20+ years and the pictures would still have a timeless, romantic elegance to them. So, this little bit of advice helps me stay focus when it came to choosing everything from colors and flowers to my bridesmaid's dresses and favors!
Money Matters
$20,000 – $45,000
Vendors
Photographer:  Sarah Bradshaw Photography
Band: Big Ray and the Kool Kats
Ceremony Location: Dahlgren Chapel – Georgetown University
Makeup Artist: Glamour by Gigi
Invitation Designer: Hawthorne House
Bridesmaid Dresses: J Crew
Cinema and Video: Lovell Productions
Caterer: McLean Gardens
Floral Designer: The Flower Box
Caterer: Washington Parties