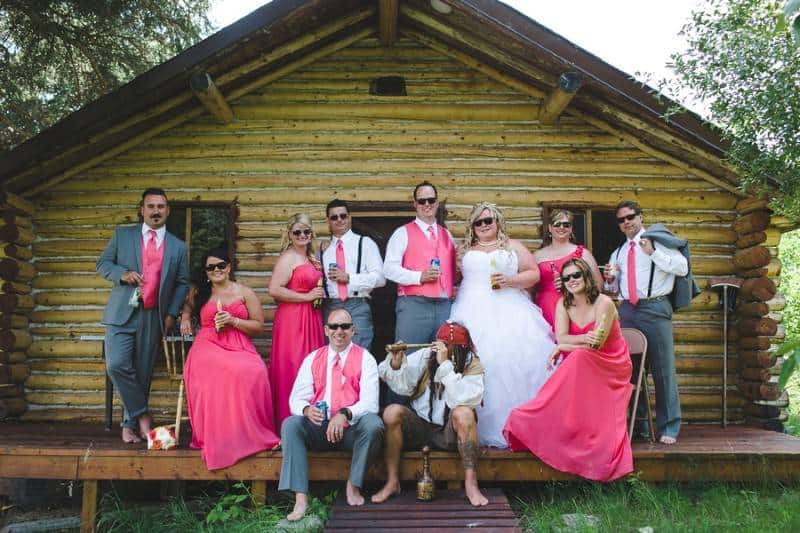 Have you ever thought about getting Captain Jack Sparrow to officiate your wedding? Or how about getting a food truck for your reception instead of a regular buffet set up? Well, Missy & Brian sure did! And it really made for a very interesting wedding to feature on this last day of August. And that's not all, they even had fire dancing throughout their reception. They definitely planned to let their guests have a really fun & unique experience on this rare & once in a lifetime milestone of their lives.
What is your story as a couple, how did you meet & fall in love?
Brian and I met through his friend and best man Neil. Brian and Neil used to work together and when Neil moved back to Crane Lake Brian came to visit and that is how we met.
What was the best advice you received when you were planning your wedding?
When you imagined your wedding as a child or young adult what did you want, go with that 🙂
What makes the two of you a perfect match?
We both have a shared love of fine foods and travel 🙂
What inspired your wedding decor? Why did you choose the things that you did?
I wanted to keep it simple and rustic to go with a farm/lake wedding. I love drinking out of mason jars so I used them for my decor.
What inspired the wedding day outfits?
My love for coral 🙂
Do you have advice for couples still in the planning process?
It will all come together and hire a planner just to do the set up and take down! It makes your day so much less stressful:)
What was your favorite part of the day?
Sitting on the pontoon boat heading for wedding pictures across the lake that we took at a random cabin in the woods.
What were some challenges you faced planning your wedding & what would you have done differently to avoid them?
Challenges; I would have to say myself. I am a procrastinator and indecisive so it really made for an interesting planning experience. I would avoid caring what other people want.
What was the wedding budget?
Our budget was 10,000 and we spent about 15,000.
What were the highlights from the ceremony & reception?
Ceremony highlight would be my two dogs as ring bearers and my JP was a genuine pirate. Reception would have to be the food truck 🙂
Where did you save the most money?
Venue, we had it all on my parents acreage.
Where did you go on your honeymoon?
We leave for Maui in 8 sleeps! 🙂
Was there a theme for the ceremony and reception?
Yes, Crane Lake Shinanigians.
What are you most excited about for the future?
Moving into our new home next week and starting our lives together.
How many guests were invited in your wedding and what was the final guest count?
275 were invited 175 were supposed to be coming and 200 showed up 🙂
Was it difficult to narrow down your guest list?
Yes, but having saved costs other places we didn't have to narrow it down tooo much.
What would you say, the overall story for this album?
It was a one of a kind wedding 🙂 Filled with pirates and fire dancing 🙂
Vendors
Photographer:  Davin G Photography
Jewelry: Al-Brite Jewelers
Caterer: Bushmen's Smokehouse
Dress Designer: Jacqueline Designs
Bridesmaid Dresses: Pretty Maids