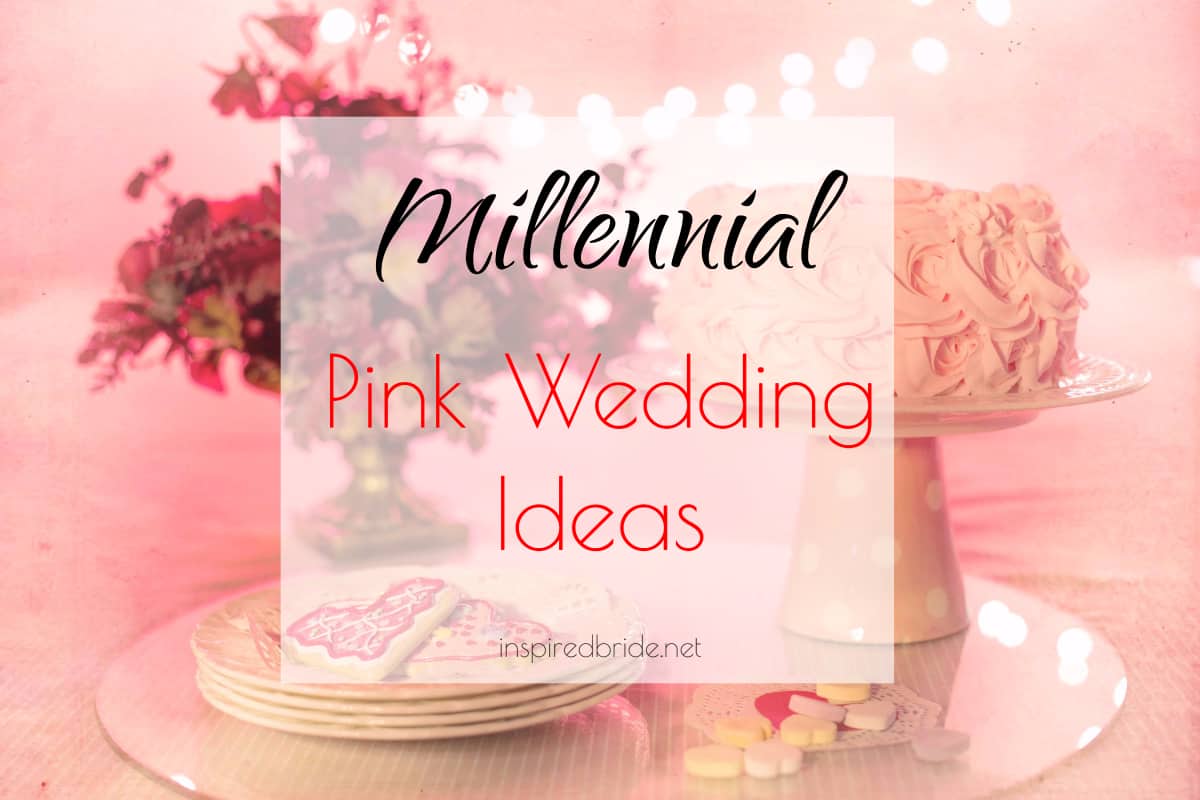 Millennial pink, dusty rose, Tumblr pink – you may have heard of these names or you may not even know this shade of pink had a specific title, but I'm willing to bet you've seen it everywhere.
From fashion to home decor, this pink spectrum has colored the world with its sanguin paintbrush and stolen the hearts of young and old alike. But as its name suggests, the millennial group is especially fond of its mix of blush and bubblegum.
So it's no surprise that couples are incorporating millennial pink into their weddings. Whether it's a subtle pop in the bridal bouquet or a large backdrop splashed with pale dogwood and rose quartz (both shades of MP), a wedding can really benefit from this cool color palette.
Millennial pink goes surprisingly well with a variety of other colors: shades of green (cactus, jungle, lime), gold, white, black, electric blue, all kinds of pastels, and even something as dynamic (and perhaps a little complex) as holographic, which admittedly is more of a print, but it does create a stunning array of colors.
To incorporate millennial pink into big items, think plush velvet couches, backdrops (dessert bar, photo set, lounge area, etc.), tablecloths, uplighting, flower arches, and ribbons wrapped around chairs like a millennial pink maypole.
It's insanely easy to infuse your wedding with this sugary sweet shade. All of the details can be "painted" in millennial pink or you can limit it to just a few things for a pop of color and one that accents your main colors. Table runners, dinnerware, candle holders, bouquets of roses and peonies, invitations and other stationery, signage, escort cards, and guest favors are all details you can add a bit or a lot of millennial pink to.
Even your edibles and cocktails can be adorned with pink. Serve guests something refreshing like a Painted Lady cocktail and pink champagne cake or a rosewater and raspberry sangria and strawberry lemonade bars.
And how about the blushing bride? You can get as dolled up in millennial pink as you'd like or keep it on the down low with a few pink items. You could wear a blush pink tulle skirt and crop top or a wedding gown in full pink; a traditional white gown paired with millennial pink heels; lipstick in your chosen pink shade and nails to match; dab on a pretty in pink blush and wear white and pink flowers in your hair.
Don't underestimate the power of pink! Especially millennial pink. From food and flowers to the dusty rose lipstick left on the rim of your champagne glass, all shades of millennial pink will look stunning in your wedding.