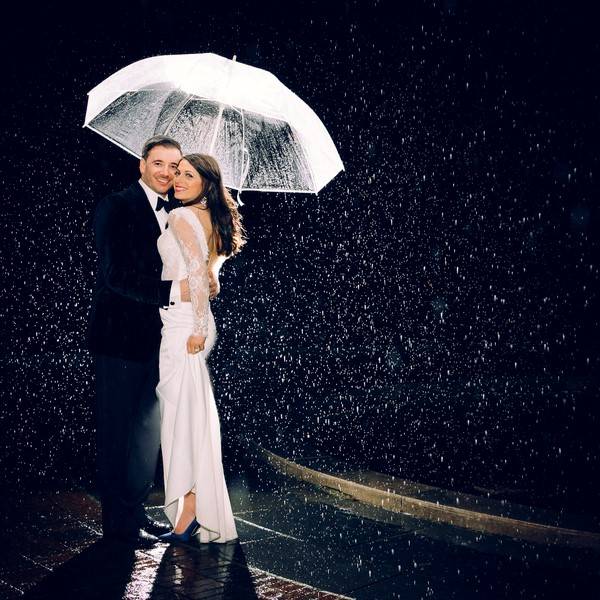 Marisa & Robert looked perfectly elegant together during their wedding. Marisa was wearing a gorgeous long-sleeved wedding gown with lace details & sexy low back paired up with Robert's amazing velvet jacket by Ferragamo. They were a vision of sophisticated elegance! They had also chosen one of the most beautiful spaces in New York City, The Palm House, as their wedding venue. We are also completely hyped with the shots Sarah Tew shared of the newlyweds out in the pouring rain, holding a big clear umbrella over their heads & looking absolutely stunning together!
What inspired the wedding day outfits?
As far as the inspiration for my dress, I wanted something unique with a vintage feel. I knew I wanted something with an open back, preferably with sleeves (I get cold easily) and lace. When I came across an image of the dress I chose I knew it had to find it. Wasn't easy to figure out who designed it but once I did, I found the 1 place in the city who carried the Israeli designer and I tried it on and fell in love. It felt old world, elegant, and very true to my style. For Rob's outfit I knew exactly what I wanted him to wear. I used to be a menswear stylist and I love to pick out Rob's attire for special occasions. Our wedding was easy because he had this gorgeous Ferragamo velvet navy blazer that he loves and doesn't get to wear too often, so it was that with black tuxedo pants, a white tuxedo shirt (no pleats) and a navy/black silk bow tie to tie it all in. It was perfect and he looked so sharp!! As far as the bridal party and groomsmen, my bridesmaids wore navy chiffon dresses in a different variation of the same dress and the men wore tuxedos. Simple and elegant.
Was there any Do it Yourself (DIY) projects? If so, can you describe them in detail?
The only DIY was the table assignment/favors. I ordered succulent plants and small pails to plant them. After each were planted, I took a plastic holder and attached a card with our guests name and table number. It was a mess but fun and I was happy with the finished product. Also, I printed the table numbers and used double sided tape to wrap them around hurricane candles so they illuminated.
What was your favorite part of the day?
My favorite part of our wedding day was signing the Ketubah. Having our families together to partake in the most traditional part of a Jewish marriage was so meaningful to me.
What were the highlights from the ceremony & reception?
It is hard to choose highlights of the ceremony and reception because it was so short it seems the whole thing was a highlight. The first look was beautiful. His reaction was unforgettable. The Ketubah signing, as mentioned before, was great. My mother walking me down the isle, the exchange of our vows, breaking the glass, our brothers holding the chuppah, it was all perfect. The food during the cocktail hour was amazing! Fried chicken and waffles, premium raw bar, grilled cheese and tomato soup, and more! The reception was a blast! Our dance, although we messed up a few steps, was awesome! The Hora was fun, the dance with our parents was beautiful, and the photo booth was great. Overall it was perfect. The amount of love in the room was indescribable and heartfelt, I suppose that was the biggest highlight. We are so blessed.

Was there a theme for the ceremony and reception?
There wasn't necessarily a theme but the feel that I wanted for the wedding was simple elegance and I believe we portrayed that perfectly.

Vendors
Photographer:  Sarah Tew Photography
Heirlooms and extras: Judiac Connection
Shoes: Manolo Blahnik
Officiant: Rabbi Ari Fridkis
Makeup Artist: Roberto Bezjon
Floral Designer: Seaport Flowers
Event Venue: The Palm House
Jewelry: Wempe
Dress Designer: Yaki Ravid