Even if the pandemic remains fluid, the situation did not stop Ale and Bryan from tying the knot. They originally planned three weddings – only to cancel them because of COVID-19 related complications. When they discovered Tree House Vero Beach, they thought it was the right place and finally pushed for planning their wedding the fourth time. This time with a twist! Instead of announcing their wedding date, they announced that they've been married. The invitations, flowers, catering, and the bride's wedding dress were all put together by suppliers who amazingly supported them on the day. This couple also took the chance to honor their Peruvian and Puerto Rican roots. How else could this day be more meaningful?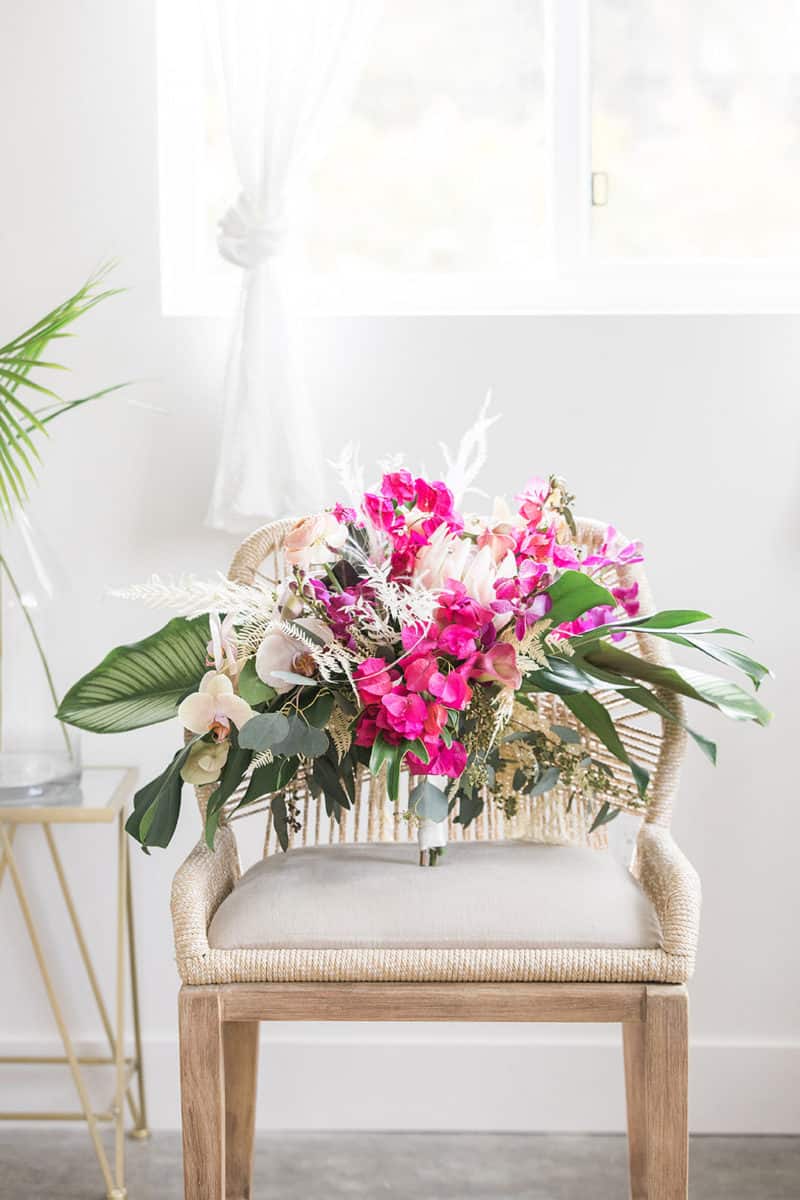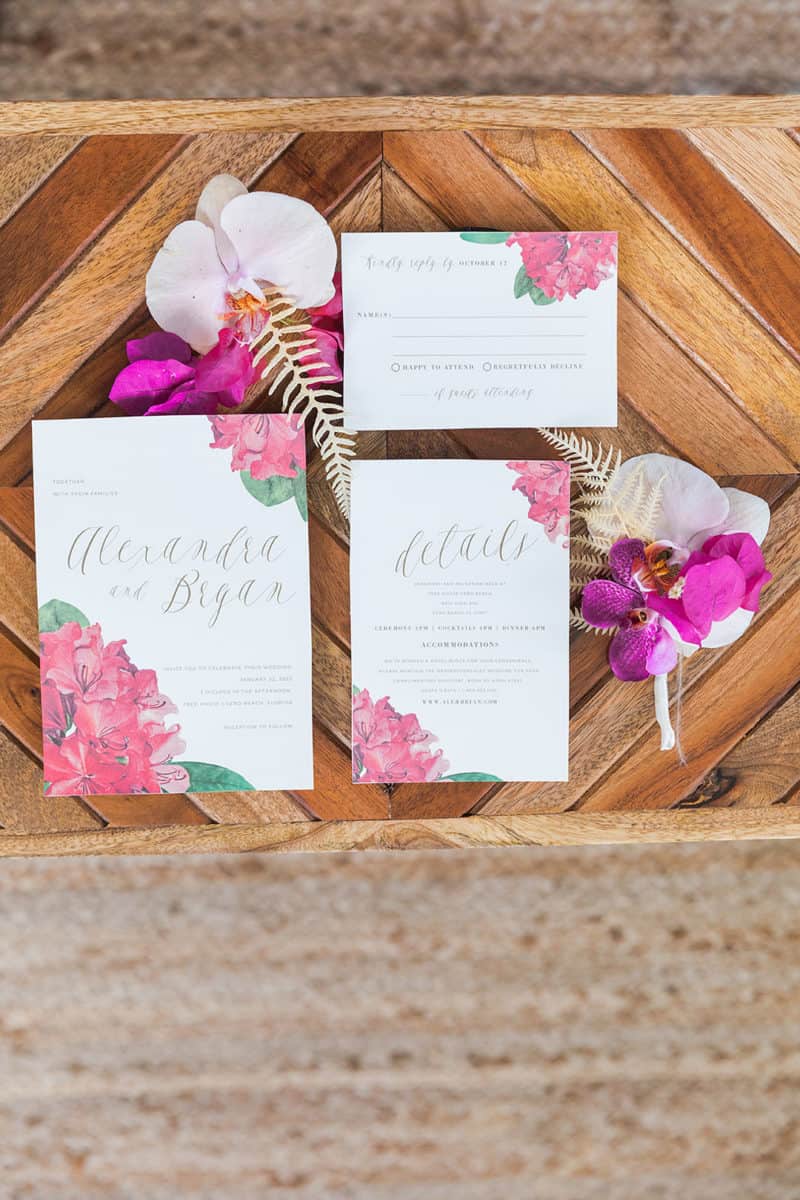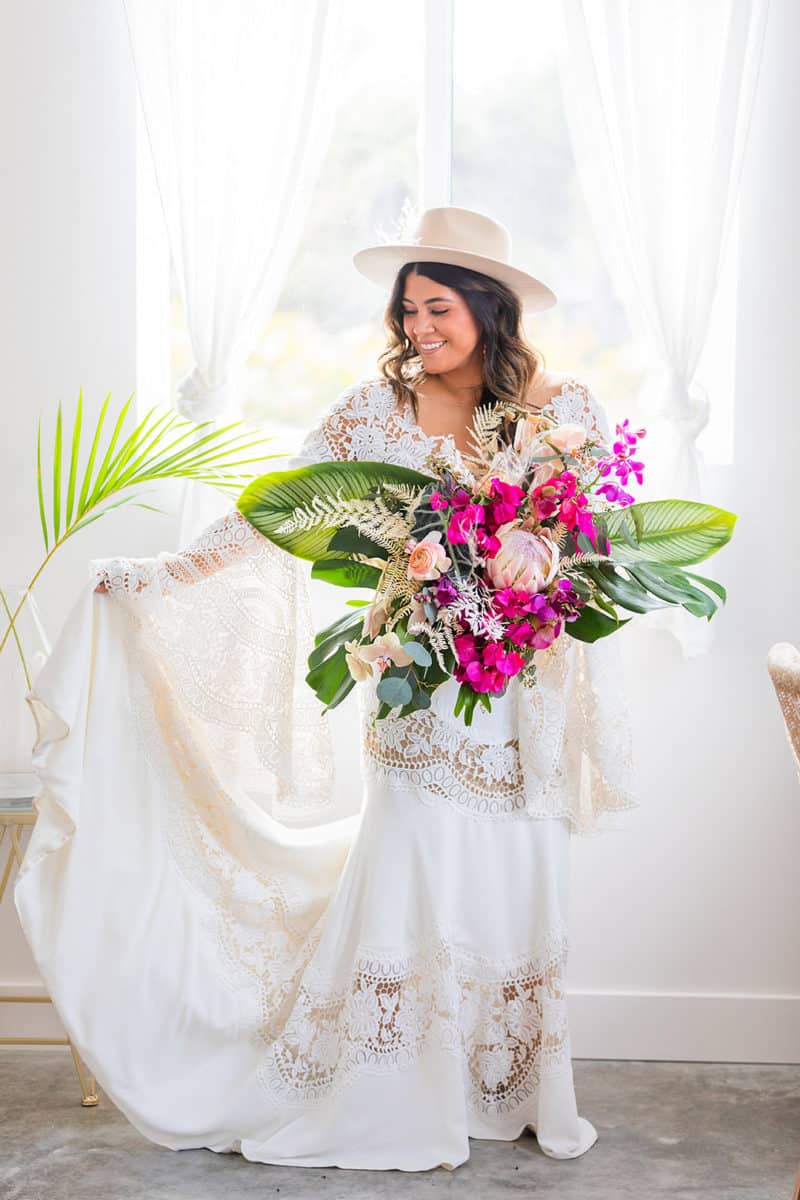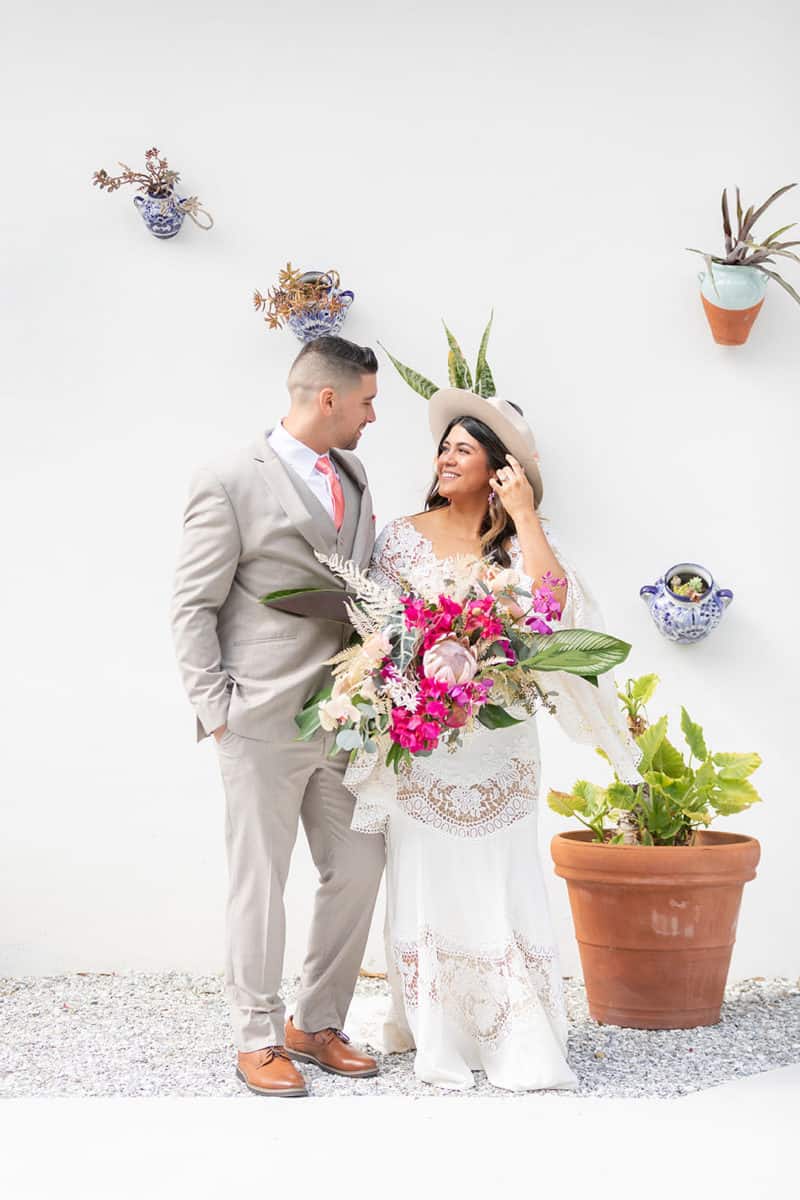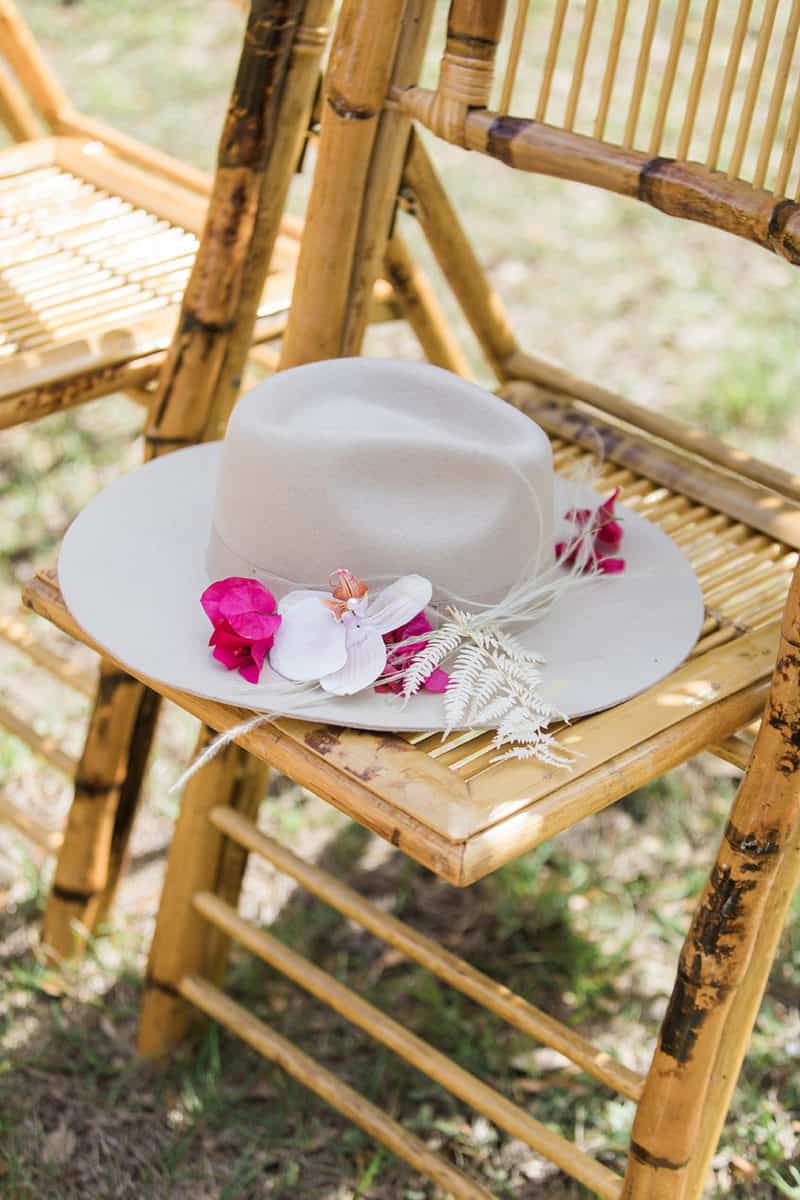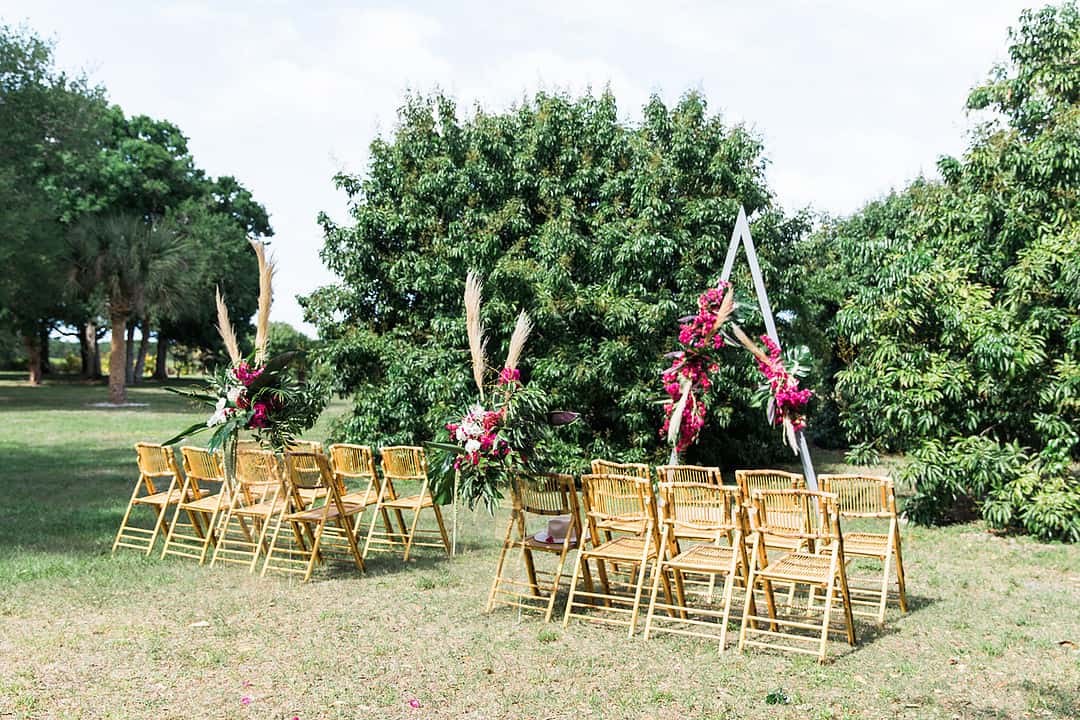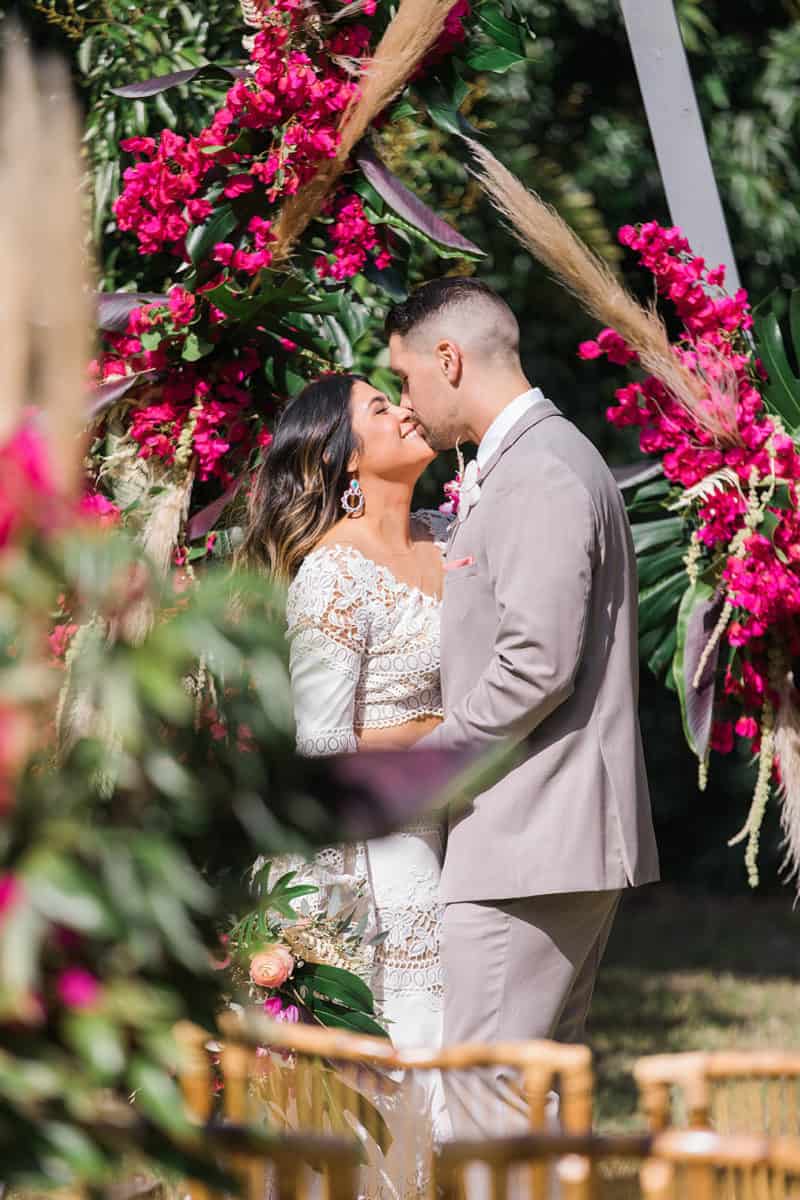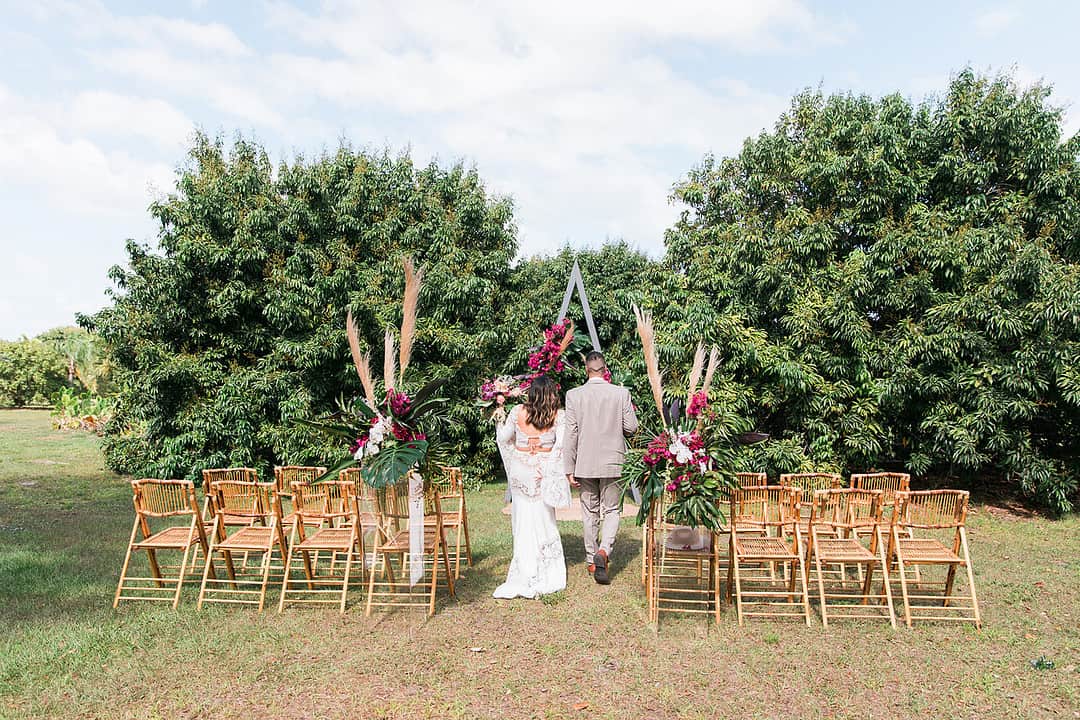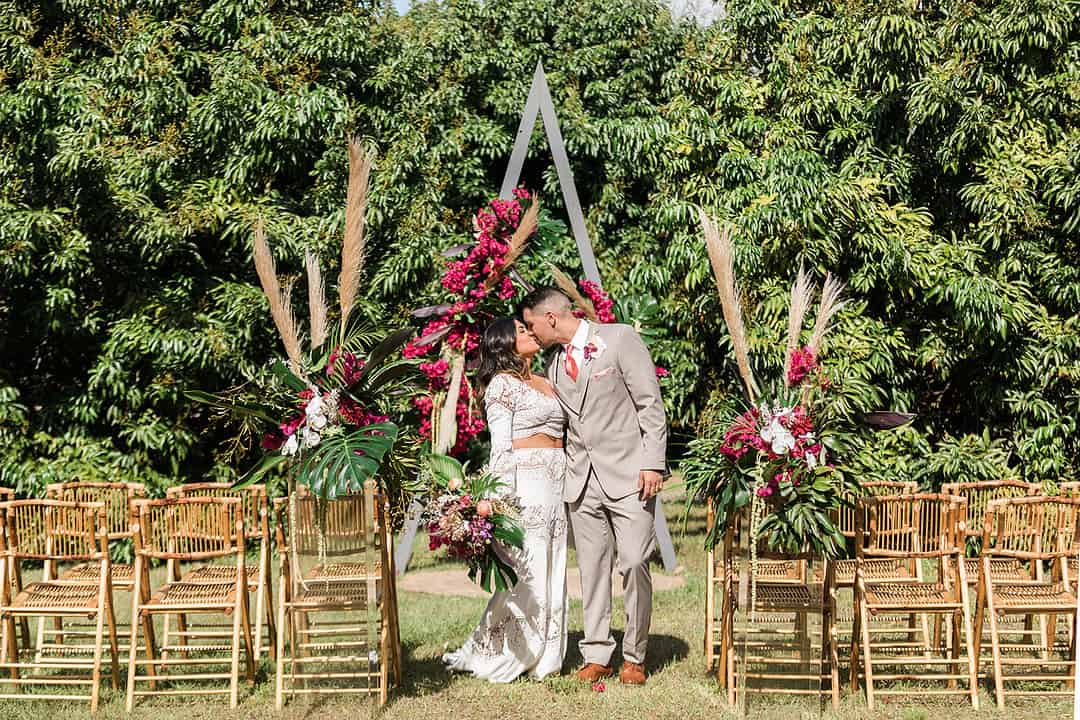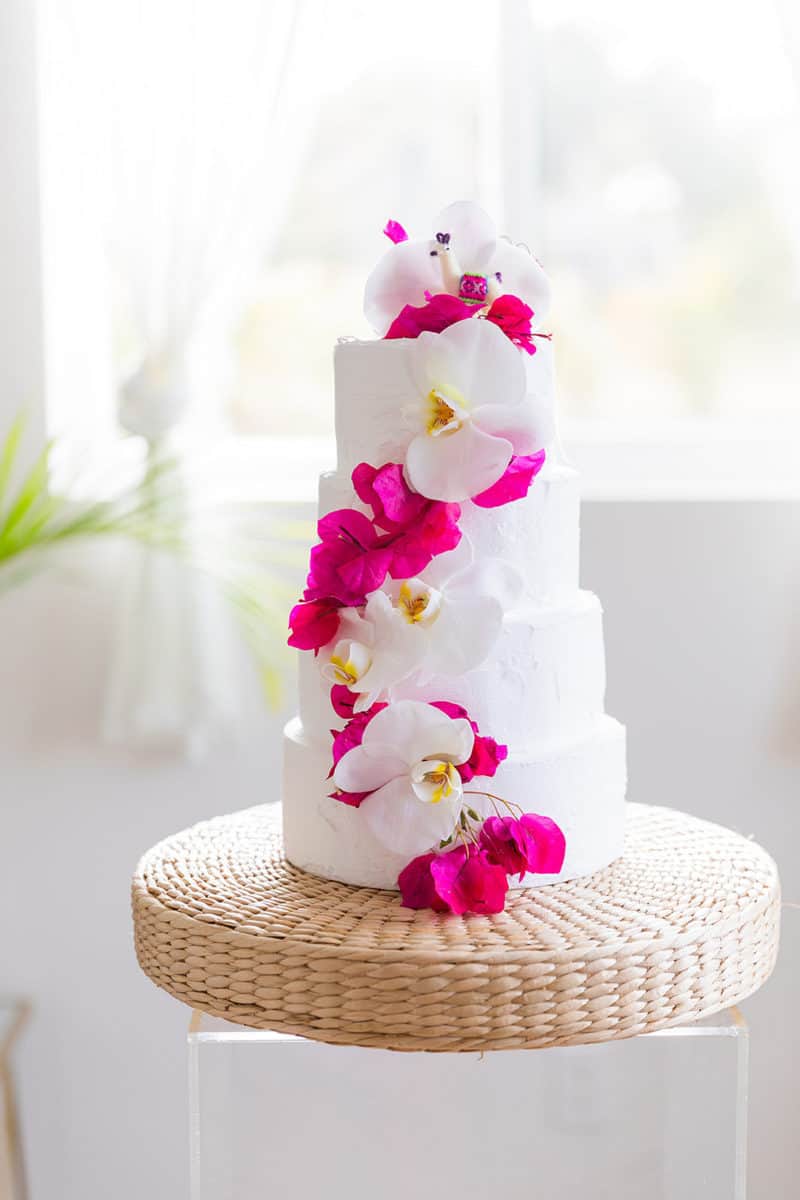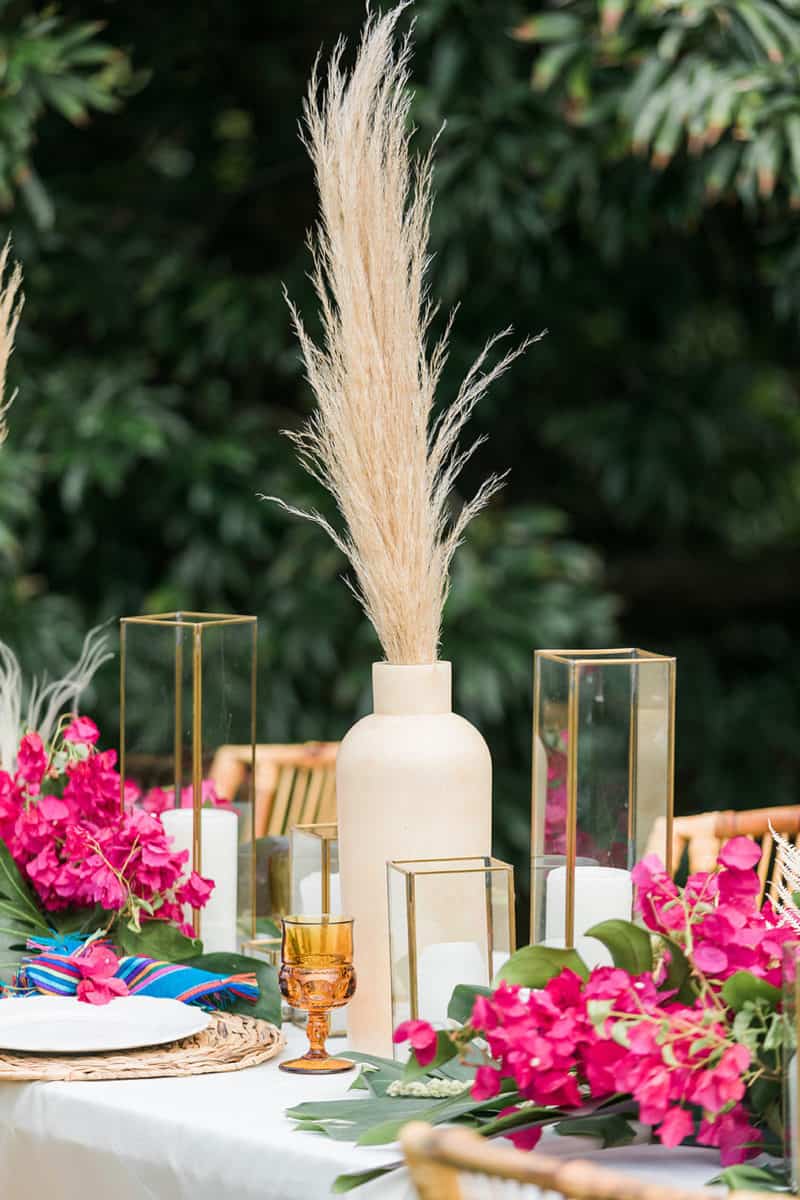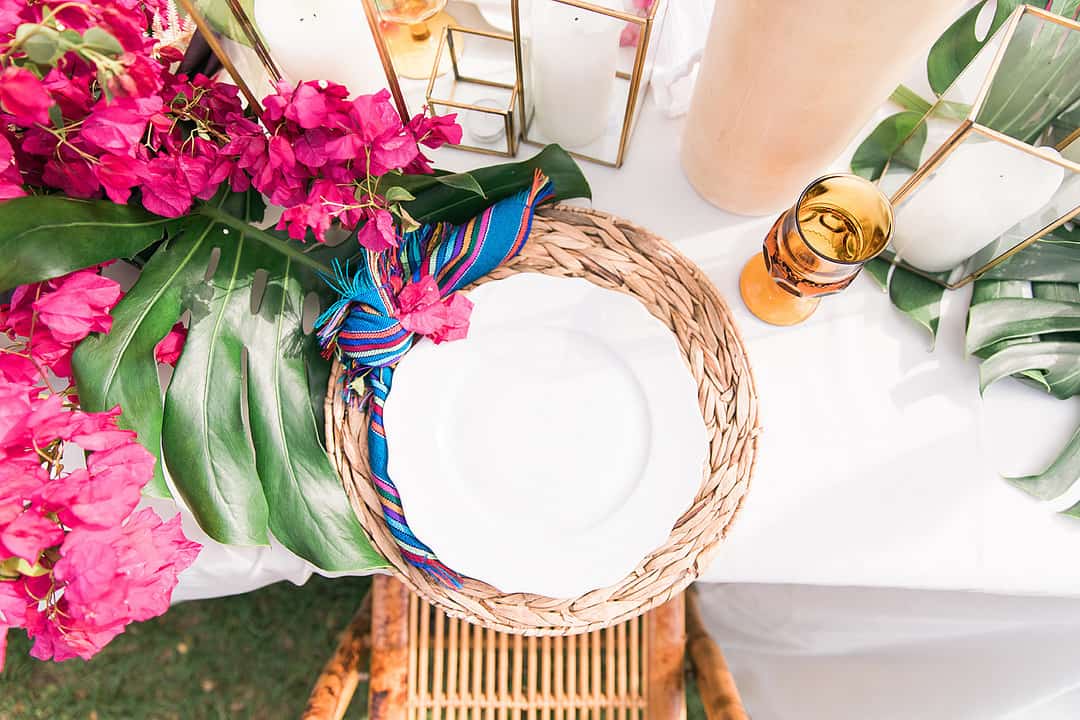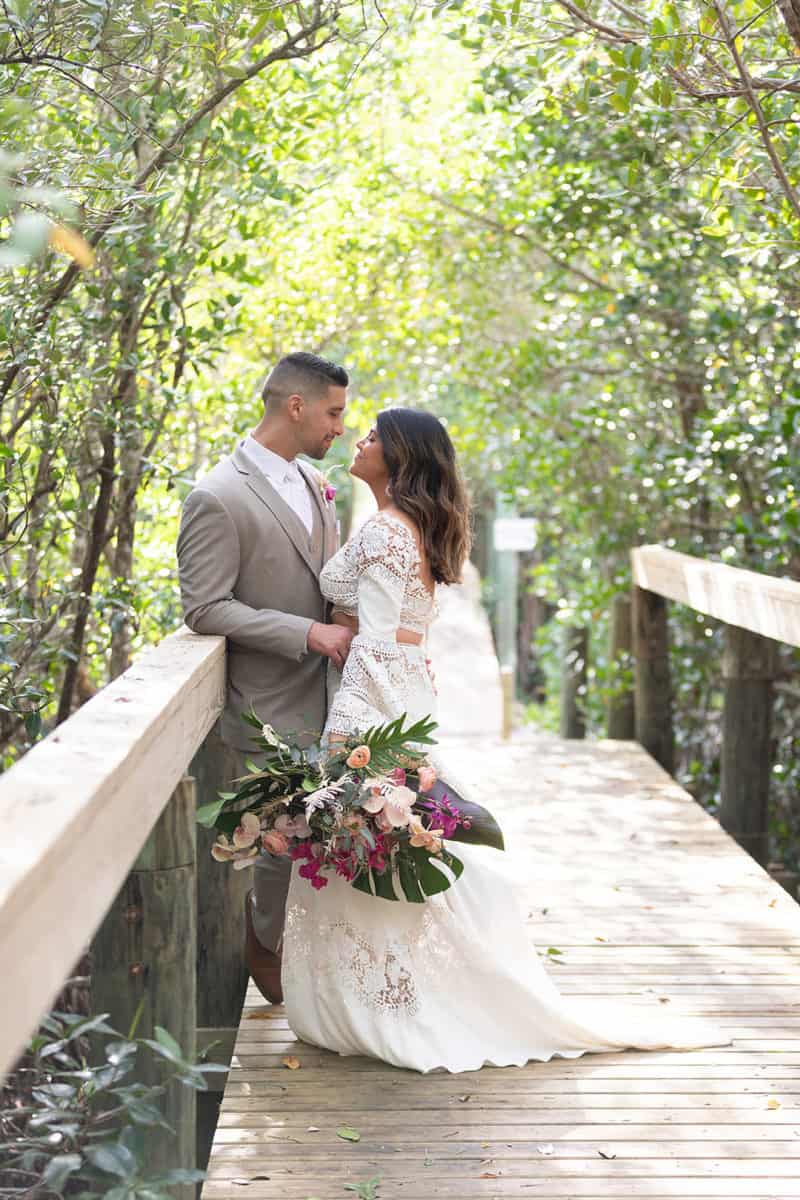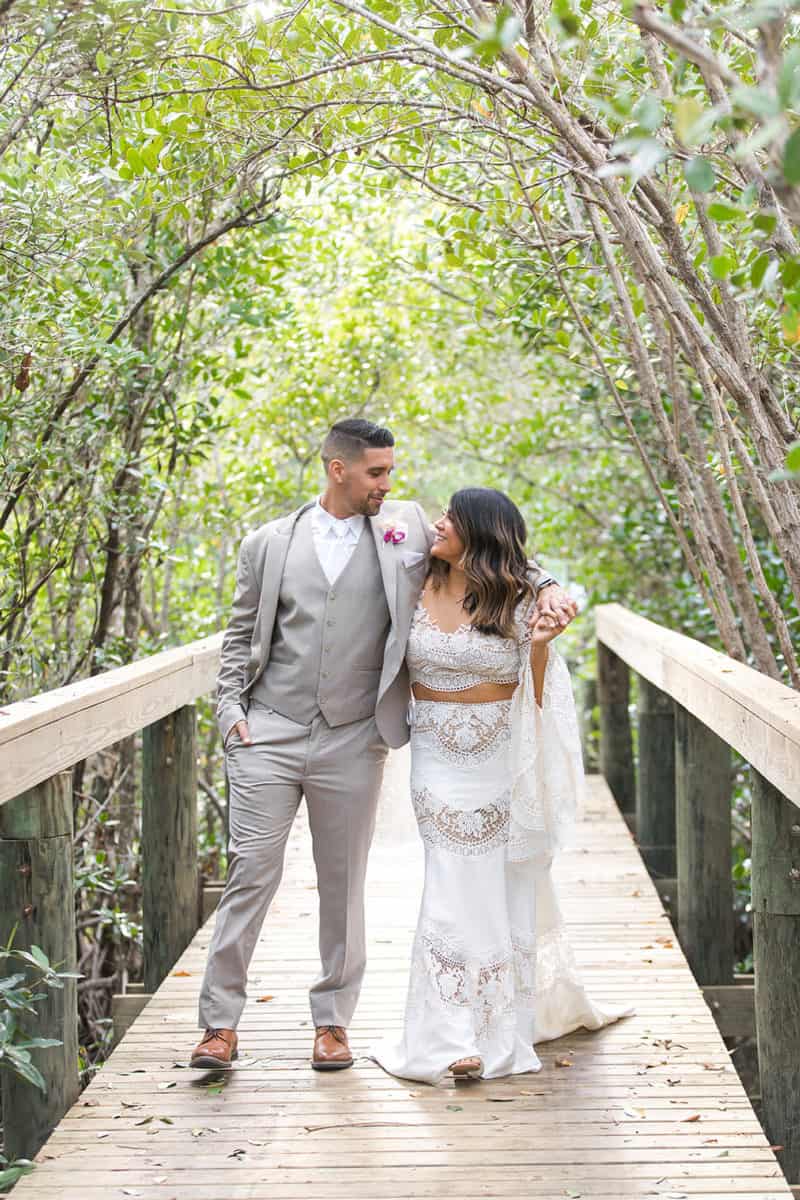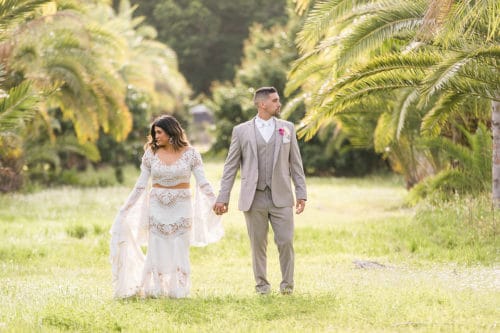 From The Bride
Tell us about your wedding! What was the inspiration behind your day? Did you have a specific theme, style or color palette? Did you incorporate any cultural or religious traditions in any part of your day?
Our wedding was inspired by my, and Bryan's, ethnicity. I'm Peruvian and Bryan is Puerto Rican. We love both our countries and cultures and we really wanted to honor both at our wedding. We pulled tropical accents from Puerto Rico and florals and decor accents from Peru.
Let's talk wedding decor. How did you decorate your space for the ceremony and the reception? Was any part of the decor DIY?
We had hanging poms, which are very widely seen in Peruvian culture, around the bar and decorative pillows in the lounge/cocktail hour area. The napkins were also very traditional to Peruvian culture. We even had a little llama on top of the cake!
What were the florals like in your wedding? Did you use flowers in any of your design elements like the bridal bouquets, centerpieces or ceremony backdrop? Did they play an important part in the overall style of your wedding?
Our main flower was the Bougainvillea Peruviana since it's native to Peru. We incorporated other tropical florals to tie in Puerto Rico and the dried florals for the modern element we both love.
Did you personalize the day in any way (food trucks, guest entertainment etc.)? What were some of your favorite parts of your wedding?
We had specialty cocktails that are traditional Peruvian drinks. We had a Chicha Sour which is made with juice from purple corn and pisco and a Chilcano made with Pisco, grape-based alcohol, Peru's national liquor. We also had La Hora Loca which is also a custom in Hispanic wedding. It translates into "The Crazy Hour" but it's essentially a party within a party and gives the reception a little umph!
Let's talk fashion. How did you both choose your wedding day look? Describe the looks in detail.
We wanted Bryan in something a bit more on the neutral side and fresh so the colors of everything would pop. We went with a white tie to match my dress and to symbolize our unity. My dress wasn't a typical wedding dress but something to honor our Hispanic roots and to tie in the attention to delicate detail of the crocheted florals.
How did you meet? Tell us about the proposal.
Bryan and I met in college, at the University of Central Florida. He was finishing up graduate school and I, undergraduate. We met at Applebees after one of Bryan's volleyball competitions and, let's just say our first interaction wasn't the best since I wasn't the nicest but that didn't stop me from trying to get to know him! We chatted a little through social media until he finally gave me his number. I actually sent my mom a picture of him and said I was going to date and marry this guy, she laughed at me. Am I psychic? Maybe. We talked for a couple of weeks until we went on our first date and the rest is history! We got engaged while picking out our Christmas tree in 2019! It became our little tradition to have my parents come up and help us pick out the winner each year since we've lived together! This year felt different though, I could tell Bryan was being weird but didn't really pay much attention to it. Once we found the best tree and got ready to take our yearly picture, I looked over at Bryan and there he was, on his knee and I lost it. I don't think I've cried this much in public before but after 6 years of waiting… it was pretty expected lol
What was the most anticipated or special moment of your wedding day?
Aside from actually having the wedding day, after three cancelled weddings, I'd have to say, the first look. I'm really bad at keeping secrets and not being able to show Bryan my wedding dress, let alone talk about it was really hard for me. Walking down the aisle with my dad was and then seeing Bryan's face was everything I imagined it would be!
Do you have any wedding planning or marriage advice that you'd like to share with other couples planning their day?
Take it one thing/day at a time and understand you can't control everything. Things will happen that are unexpected and you have to be able to pivot at a moment's notice. Having a great support team helps a bunch! I know it's hard when you want everything to be perfect leading up to and on your special day but it will make the entire process so much smoother and way more fun. Also, try to enjoy everything leading up to your big day. It may seem like you're just checking things off a list, but really relish in the fact you are planning YOUR big day!
Associated Vendors
Makeup Artist: Cindy Goetz Make-up Artist
Dress Store: Carolyn Allen's Bridals & Tuxedos
Dress Store: Olivia Bowen Bridal
Floral Designer: Lara's Theme
Photographer: Vitalic Photo
Event Venue: Tree House Vero Beach