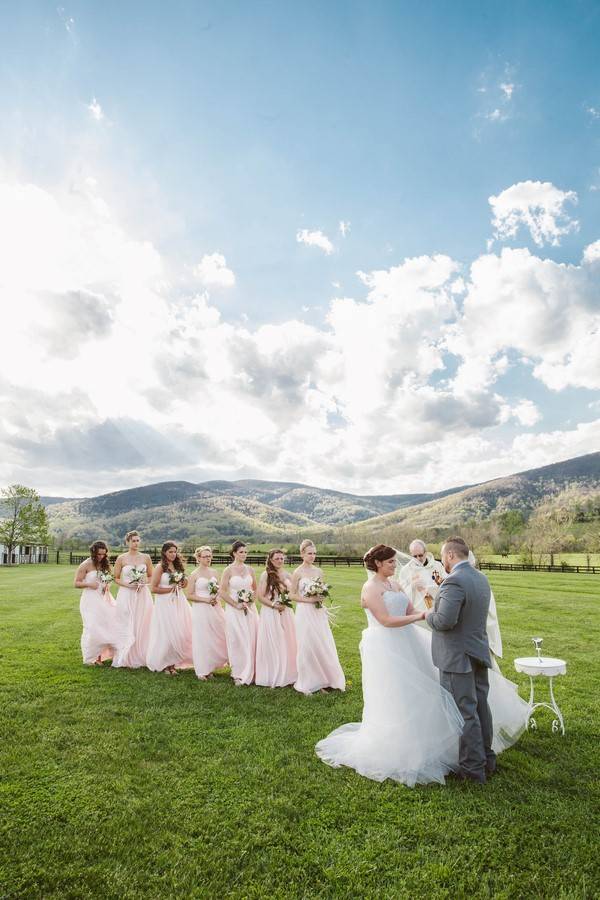 It's the first of August and we have a very special treat for you. We are actually very excited to feature today's wedding. Indulge yourselves into Liz & Zach's sweet wedding details that will surely leave you completely gushing over its blush pink accents. We always love the blush pink & gold combination – it definitely screams subtle sweetness. And the mountain view as a backdrop just adds up to the romantic finish of everything. Don't forget to watch their wedding trailer — it honestly got us teary-eyed & made us feel like we were part of such a beautiful & memorable day! Congratulations again to this charming twosome – may you have a fulfilled life together!
What is your story as a couple, how did you meet & fall in love?
Zach and I first met the summer of 2008 where we worked at a restaurant together. I was a hostess and he was a bartender and he tricked me into going out with him one night after work… long story and not anywhere near as creepy as it sounds! We fell for each other that summer and decided to make it official after I left for my sophomore year of college that fall. We dated long distance for 3 LONG years, and Zach finally proposed a few months after our 5th anniversary.
What makes the two of you a perfect match?
We both love spending time with our families. We are total homebodies and love to cook, catch a good game on TV, or get addicted to a show on Netflix.
What was the best advice you received when you were planning your wedding?
HIRE A PLANNER!
What was your favorite part of the day?
We answered this question the exact same in saying that the few moments before walking down the aisle was our favorite part of the day. We decided not to have a first look so it was the time leading up to seeing each other for the first time on our wedding day and seeing both of our families and all of our friends in one place and knowing they were all there for us. Eating leftover dinner and cake in our hotel room and reflecting on the day was a close second for me and Zach says our first dance was second for him.
What inspired your wedding decor? Why did you choose the things that you did?
I had a ton of help from my wedding planner picking our decor. Cody was able to look through my Pinterest boards and gather information just from our conversations and ultimately pull together the final look of our big day. I would like to say that I had a clear vision and that I just have great taste and was totally responsible for how it turned out but I'd be telling a big fat lie 🙂 When you have Cody as your planner, she comes with closets upon closets of beautiful vintage decor that she brings with her. It's like a real life Pinterest that you get to just walk through and say, I want this, this, and this. I might have drooled a little bit.
Do you have advice for couples still in the planning process?
Don't sweat the small stuff. I look back at things I really stressed myself out over and realized it couldn't have mattered less at the end of the day.
Was there any Do it Yourself (DIY) projects? If so, can you describe them in detail?
The biggest DIY project I tackled were our favors. My cousin helped me come up with the idea to do State of Virginia magnets and I had quite a few failures before figuring out the final product. I ended up ordering a cookie cutter in the shape of Virginia and making a salt dough, similar to a homemade play dough, out of flour, salt and water. I cut them out, let them dry for a few hours, spray painted them gold and then used a liquid gilding on them for extra shine. I used puffy paint and put a little heart where Charlottesville is and wrapped them in cellophane bags with a gold bow.
What were some challenges you faced planning your wedding & what would you have done differently to avoid them?
I mainly planned our wedding with my mom. We had a couple of hiccups due to the way wedding planning has changed over time since things were done a lot differently in 1979 when my parents got married. We should have sat down and had a more thorough conversation to manage our expectations since we both had different ideas about how things were going to be planned. We also were challenged with sticking to a budget and picking from an overwhelming number of service providers available but Cody (our planner) helped us with all of that!
What were the highlights from the ceremony & reception?
Our favorite part of the ceremony was just before the ceremony started when the anticipation and nerves were highest! Zachs favorite part of the reception was our first dance. I loved the toasts and dancing with all of our guests.
Where did you save the most money?
We saved the most money by hiring a planner. It seems like an expensive thing in the beginning but really our planner helped us save so much money at the end of the day. She has great relationships with vendors who offer discounts to her brides, and also Cody did our flowers for us so we didn't have to pay a florist. We just paid for the cost of the flowers and that saved off thousands of dollars. We also saved money on decor and rentals since she had a lot of her own stuff!
Can you share some tips or tricks that you learned along the way leading up to the wedding or after?
Book things early! Especially hotel blocks. And don't be afraid to book more rooms than you think you need. There was a big event going on in Charlottesville the day of our wedding and hotels were completely booked. We didn't book enough rooms and were scrambling at the last minute. It ended up all working out but it's just a headache that can be avoided. Don't forget to drop them before the deadline if you don't need them though!
Where did you go on your honeymoon?
We haven't gone on a honeymoon yet! Zach started a job a couple weeks before the wedding in North Carolina and I moved down about a month after we got married so we haven't had the opportunity just yet. We are hoping to take a trip in the fall!
What are you most excited about for the future?
Buying a house and starting a family (future being the key word! We aren't ready just yet!) 🙂
How many guests were invited in your wedding and what was the final guest count? Was it difficult to narrow down your guest list?
We invited about 170 and 125 was our final count. It was kind of difficult since you don't want to leave anyone out but we were determined to stick to our budget and things ended up working out!
What inspired the wedding day outfits?
I had a pretty clear idea of what I wanted my dress to look like from the start but my idea for the bridesmaids changed again and again. I finally decided I wanted them to wear blush dresses and gold jewelry and it all just kind of fell into place from there. Zach wanted him and his groomsmen to wear gray which just happened to look fantastic with the blush!
Was there a theme for the ceremony and reception?
Not really! There was a lot of the State of Virginia appearances because a lot of our guests were from out of town so I guess you could say it was Blush, Gold & Virginia?
Vendors
Photographer:  A Muse Photography
Event Planner: Amore Events by Cody
Makeup Artist: Faces by Joy
DJ: John Garland DJ Services
Reception Venue:King Family Vineyards
Cake Designer: Maliha Creations
Lighting: MS Events
Caterer: Scrumptious Suppers