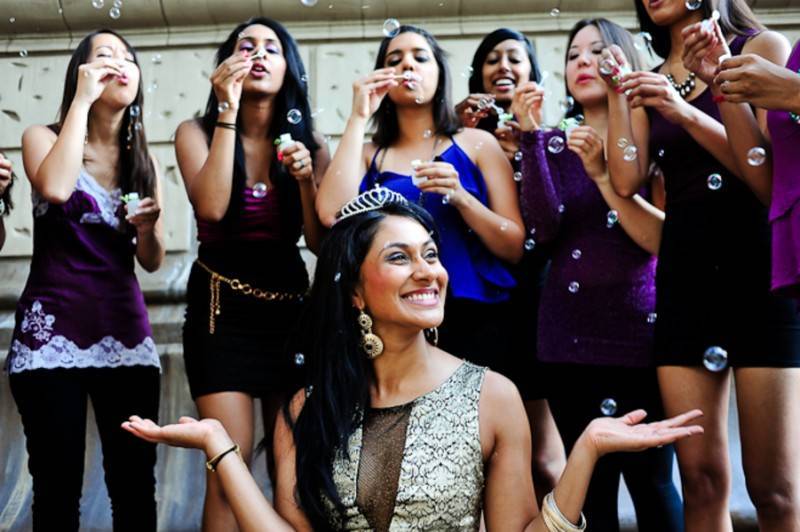 It's not everyday we feature a bridal shower here in Inspired Bride, so when we do, we make sure that it's a fun one! So we won't hesitate to show you Kavya's 'The Bachelorette' themed bridal shower held in Las Vegas. Every single girls invited in this event sure looked like they were having a lot of laughs and celebration and the pictures make you wish that you were part of that day because I am so intrigued what dares they had in store for the bride-to-be.
This is what bridal showers are supposed to look like. Girls just having fun and making happy memories that will make them say "What happened in Vegas, will stay with us forever". Congratulations Kavya!
Here are some of the pictures plus a little bit of inside scoop from the photographer who gave us a hint on what went down that day. Enjoy!
What do you think is the overall story for this album?
The bride to be is a huge fan of the show The Bachelorette. Her whole bachelorette party was themed around the show. There were portraits of the girls boyfriends and the brides fiance on a deliberation table complete with roses. There was the usual toasts and cupcakes in the room as well as the passing out of dare cards for the evening. The bride to be was showered in money as the girls made it "rain" on her. After the fun in the hotel room, we went outside to take some portraits with confetti and bubbles before the girls headed off to the Sugar Factory for dinner and drinks. Later in the night they went to Chippendales.
What inspired the wedding day outfits?
All of the girls wore shades of purple and black dresses while the bride to be stood out in gold.
What was your favorite part of the day?
The best part of the day was when each of the girls had to read aloud their personalized dare card for the evening. You could tell some of them were not too happy about what they had to do later. There was lots of shock and laughter.
Was there any Do it Yourself (DIY) projects? If so, can you describe them in detail?
Almost all of the decorations and details were DIY. There were framed photos of all the boys. Each girl was gifted a flask with their initials in bling. Each girl was also given a stack of $1 bills for their chippendales visit later in the evening. The bills were wrapped in the word rain" for rain money.
Vendors
Photographer:  JamieY Photography
Event Venue:  Bally's Hotel