I've been wracking my brain for weeks now, attempting to come up with new, interesting article concepts to stay ahead of the curve and keep the Inspired Bride as unique as I set out to have it be. Today, I very proudly unveil the first of these ideas: Just My Type. In this article, I'll be pairing typographic treatments with colors to create a visual theme that you can pluck yourself or reference with your graphic designer. At the bottom of each post will be links that will take you to a recommended site to purchase the typeface from.
Note that I'm not necessarily keeping to a specific budget on any of these type groupings, so some of the price tags may be a little steeper than you'd like. With that in mind, I'll offer substitution ideas at the bottom of the page if there are similar faces I think can work instead; anyone is welcome to add their thoughts as to replacement typefaces as well.
I'd love your feedback on this concept, and if you have any additional ideas. Comment here or use the contact page.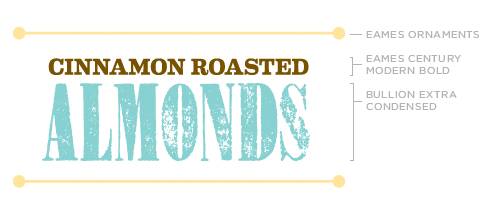 JUST MY TYPE 01: CONTEMPORARY CARNIVAL
Eames Font Family: House Industries
Bullion: Walden Font Company
—-
SUBSTITUTION SUGGESTIONS:
Eames Century Modern Bold: Clarendon or Clarendon Bold