"School" and "summer" are two different words specially for those in the academic world, but high school teachers Joelle & Michael had the chance to prove that in the right context, this combination actually works and is not completely contradictory. Having no other choice but to marry in the summer due to their jobs, our couple decided to make the event as lively as the season by using yellow as their color motif. At the same time, they wanted to toss in some details showing their passion in life which is teaching, so what better way but to hire a big yellow school bus! And their bridesmaids and groomsmen looking out like intrigued school kids. Cute!
With love as strong as Joelle & Michael's, their amazing wedding is only a continuation of their much more amazing relationship. Congratulations to both of you!
Our love story continues each day. – Joelle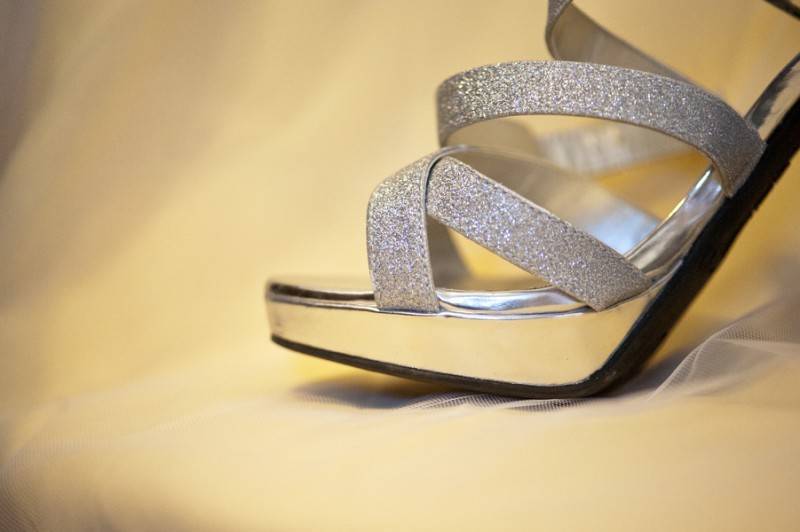 What is your story as a couple, how did you meet & fall in love?
It was September of 2003….
I was at the mall with a small group of her friends, and Michael was there with a small group of his. Two of our friends were dating at the time. I was sitting with her best friend Rachelle in a display bathtub in front of Payless (being annoying 14-year-olds of course), Michael decided to hop on in between. As Michael talked to me, (and annoyed Rachelle) we decided to sit together at the movie "Pirates of the Carribean" where all of the group decided to go. Michael talked through most of the movie… Surprise, surprise! (He likes to talk!)
We went to Denny's afterward and nearly got kicked out, because again, we were annoying teenagers. The girls' ride arrived, and we said our goodbyes. We didn't even exchange numbers! The next day, at a birthday party, my friend Sami received a phone call and told her that Michael wanted me to "go out with him". I was unsure. I just met him the day before! Sami more or less convinced me to say yes. So I did.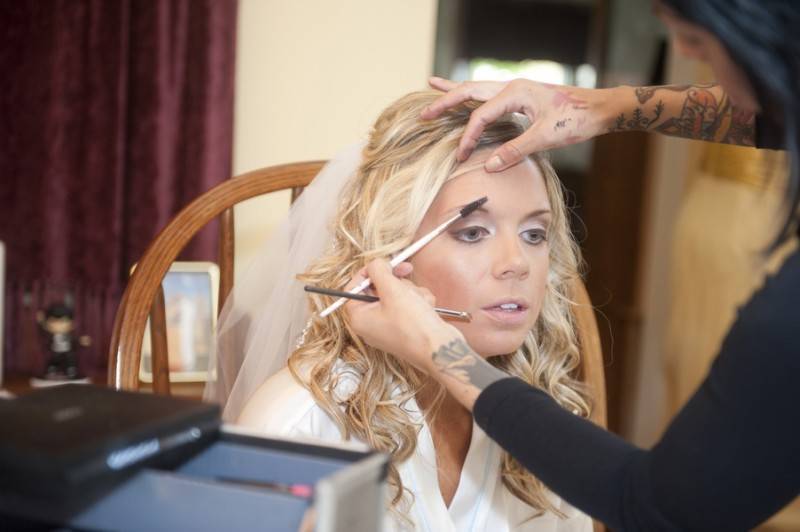 Throughout the school year, we talked on the phone for hours and hours, and met up with groups of friends on the weekends. We went to movies, restaurants, and danced on Saturday nights at the local skating rink's "Skatehops." Over the next few months, we really fell for each other. Though Joelle's grandma refused to let him in the house the first time she met him because he was a boy, and we only saw each other on weekends during the school years.
Though we were so young when they started dating, we have stuck by each others' sides through everything. We made it through Michael's enlistment in the US army reserves, boot camp, trainings, and through a year long deployment to Afghanistan. We made it though high school, and then 4 years of attending separate colleges. Both moved from PA to NC so that we both could follow our dreams of teaching.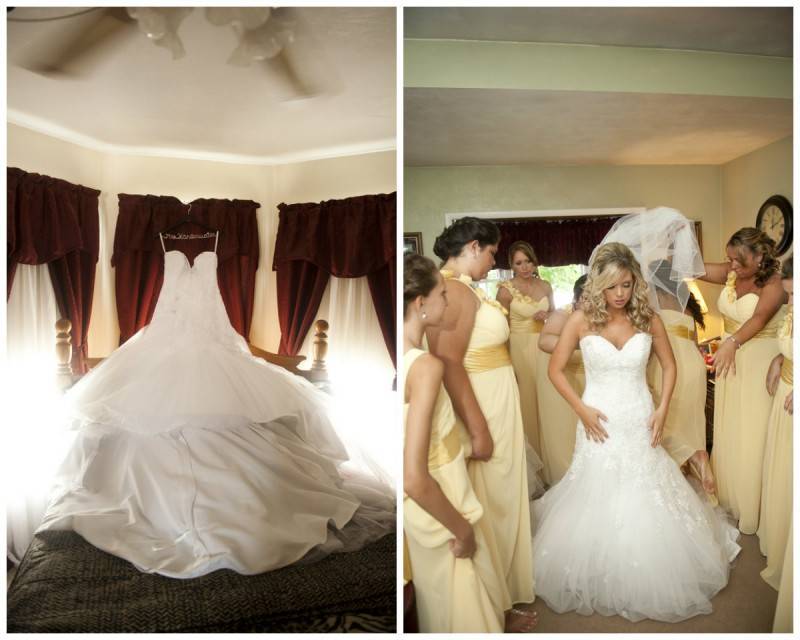 Now, here we are, 11 years later- we finally celebrated the day that we have been talking about for so long. It may not have been an easy road that we have taken but sometimes the roughest road leads to the top! We can both honestly say that we fall in love with each other more and more each and every day. We are best friends, and are so excited to spend the rest of our lives together!! Our love story continues each day.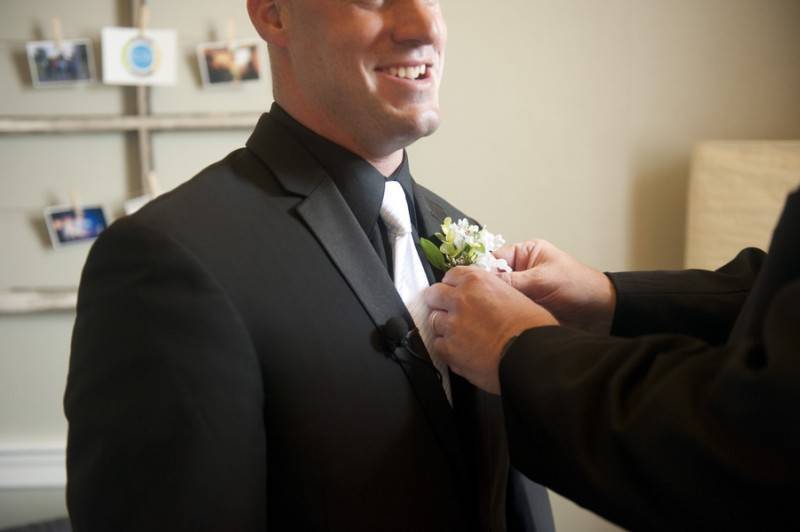 What makes the two of you a perfect match?
We balance each other out SO well. Michael is full of energy and life and always ready to go, while I am one to take my time and never rush. Michael brings me out of my shell and I help pull him in when he is out a little too far. Michael is a night out on the town when I am more of a movie night in kind of girl. But it works so well to have that balance, because we opened each other up to a whole new world of possibilities. Everyday is something new and exciting. But the thing we do have in common is our sense of humor and child-like amusement…we may never actually "grow up," and we are able to have fun and laugh anywhere and through anything. We survived so many obstacles that would have probably broken most couples apart…but we know that though some days can be tough, we will always work it out- there is no quitting!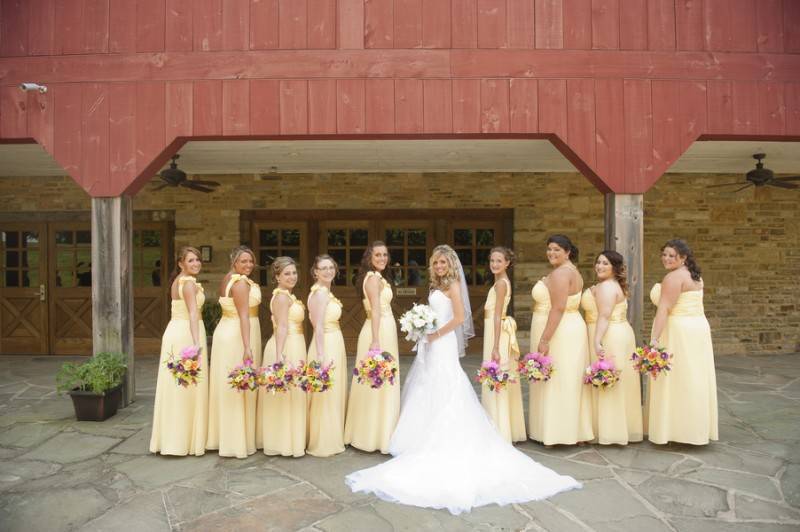 What was the best advice you received when you were planning your wedding?
The best advice that I received personally actually came from my husband. He told me one day (as I was stressing about every little detail) that though he wanted me to have the wedding of my dreams, he told me to stop and enjoy the process, enjoy this time together, and remember in the end that even if everything we have worked so hard to plan for goes wrong, the only important thing is that we have each other. Remember what the day is truly about!!
What tips & tricks (can we use "hacks"?) can you share future brides that you yourself have learned during and after your wedding?
Meet your vendors BEFORE the day of the wedding- We had an amazing experience with our photographers, Andrew and Chrissy who gave us the most beautiful photos I could have ever asked for. We were both very disappointed in our DJ, who mumbled a lot and did not seem to have the personality needed to DJ a wedding! Not meeting with him in person beforehand or hearing him play is my biggest regret!
Don't be afraid to ask for help! Friends will be glad to assist if you ask nicely!
Brides- it may be your day, but it is NOT all about you. This day is for you and your significant other. & others will be more willing to help if you are kind and not a bridezilla!!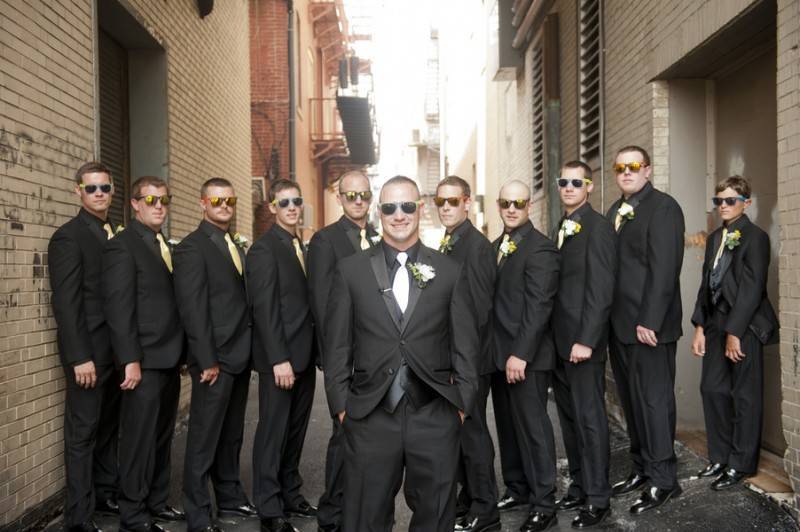 What inspired your wedding décor? Why did you choose the things that you did?
Both of us are teachers, so we did not have much of a choice but to marry in the summer. We decided to kind of incorporate our passion of teaching into our wedding with a few touches of chalkboard details, (though I guess that is old school education now, considering our classrooms both have dry erase boards only!) and of course the big yellow bus that transported our huge bridal party to the reception! I love summer colors and I always thought yellow was fun and unique- which represented "us" quite well. The other colors for the flowers and table decor accented the yellow to give it more of a summer look.
The ceremony was perfect- the church was small and intimate as I've always hoped. (I was raised Catholic but the large churches never really appealed to me). Michael's grandfather is a pastor, and he married us in the church that Michael grew up in. We decorated it simplistically but enough so that it looked warm and welcoming. The reception hall looked beautiful- you would never guess that it was at a FIRE HALL! Chandeliers hung from the ceiling and the uplighting, the icicle lights, the balloon arch, (SO COOL) and the other decor really made it stand
it. Our popcorn bar and cookie bar were both huge hits! Our families like to eat, so that is inspiration in itself!! 🙂
What was the wedding budget?
We were trying for $15,000 but it ended up being around $20,000
Where did you save the most money?
Flowers- we had a friend help put together silk flowers, and they were absolutely GORGEOUS!! The girls still have their bouquets and love them!
How many guests were invited in your wedding and what was the final guest count?
348 were invited and 235 was the final count.
How did you narrow down your list?
I think it was more difficult for my parents, because they didn't want to offend any extended family but still did not want to overdo it.

What songs did you use during the ceremony?
Processional: Pachabel's Cannon in D
Bride's Entrance: Trumpet Voluntary
My uncle sang- Grow old along with me, the Lord's prayer, and How great thou art.
Recessional: Trumpet Voluntary
 
What are you most excited about for the future?
Raising a family and just having fun…together!
 Do you have advice for couples still in the planning process?
Do a little bit each day if possible- do not wait until the last minute or you will be stressing yourself out too much, and it is important to relax on the few days before. Most importantly…enjoy it!! The whole process goes by in a flash, and make wonderful memories with your family, friends, and of course the love of your life!

Where did you go on your honeymoon?
Punta Cana, Dominican Republic
 What do you think is the overall story for this album?
We really discovered who we truly are when we became a couple, and our marriage more or less represented us. This is at least somewhat evident through our album! It is simply the story of how we became an "us."

What inspired the wedding day outfits?
We wanted our outfits to look happy, a little classy but still fun.
What was your favorite part of the day?
Seeing my groom at the end of the aisle- hands down was the best part!!

Was there any Do it Yourself (DIY) projects? If so, can you describe them in detail?
I created the table numbers on zazzle.com but I wrote the number on one side, and wrote an interesting fact about us on the other that applied to that number. (e.g. table "25" was the bride's age, and table "3" was the year that we met.)
We also blinged out sunglasses, flip-flops, and jewelry for my bridesmaids and myself for the reception. I made an "in memory" frame with photos of those who passed away and a poem.
The AMAZINGLY delicious popcorn and the baskets were purchased from The Popcorn Factory in Monroeville Mall, and and my mom bought mini chalkboards and attached them to the buckets with the flavor. This was their favor- they filled up a bag that said "Sorry to be 'corny,' but thanks for 'poppin' in!" It was a hit! 🙂 Even better than a candy bar.

What were the highlights from the ceremony & reception?
Ceremony- We made a "story of us" video that we played at the ceremony right before the bridesmaids walked in. We wrote our own vows and exchanged them. Michael's grandfather married us. We used my parent's unity candle and had a hard time lighting it! (It was funny, we eventually got it! Everyone laughed).

Was there a theme for the ceremony and reception?
Not really. Overall just "summer," a little bit of teaching inspired items thrown in. 🙂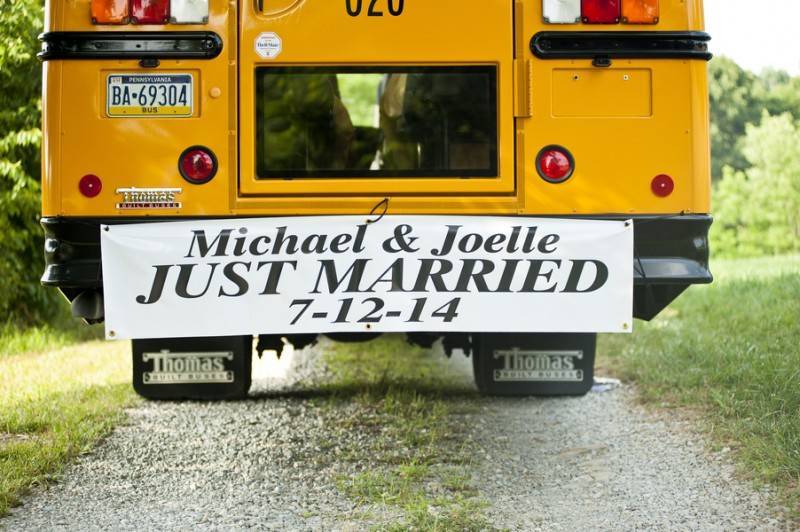 Vendors:
Photographer:  Andrew and Chrissy Photography