I'm happy to announce the addition of a new post feature that I'm introducing, and even more delighted to have you meet our inaugural guest! As of today, the Inspired Bride will be (on no fixed schedule) showing you the behind the scenes of some of our favorite vendors – what inspires them, their backgrounds, and their advice – in a loose series called Inspired Conversations. Our first is with Tara Hogan of INK+WIT.
I've been a huge fan of Tara's work for a long time – her modern meets whimsy aesthetic captured my heart when a good friend of mine purchased her 2008 calendar last year but, alas, it was sold out by the time I tried to get my hands on it! In my short time conversing with her, I can also say she's just as sweet as her work is, and so I'm thrilled to be able to introduce you to her and her new collection of ready made wedding invitations. Now, onto Tara…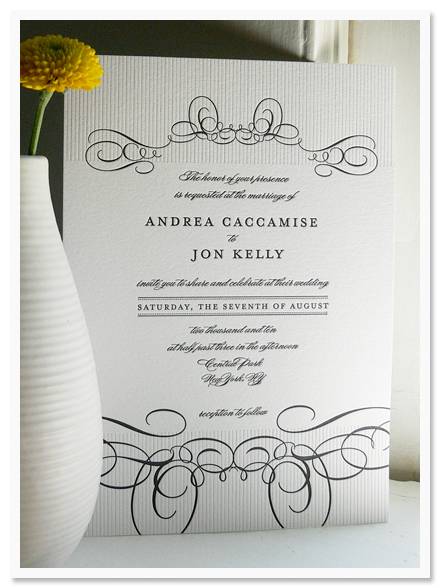 What is your design background? Are you self taught or did you go to art school?
It certainly started young, like 5 years old. I know we all have these fun stories about how we were little… and we had this thing. Mine was always restyling the rooms in the house and being quite obsessed with it. I was fortunate to have parents and family that supported my creative vision. I carried the intention to become some sort of an artist from that young age until now. I was not sure if it would take the form of theater or fine arts but I knew I would be living a creative life.
I studied design and illustration at Syracuse University from 1995-1999 and graduated with a BFA in Illustration from the school of Visual and Performing Arts. Post graduation I worked at Exposures Catalog in South Norwalk, Connecticut (my native state) for several months as a prop stylist until landing a web design job. In between, I studied figure drawing at Parsons and photography at Community Darkrooms in Syracuse, New York. I was in house as a designer until 2004 and then went on my own to freelance and start INK+WIT.

As a designer, what inspires you? What other artists and designers do you look up to?
Nature. I draw my inspiration from that which is pure and necessary to live in harmony. Mainly, animals, as you can see from all the birds and animals in the INK+WIT line. Yogic philosophy, which has opened my eyes to a greater sense of being and living in peace. I am drawn to geometry, fine pencil lines, art deco, and the moments in between the moments which seem to reveal little threads of concept and visuals to explore.
I love Degas, Egon Schiele , Motherwell, Ben Shaun, Aubrey Beardsley, and Cy Twombly. I could keep going on this question, especially with painters. Of course, to me, all of the mentioned play a huge role in design for me and I am sure many others. On furniture, graphic design, and fashion, I adore Charles and Ray Eames, Harry Bertoia, Hans Wegner, Herb LuBalon, David Carson, Milton Glaser, and Chanel. There are also a slew of younger designers (too many to name) that stop me in my tracks. In particular, Jason Munn of The Small Stakes. (EDITOR'S NOTE: If you're a design geek, check him out. His work is fantastic.)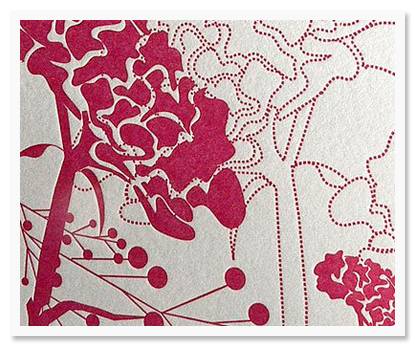 What motivated you to start an invitation line? What were/are your goals?
I have always loved the romanticism of a wedding be it at the courthouse or ballroom. It is an extraordinary time. That makes me happy.
I had designed quite a bit of custom design last year and had many inquiries for ready mades. It is really a nice solution to those who are not looking for custom design, are on a tight deadline, and have a tighter budget.
My goals are to keep things fresh, affordable, quality, and fun. Much like a fashion line, I would like to roll out new designs every season.

What was your design process for the invitation suites? What were they influenced by?
For the three new designs I was inspired by INK+WIT's look and feel but also by lots of line art I had drawn and not figured out yet. I payed around with a lot of pieces. A lot of collaging and staring at what is active in the wedding stationery market now as not to replicate what has been done.
The Décoré design, French, to decorate, was influenced by my own wedding which was a black and white wedding with a vintage natural feel. Also, by Chicago – I had just taken a trip there with my husband and the architecture and bold contrast of old iron lampposts against concrete on the city streets lit me up. Also, all of the old signage and theatrical emphasis on Chicago. In addition, my trip to France in January inspired the name and Paris lingerie boutique feel. A delicate boldness.
Prakriti, meaning nature in Sanskrit, was inspired by a custom design for a bride married in a garden in the country. The design has been modified from her custom design but still has the feel of serene garden country charm.
Enveloped was inspired by my "thanks for being so dear" cards. The deer obviously represent the couple. I wanted to tell a little story here and establish a setting. This is a direction I intend to explore more with wedding be it custom or ready made. It is the illustrator in me. I like wedding invitations that set a mood and tell a story even if there are not animals involved in the design. The clover like flowers amidst light outlined trees and a striated ground create a scene that can be in a lot of places – woods, backyard, park, garden, et cetera. It was important to think about where weddings take place and if this could connect to the scenery.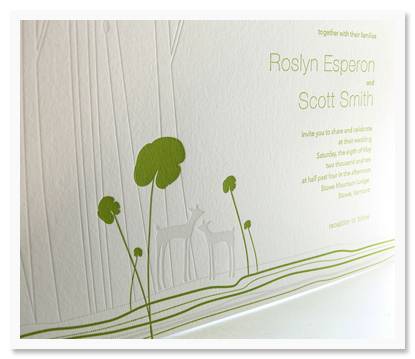 Why did you choose to use letterpress as your printing method?
Letterpress is antique. It is tactile. It stimulates the senses with its soft paper and interesting concave impressions. I have been attracted to it since I took printmaking in college. I knew right away I would explore this method somehow. The look of letterpress is elegant and begs to be saved for wall art, inspiration boards, and a possible recycled something. It is too beautiful to let place in a wastebasket. Maybe we should have letterpress wastebaskets and then we would not have as much waste, hehe!

What else is in the future for the invitation line?
New website, additional invitations, and the rest is hush. : )
Images from INK+WIT.