I am that person during the holidays. Blaring the Christmas tunes at all hours of the day, getting a tree the second the Thanksgiving turkey leftovers hit the fridge -and yes, we were the house where the Christmas lights went up a few weeks back with Daylight Savings. I ADORE the holidays. If there isn't enough magic in the air, winter weddings add a little love and romance to the mix. The merriment, the twinkle lights, fabulous little shrugs over gorgeous gowns! LOVE!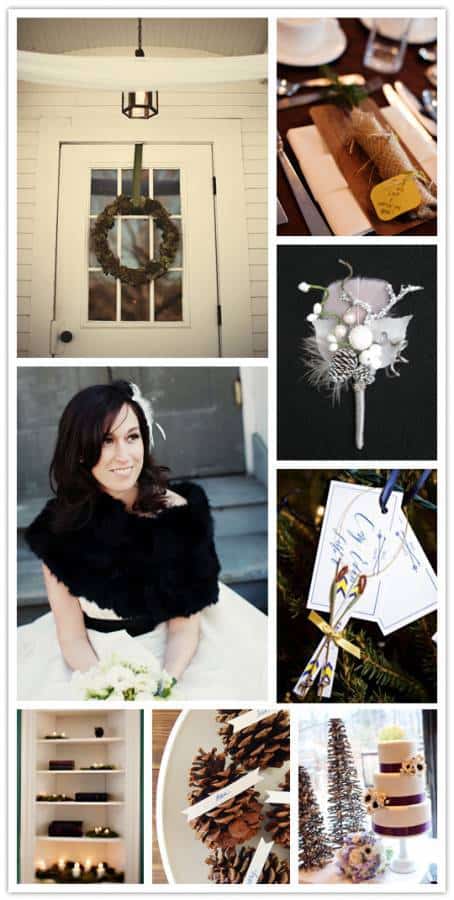 How sweet is this dainty winter boutonniere with its miniature snow balls and frosted pine cones? What about an escort card tree filled with adorable ornament skis to guide guests to their tables, each named after a great ski run? Genius! Another big holiday love of mine? Candles! Tons and tons of candles are an inexpensive and elegant way to dress any winter themed table. Add some rich greenery and viola, a stunning table! Another fun find: perfect little pine cone place cards and wreaths hanging with thick silk ribbon from doors. Finally, the favor of all favors, a mini little Christmas tree to plant and watch grow!
• • ♥ • •
Inspiration Board Credits:
Wreath, Leigh Miller Photography via Frosty Winter Weddings
Tree Sapling Favor, Leigh Miller Photography via Frosty Winter Weddings
Boutonniere, Erica Cavanagh
Bride, via Leigh Miller Photography via Frosty Winter Weddings
Ornament Escort Card, Adeline and Grace Photography via Style Me Pretty
Candle Decor, Leigh Miller Photography via Frosty Winter Weddings
Pine Cone Place Cards, The Sweetest Occasion
Cake, Shira Weinberger via The Dingbat's Agenda
• • ♥ • •
Trisha Dean is a wedding and event planner in the San Francisco Bay Area. A background in graphic design and corporate event planning led to her love of designing and planning weddings. She is the author of Adore and a contributing blogger to Bay Area Bride Guide in addition to the Inspired Bride. She lives in Walnut Creek, California with her husband, daughter, and two cats.