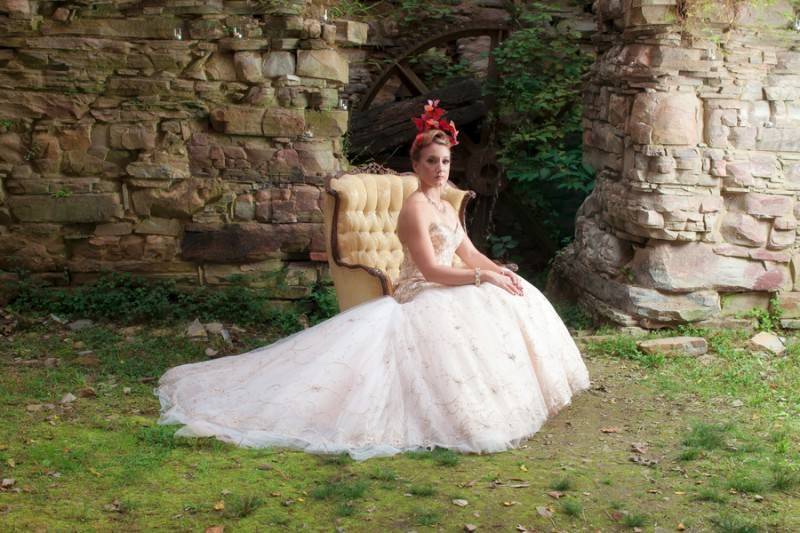 With the release of the penultimate movie for the Hunger Games series today, this styled shoot is perfect for those who are a fan of the franchise. The bride and groom were inspired not by the infamous couple Katniss Everdeen & Peeta Mellark, but by the bantering pair, Effie Trinket & Haymitch Abernathy. An unusual pair indeed but they are one of the most striking characters in this series. Effie's bright outfits and jolly personality is the perfect opposite with Haymitch's perpetually sullen mood and this made the album more interesting. Enjoy and may the odds be ever in your favor!
Here is what their photographer had to say about this unique shoot…
What do you think is the overall story for this album?
With the release of Katniss as the Mockingjay, Panem is at a pivotal moment; cracks are beginning to show in the decadent facade of the Capitol and the spark of revolution has caught. The world as they know it is crumbling around them, but their love will endure even while the world burns down around them.
What inspired the wedding day outfits?
I wanted a dress that would really make a statement and be a bit over the top and for that, Lazaro always delivers. Jeanette's Bride n' Boutique helped us choose the blush multicolored gown that is the centerpiece for the shoot.
What was your favorite part of the day?
I am never in the photos so getting to have a cameo in the graffitti picture was a lot of fun for me.
Was there any Do it Yourself (DIY) projects? If so, can you describe them in detail?
I made the butterfly headpiece custom for the shoot. We wanted to pay homage to the one that Effie wore in the second movie at the reaping. I started out with the headband and then approached it like I was making a wire sculpture to get the form the correct proportions, adding the feather butterflies last.
What were the highlights from the ceremony & reception?
Well, we did have Moltov cocktails…so that was fun.
Vendors
Photographer:  Mollie Tobias Photography
Hair & Makeup Artist:  Alison Harper & Co.
Cake Designer:   Bijou's Sweet Treats
Event Venue:  Chapman's Mill
Jewelry:  Hartman Jewelers
Dress Store:  Jeannette's Bride N' Boutique
Dress Designer:  Lazaro Couture
Etsy Designer:  Mollie Tobias Creative
Butterfly Headpiece: Mollie Tobias Creative
Floral Designer:  Shelley's Floral Enterprise
Invitation Designer:  Simply Designed
Heirlooms and extras / Vintage Rentals:  Stylish Patina Vintage Rentals
Event Designer:  Katie Rose LLC