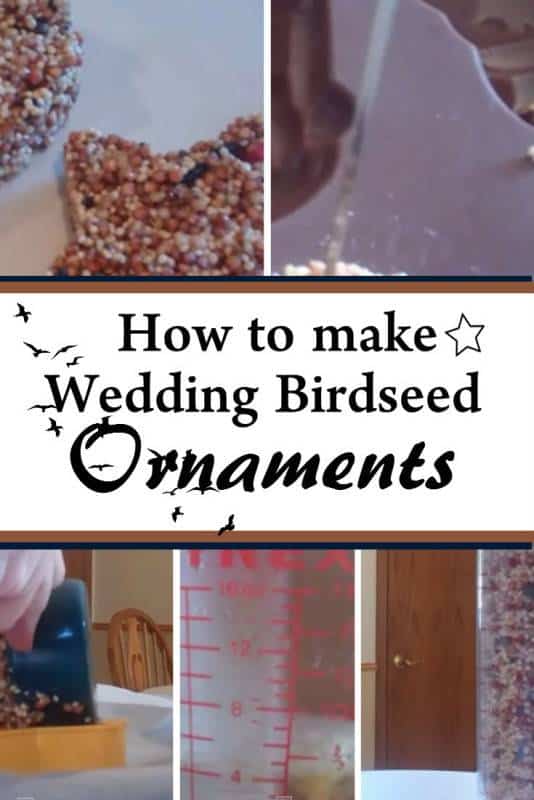 If you don't like spending much on ornaments, then wedding birdseed ornaments are the ideal decor. They are inexpensive and stunning. They are so easy to make you can let kids help you. They are also great "thank you" gifts to your guests and… birds.
What you need:
Large bowl
Measuring cup
All-purpose white flour
Corn syrup
Powdered gelatin
Bird seeds
Wooden spoon
Shape or soft molds
Cookie cutter
First, measure 4 cups of bird seeds. Then, pour it on the large bowl. Put three-quarters of a cup of white flour. Using a wooden spoon, mix the two ingredients well.
Measure 1/2 cup of water and heat it up in the microwave. Hot enough to dissolve the powdered gelatin. After that, pour the entire envelope of gelatin. Mix until it dissolves. It takes time for the gelatin to dissolve. If you have difficulty dissolving the gelatin or the water is not hot enough, you can return it to the microwave.
If the gelatin is entirely dissolved, pour three tablespoon of corn syrup into the gelatin mixture. Again, whisk to blend the ingredients well. Pour the syrup-gelatin mixture into the birdseed-flour mixture. Stir the ingredients well making sure all the bird seeds are evenly coated.
Now, we will start to mold the bird seeds. Grab a cookie sheet or pizza pan and cover it with wax paper. Get the cookie cutters, any shape you like, and put it on the wax paper. Scoop a cupful of bird seeds and put in the cookie cutter. Press the bird seeds down using the back of the cup. Fill up the other cookie cutters and molds.
Use a knife to clean up the edges and make sure the holes are filled up with bird seeds. Now, you poke a stick on top of the molded bird seeds to create holes for string purposes. Then, cut pieces of straw and put one on each hole. This is to keep them open while you freeze the bird seeds.
Put them in a refrigerator and let them freeze for 8 hours or so. Pop the bird seeds out of the mold or cookie cutters. For the finishing touch, cut a string or ribbon and put it through the hole. And that's it! Your birdseed ornaments are ready for your wedding day.
They are also lovely wedding favors. You can wrap them in plastic or place them on a box shaped like the ornament.
Watch How it is Done
Save all the Steps Above using this Bookmarklet