Nole Garey is the editor of Oh So Beautiful Paper, a daily design and wedding blog showcasing her love for all things paper, with a particular focus on unique and whimsical designs. Through Oh So Beautiful Paper, Nole loves to inspire others looking to find or create wedding invitations and personal stationery.
Well hello there everyone! I'm so thrilled that Maddy asked me to stop by today, since it gives me an opportunity to talk about one of my favorite wedding elements that I don't really get to talk about much over on Oh So Beautiful Paper – wedding dresses! Back when I was planning my own wedding in 2007-2008, finding the right wedding dress was, for me, one of the most difficult parts of my wedding planning process. I knew I wanted something simple and not overly bridal-y, but other than that I didn't really know what I wanted.  I got further into the process, I realized that I wanted a vintage-inspired lace gown, and settled on Monique Lhuillier's "Claire" gown because of the unusual lace pattern in the dress.  Funnily enough, I found my exact dress through a simple google search, which led me to a bride in Canada who was selling her dress!  And even though it took me months to find "my" dress, once I found it I knew it was the dress I wanted to wear on my wedding day:
Images by Kate Headley Photography via Oh So Beautiful Paper.
Today, more than a year and a half after my wedding, I can't help but smile every time I see a bride in a wedding dress that perfectly captures her personality, style, and the joy of her wedding – whether the dress is designer, vintage, or even handmade.  So for today, I thought I'd share a few of the wedding dresses that have made me smile over the past few months!
Image from Aidei Photography via Little White Book.
How cute is this bride's short vintage wedding dress – and the mismatched bridesmaid's dresses?  I love the mixture of the sweet short skirt and lace overlay, and the bride's smile is totally infectious.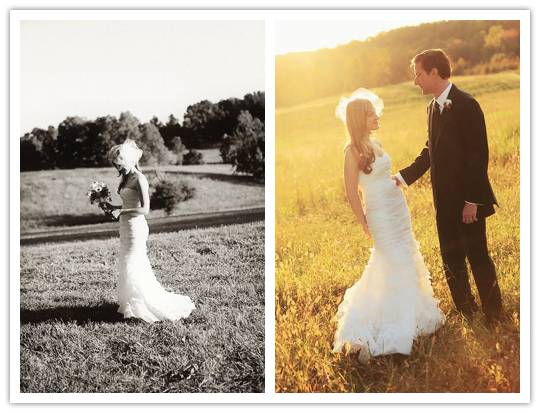 Image from Keefer Photography via Little White Book.
I love this bride's floaty chiffon wedding dress.  The tiers of chiffon look like as air, and I love the contrast with the rustic surroundings of the wedding venue. And, um, hello gorgeous booties!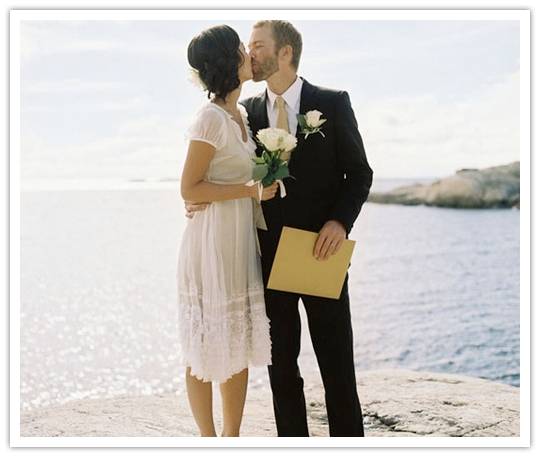 Image from Mikael Olsson via Once Wed.
This Swedish seaside wedding is one of the most adorable weddings I've seen in a long time, and the bride's chic short dress had me with my mouth totally hanging open.  I'm absolutely in love with the idea of short, chic dresses for daytime weddings.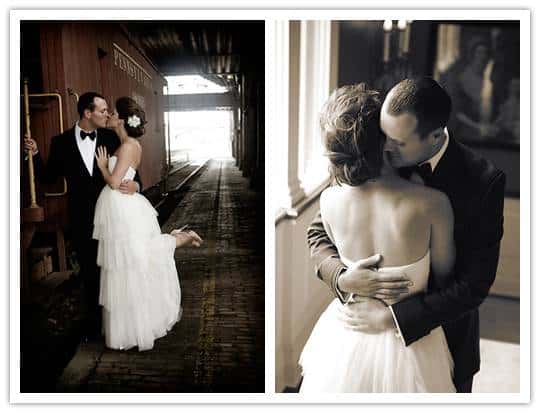 Images from Marie Labbancz via The Bride's Café.
I could never pull this dress off on my 5'2" frame (I'm pretty sure you need to be about eight feet tall to wear this gorgeous Monique Lhuillier tiered gown), but it is undeniably gorgeous on this statuesque bride.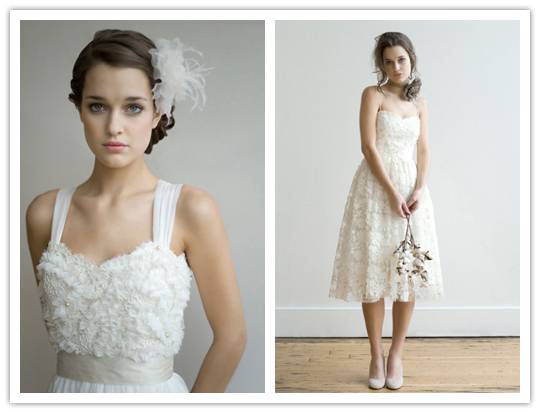 Images from Lisa Warninger Photography via Elizabeth Dye.
Elizabeth Dye makes the most gorgeous handmade wedding dresses.  The two above are from her latest collection, and I love the beautiful texture of each dress.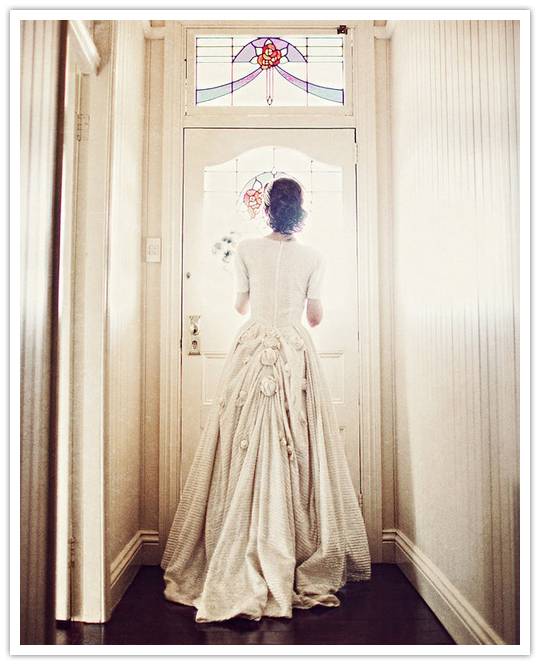 Image from Jonas Peterson via Snippet and Ink.
Before I found my dress, I thought about wearing an actual vintage dress for my wedding, and this gorgeous Victorian-esque vintage wedding gown makes me wish I'd looked a bit harder for something that would have fit our wedding style.  I also love the sleeves, which is unusual in today's sea of strapless wedding gowns.
Images from Tanja Lippert Photography via Style Me Pretty.
The embellished collar of this Lela Rose wedding dress is completely amazing – and the layered texture of the dress itself is stunning all on its own.  As is often the case with Lela Rose wedding dresses, this gown is totally unlike any other dress I've ever seen, and I absolutely love it.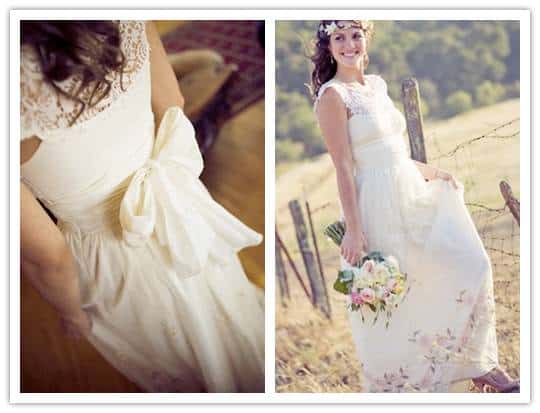 Images from Cameron Ingalls via Green Wedding Shoes.
This bride's Claire Pettibone dress is feminine, youthful, and sophisticated all at the same time.  The gorgeous embroidery towards the hem, the lace, and playful sash are the epitome of bohemian chic.
Are any of you planning to wear an unusual wedding dress, whether vintage, short, or another style?  I'd love to hear about your dresses and how you chose them!
Thanks so much to Maddy for inviting me over today!