From pave to split shank bands, from solitaires to halo settings, engagement rings are so great that it becomes very difficult to sort out or select the best one or two that may suit your style the best. But the cushion cuts and the princess cuts are beautiful and stunning.
A solitaire diamond or a channel setting, a classic bride can never go wrong with these. A cushion, round or a princess cut ring is more popular and are available in a huge variety and these can stand out to be the best for both modern and classic brides.
If you need an alternative there are a huge number of options available other than standard white diamonds. You cab select from a variety of options like emerald, pink quartz, colored gemstones, sapphire or any other gorgeous stone that is on trend right now.
Stones of such rings make such a impact that forces other rings to stay simple and with minimum attraction. Think even of antique one's that you generally don't find on everyone and everyday.
So, go on reading for to gain more ideas for your wedding ceremony ring.
An Oval-Cut Ring With a Double Halo
You can see that every single inch of this ring is completely covered with diamonds sparkle. That's why double the halo to double the sparkle.
A Unique Trillion-Cut Ring With Open Wedding Band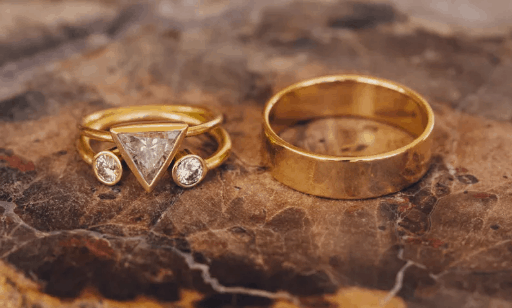 This ring with a trillion cut has both bohemian and urban vibes. Look gets completed when matched with an open band.
An Oval-Cut Engagement Ring With a Split-Shank Band
If you're going for a big center stone you must also go for a split shank band with it. A golden and soft holder that holds the big crystal clear diamond.
Ring Featuring a Halo of Round-Cut Diamonds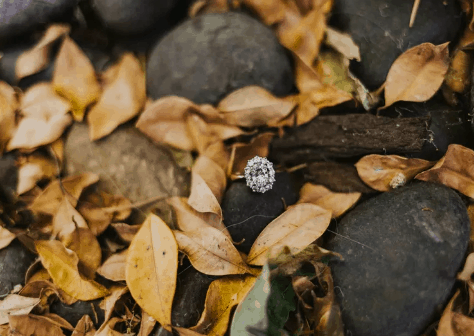 An oval stone with a smooth band looks so stunning. Mixture of center diamonds with the gold band completely out stands the feel.
Rose Gold Engagement Ring
Rings with rose gold are so romantic and are really trendy. Match it with a diamond shape silhouette and that's what's gonna make you outstanding.
Sapphire Engagement Ring With Double Halo
A Vintage Diamond Engagement Ring
This ring is vintage inspired and comes with a snowflake design, that's what makes it so magical and perfect for a princess.
Rose Gold Engagement Ring in a Filigree Setting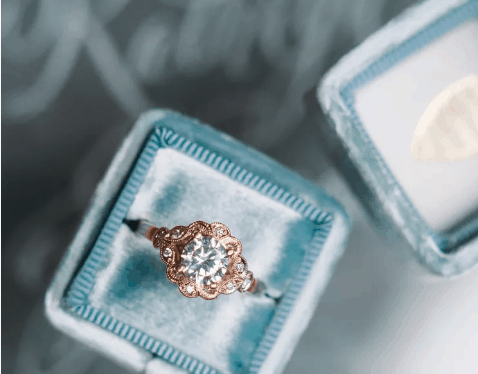 This ring is something that you wouldn't see everyday or on anyone's finger. It is a complete pack of style, beauty and grace and it's rosThis ring is vintage inspired and comes with a snowflakee gold color makes it even more romantic than it is.
A Floral-Inspired Engagement Ring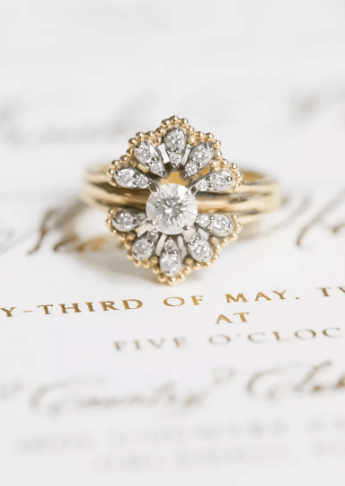 This ring with the floral inspired gem is bold and vintage and is best for southern bride's.
A Vintage Rose Gold Engagement Ring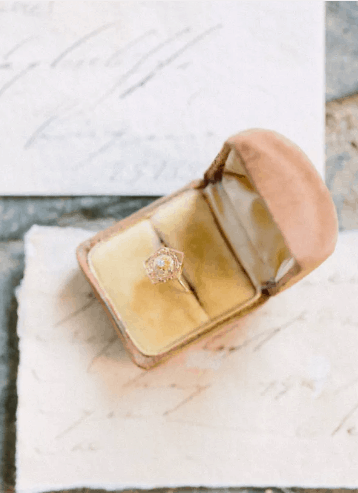 The rose gold design on this ring makes it vintage and dreamy. This ring is too delicate, fun and beautiful.
An Art-Deco-Inspired Engagement Ring
This ring gives a feel of fashion of old era. The beautiful stone with a rose gold fan at top of it makes it look even more attractive and glamorous.
An Emerald-Cut Diamond Engagement Ring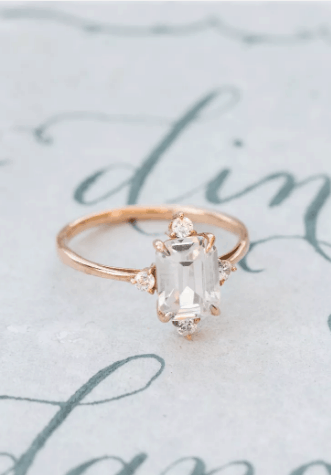 A rose gold band that holds and displays four tiny diamonds holding a big emerald cut diamond makes you feel like the best.
An Emerald and Diamond Engagement Ring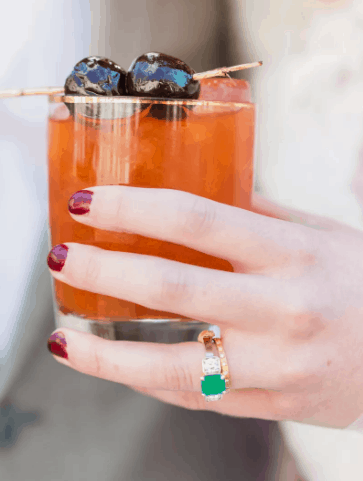 A green emerald held with two small diamonds in this ring is really gorgeous. Plus it's a three stone engagement ring that will lift you up in your wedding.
A Round-Cut Diamond With Halo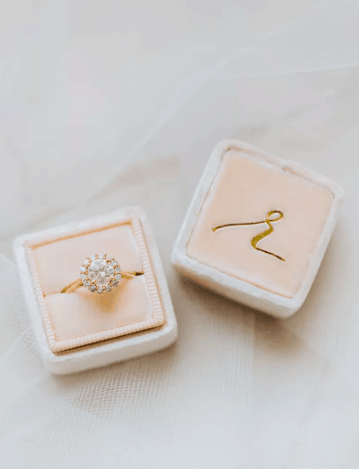 Gold and diamond matched with pink makes this ring classy and elegant.
Pear-Cut Diamond Engagement Ring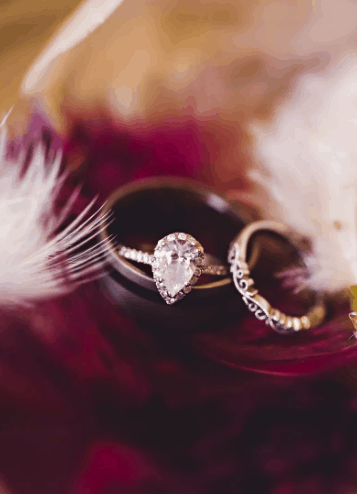 This engagement ring with a pear cut diamond makes it glamorous, elegant, whimsical and bohemian.
An Emerald-Cut Diamond on Pave Band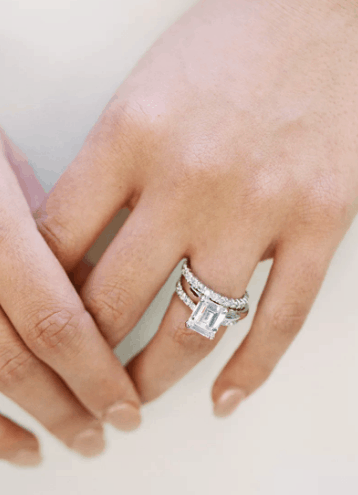 This ring can be the most attractive thing of your wedding for your guests. This modern emerald cut stone is so beautiful and attractive that no one would like to miss this.
An Opal Ring With Diamond Halo
This oval shaped diamond ring is a mix and match of fun colors and the surroundings of oval makes this ring elegant also.
An Aquamarine Engagement Ring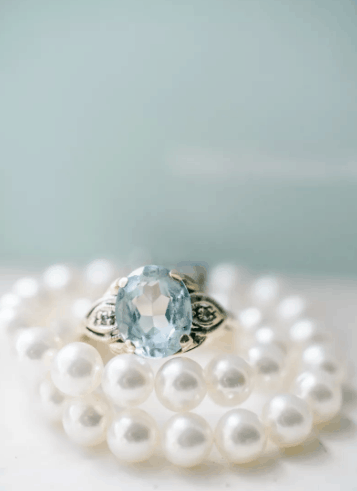 This aquamarine ring is beautiful and makes it look likes reflecting the light of the sky.
An Oval-Cut Emerald Engagement Ring
A round artistic ring like the one above, leaves an amazing impression to all viewers. Plus it gives a vintage look being light and small and gorgeous.
An Intricate Floral-Inspired Engagement Ring
This ring with flower design looks absolutely stunning. The texture and the color and the luminosity and the design as well, all looks great. It could be the perfect ring for many of you. It seem like a flower plucked from a diamond garden.
A Diamond Engagement Ring in an Unconventional Setting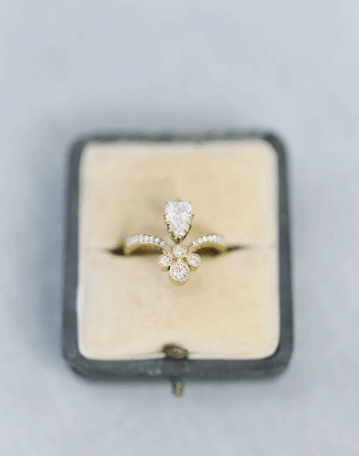 This ring makes feel like it is from French aristocracy. Bold and beautiful.
A Cushion-Cut Engagement Ring on a Gold Band
The pearly soft surface of this ring feels or glitter like tiny pieces of ice.
Engagement Ring in a Hexagonal Setting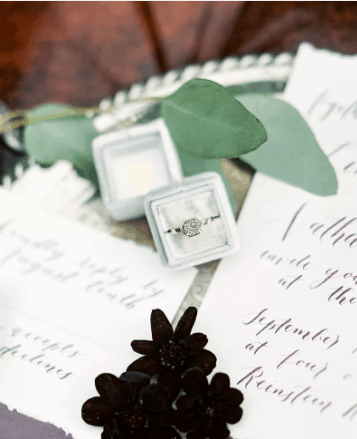 Diamonds alone are too sparkly and can be an easy replacement for main stones.
An East-to-West Engagement Ring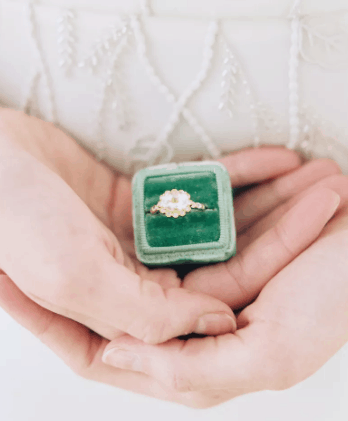 This ring in a spring flower design with a gold band forces you to focus on the diamond of this east to west oval ring.
Round-Cut Diamond Engagement Ring in Gold Setting
This ring with a round cut diamond and a gold band that holds the diamond and makes it look more attractive by the four holding points on the ring for the diamond.