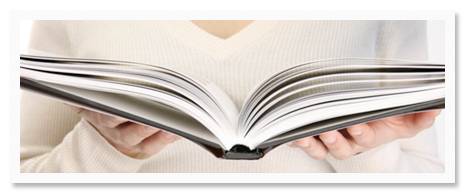 It's been a while since I first discovered Blurb, and I still think it's a fantastic idea. Blurb is a high quality self publishing service that allows you to create and design books with no graphic design background required thanks to their BookSmart software. More advanced users, of course, can design their spreads in Illustrator, InDesign, or Photoshop and upload the individual pages as a full bleed "photo" as well, so there's no limit to what you could do with it.
I bring up Blurb because it's just become a great solution for me, and I've been brainstorming ways other couples could use it. I've got a lot of information I wanted to add into our programs, from heartfelt notes about my bridal party, to the candy buffet etiquette (little children aren't allowed, but there are some older children I'm concerned about – no hands in the candy!), to notifying them about the sparklers available for our send off. I was concerned about binding time, among other things, and was wondering if doing them totally on my own was really a good idea. The light bulb went off, and I headed to Blurb.
What am I doing? I'm using their B&W Text format (approximately $5 a piece softcover, before their quantity discount) and designing a larger program that can also serve as a piece of art/favor. Since only the cover is going to be in color, the inside is going to be line art illustrated by Devon and myself (we're both graphic designers and artists – we met at Rhode Island School of Design) and we'll color illustrate the book by hand. Quite an undertaking, I know, but I'm more excited about coloring than hand binding books. Everyone then also has a takeaway keepsake that's a lot more personal, and they'll hopefully hold onto it a lot longer than your average program!
Other great things to use Blurb for:
"Scrapbooks": make a "scrapbook" of the planning period, including your inspiration and all the venues you looked at and how he popped the question, or of photos of your bridal party over the course of your friendship. If you're in the party, consider using it as a resource to create a really personal Bridal Shower gift!
Favors: If you're artistically inclined, a well designed or illustrated book can be a really sweet favor for your guests to treasure.
Wedding Coffee Table Book: Sometimes the hired photographer doesn't get your favorite shots. You never know what unexpected, personal moments your guests may get – ask your guests to send you the photos they snap and compile them all into a second wedding album!
Image from Blurb.