We're not ready to let go of autumn just yet but we can't deny that Christmas is already in the air, so here are some Do-it-Yourself decors and recipes inspired by these two seasons – we totally love this crossover. Take note as well that these items mainly made use of fruits and veggies. Yum!
Camille Styles Tips for Creating an Orange Garland
Cut two large oranges into 1/2" thick slices
Lay each slice flat on a baking rack that's nested in a sheet pan, and bake in a 200 degree oven for 6-12 hours, or until oranges are fully dry
To allow air to circulate completely, leave oven propped open a few inches throughout the drying process
Once orange slices are dried, easily string each slice onto a long piece of thick jute twine
Lemon-Ginger Tea Pomegranate Sparkler
By Gail Simmons
Serves 2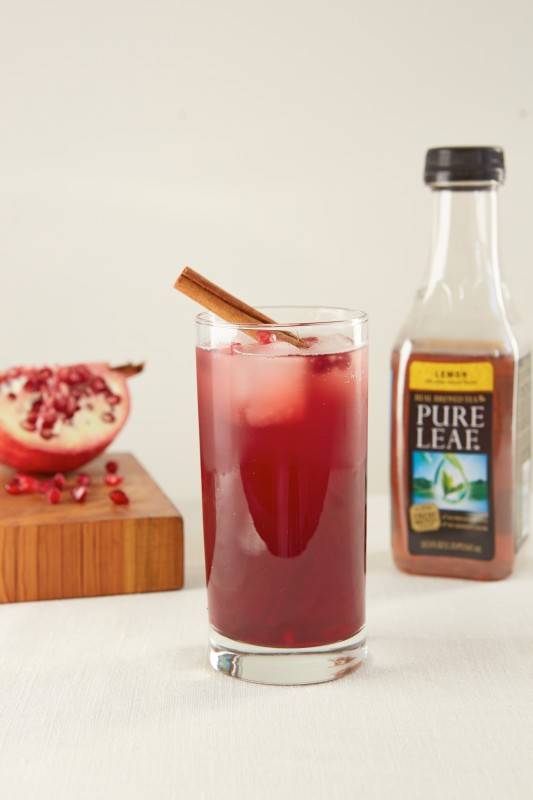 2 tablespoons fresh ginger, thinly sliced
1 cup Pure Leaf Iced Tea with Lemon
1/2 cup pomegranate juice
Cold club soda
2 tablespoons pomegranate seeds, for garnish
2 cinnamon sticks, for garnish
Instructions:
In a saucepan, combine the ginger and Pure Leaf Iced Tea with Lemon and bring to a simmer.
Remove the pan from the heat and set aside to steep, about 10 minutes.
Allow to cool in an airtight container in the fridge.
Fill two highball glasses with ice. Pour 1/2 cup ginger-infused tea, then 1/4 cup pomegranate juice into each glass.
Top each with club soda, garnish with a tablespoon of pomegranate seeds and a cinnamon stick to stir.
For alcoholic version, add 2 ounces gin or bourbon before adding tea.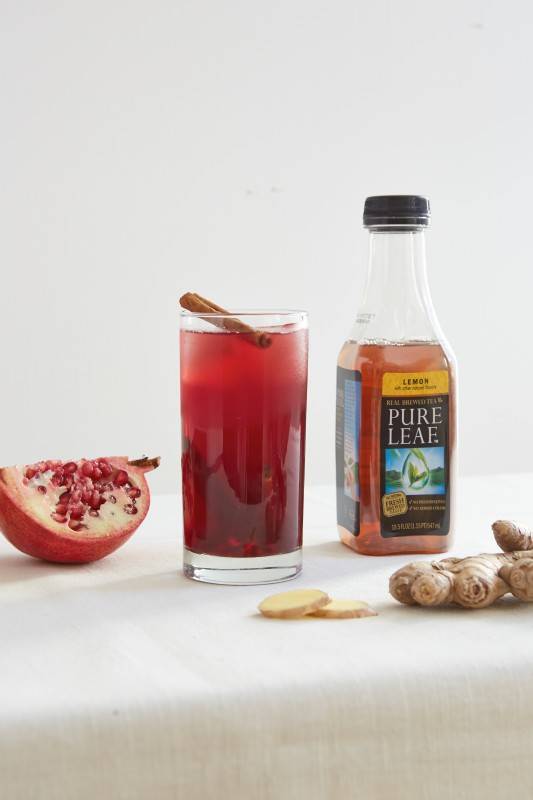 Shaved Fall Vegetable Salad with Tea-Pickled Radishes
By Gail Simmons
Serves 4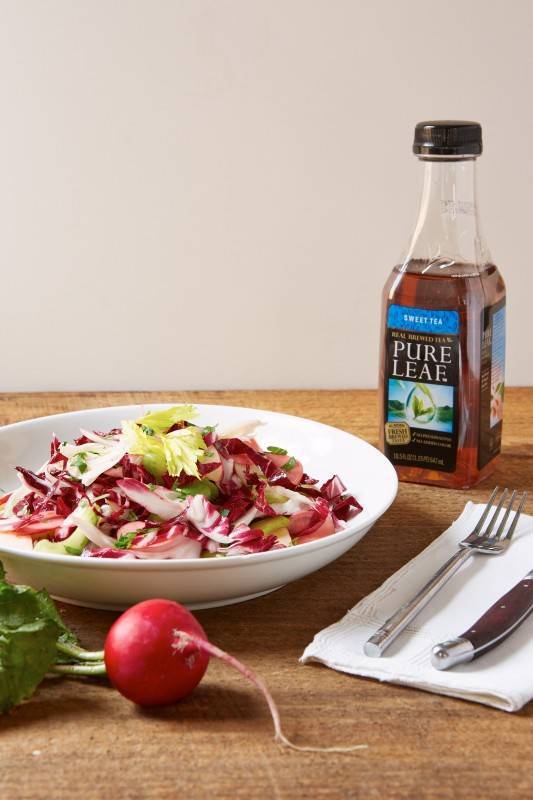 FOR THE TEA-PICKLED RADISHES:
1 cup Pure Leaf Sweet Tea, warmed but not boiling
1 tablespoon kosher salt
1 cup apple cider vinegar
8 small radishes, thinly sliced or 4 large watermelon radishes
2 garlic cloves, thinly sliced
1/2 teaspoon whole black peppercorns
Instructions:
In a medium bowl, combine the tea with the salt; stir to dissolve.
Add the vinegar along with the radishes, garlic and peppercorns.
Cover and refrigerate at least an hour or overnight.
Drain the pickled radishes, reserving 1/4 cup of pickling liquid for use in vinaigrette. Set aside.
Note: The drained radishes can be refrigerated for up to 1 week.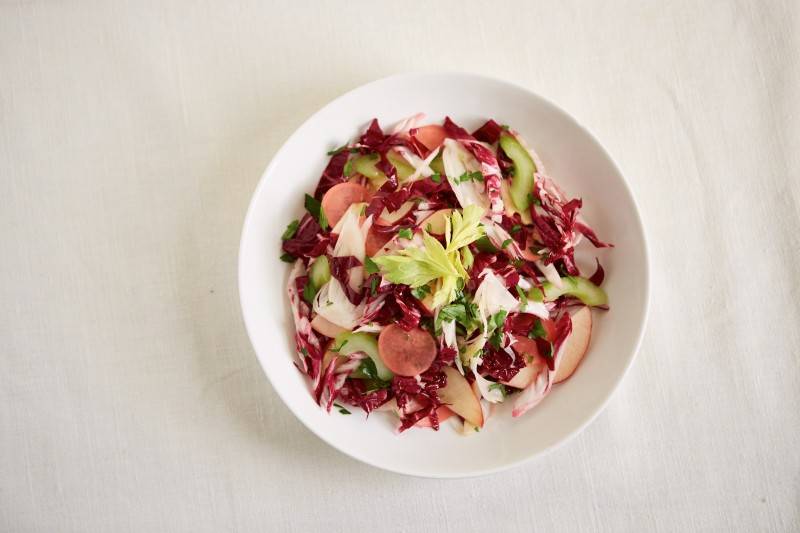 FOR THE SHAVED VEGETABLE SALAD:
1/4 cup reserved picking liquid
1 tablespoon honey
Kosher Salt
Freshly Ground Pepper
3 tablespoons extra virgin olive oil
1 large fennel bulb, thinly sliced
2 sweet, crisp apples, such as Gala or Fuji, cored and thinly sliced into half moons
2 small heads radicchio, thinly sliced
4 celery stalks, thinly sliced on a bias, leaves reserved for garnish
2 tablespoons roughly chopped flat-leaf parsley
Tea-Pickled Radishes, see recipe above
Instructions:
Pour the reserved pickling liquid into a large bowl.
Add the honey and whisk to combine. Season with salt and pepper.
Slowly add olive oil in a steady stream, whisking constantly to emulsify.
Add the fennel, apple, radicchio, celery, parsley and pickled radishes to the bowl and toss all ingredients together to coat.
Season with more salt and pepper if desired and garnish with celery leaves before serving.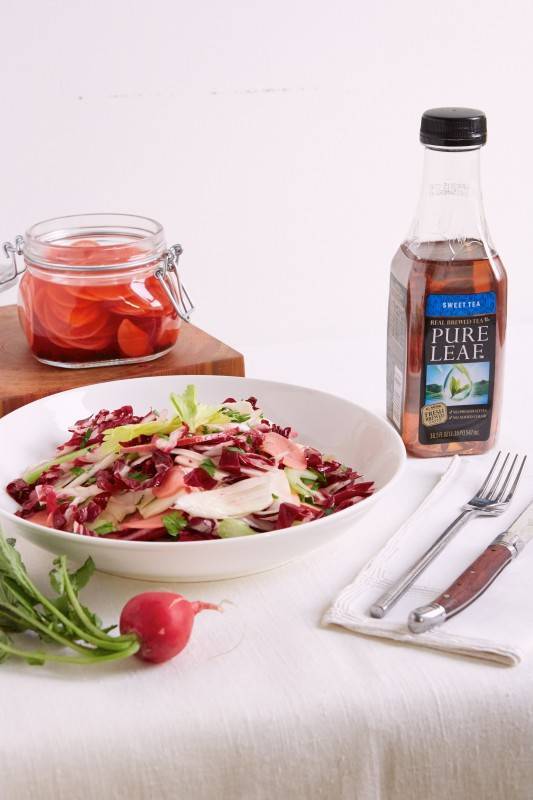 A big thank you to Pure Leaf for sharing these DIY decor and recipes with us.