While we are all suffering from a Game of Thrones hangover, here is one carefully formulated GoT inspired styled shoot that is sure to seep through your fanatic soul. Dragons, swords, and castles to name a few details. Never like the red wedding, your highness, but a placid one. And I am sure the Lord of the Seven Kingdoms will approve!

Click image to enlarge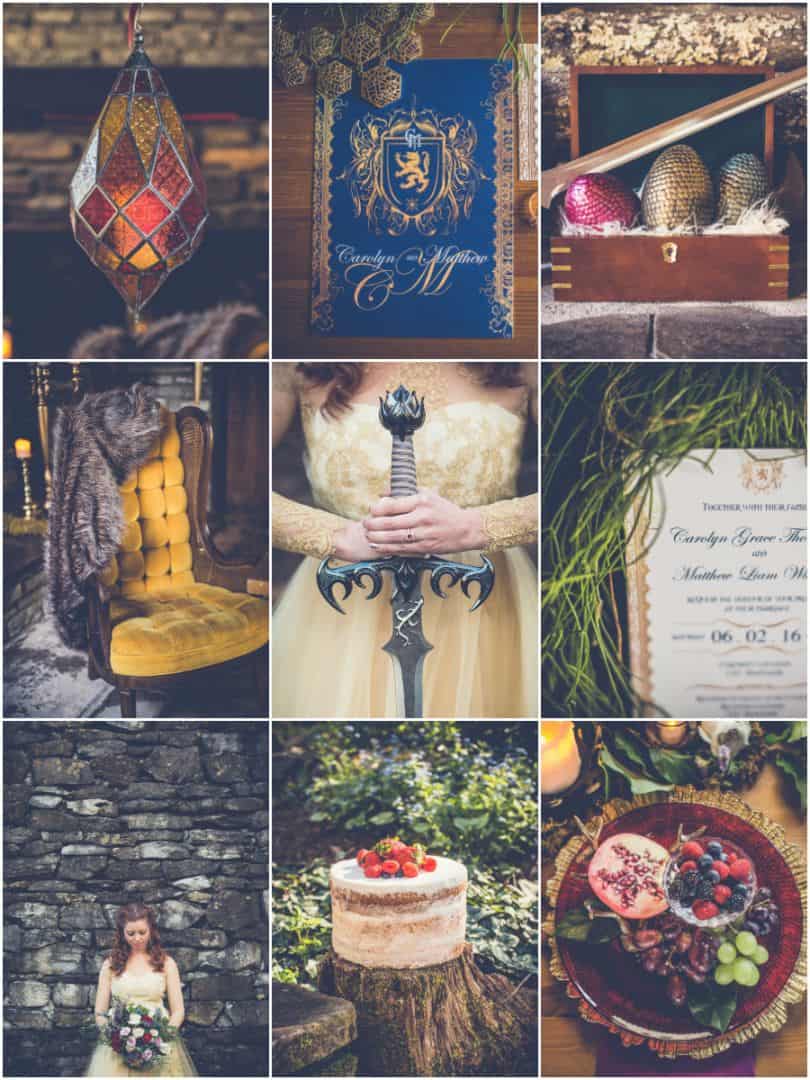 2

Like. Click to Vote
>
---
The Styled Shoot Details
---
Queenly Gowns
Them walking gently with heads high in their beautifully chosen laced gown of gold and black from Rent the Runway that fits perfectly with the theme. With their fierce looks, curls, and braids, these women are fit to be Queen of the Seven Kingdoms!
---
Dance with the Dragons
The legacy of the the House Targaryen lives on! Of gold dragon brooches and scaled dragon eggs, of the fiery sunset that seemed like a dragon's fire breath, burning our hearts out of its beauty. All these to prove that this styled shoot is a slayer!
---
Fire and Blood
Keeping up with the theme without getting blatant, the amazing team set up beautiful florals, decor in reds, navy, and purples. With such deep colors, the gold never fails to give contrast in the entire frame. Yes, great color choices!
---
Castles and Turrets
Well, queens have to have their own castle thus this botanical garden with its own arch stone walls, turrets, and its very own castle vibes. Remember, a photographer's powerful perspective is equivalent to great photos, just like what we have here!
---
The Photographer's Advice
"Plan and give yourself time so there's not so much stress."
---
VENDORS
Photographer: Shanell Bledsoe Photography 
Florals and Decors: LB Floral
Chairs and Linens: Anderson Party Rentals
Venue: Knoxville Botanical Gardens
Dresses: Marchesa & Catherine Deane from Rent the Runway
Cake: The Top Tier at Mer Mer's Bakery
Hair accessories: The Gilded Gown 
Hair styling and makeup: Belleza Salon & Spa