We are thrilled to share Megan and Louis' beautiful destination wedding today. Their ceremony took place along the beach at the Royalton Hotel and Casino in Punta Cana. We adored the incorporation of florals and beautiful blue tones that evoked the feel of the ocean. Let's take a peek at this lovely Dominican Republic destination wedding, and join us in wishing the couple happy ever after!
Click image to enlarge
7

Like. Click to Vote
>
Extra Special Details
As the bride shares,
There were a few details that just made our day extra special! We met in Charleston, SC and really want some way to have a part of Charleston in our wedding! So, we have palmetto flowers incorporated in the bridal bouquet, made up the bridesmaids' bouquets and groom and groomsmen wore them for their boutonnieres. It was a perfect touch! It made the flowers unique, represented where it all began, but also the four I had in my bridal bouquet were to remember all four of my grandparents who had passed away.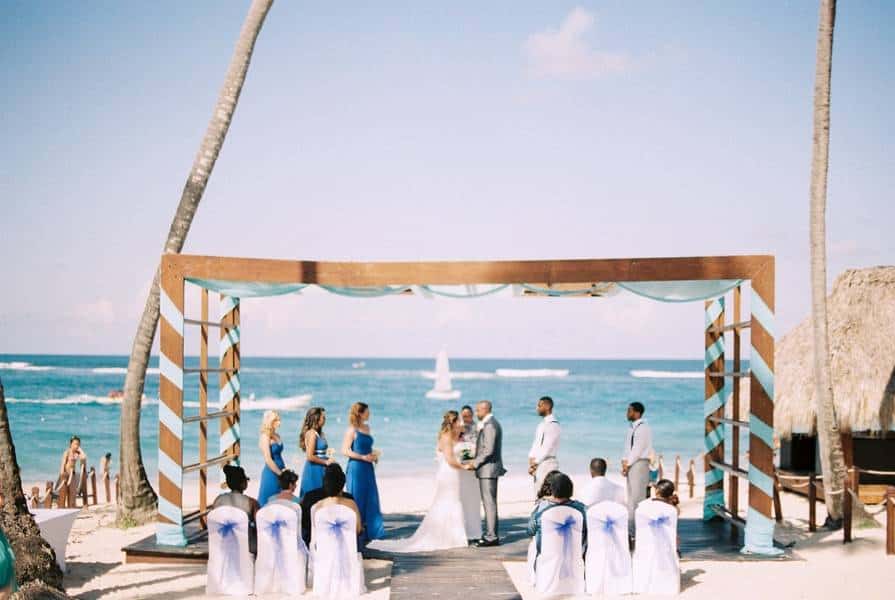 The ceremony location was also special. It was under a gazebo on the beach. It was special because we met in a beach town and he proposed on the beach in Cancun. Some of the smallest things can mean the most.
The DIY Projects
I made all the barefoot sandals for the bridesmaids, mothers and myself, with my mom. They were something that she was able to help me with. We got to spend hours together making them and it just brought back memories of when I was little and we made jewelry together!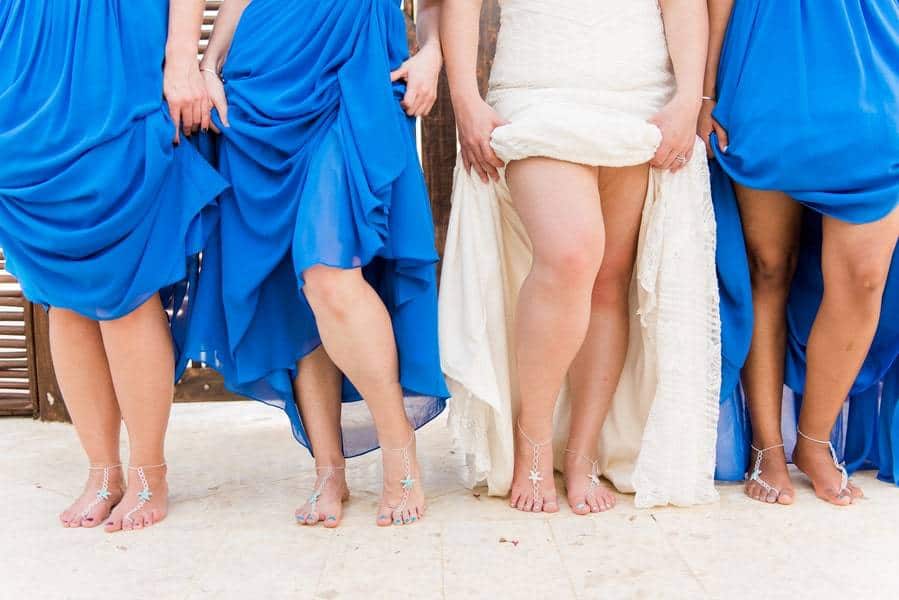 Another DIY was our cake stand! I found the idea and was in love with it and had to have it! It was just unique and Louis and I worked together to make it work! He got the plexi glass cut and I found the vases and everything to put in them! Turned out just right! One final detail were our favors! We bought sand dollars and had the initials of each guest put on individual ones along with our wedding date so each person could take home a piece of the beach! My friend helped with them and she made them actually how I pictured! We added some pearl paint to them to give them a bit of shimmer!
Tips From The Bride
♥ If we had to give advise to couples who are still planning We would start off with don't get caught up in everything and pleasing everyone. Remember this is your day as a couple not anyone else's. Make sure you guys are happy with your decisions. There are going to be complaints and opinions coming from everyone regardless, so just stay focused on what you guys are going for with your special day.
♥ Brides know that your Groom is there to support your decisions, so don't be a bridezilla to them. Grooms be there for your Bride! When she is asking for true input provide it. She wants this to be as special of a day for you as for her! You know each other better than anyone else so help each other through each part for the planning process because it can be very stressful!
♥ Brides that are on a budget , but really want a reception dress! But a bridesmaid dress in a white or ivory! I spent $200 on my second dress, just bought a bridesmaid dress by the same designer as my gown! I was comfortable and didn't have to worry about my gown being destroyed while partying!!
♥ One last thing for Brides – video your seamstress bustling your dress so whoever is going to bustle your dress can watch beforehand and have something to reference while doing it in case you guys run into problems! It saves so much time!
Money Matters
Wedding Budget: $5,000 – $10,000
VENDORS
Photographer: Juicebeats Photography | Bridesmaid Dresses: Bill Levkoff | Veils and Headpieces: BlancaVeils | Transportation: La Barcaza Wedding & Event Boat | Dress Store: Monica's | Event Venue: Royalton Punta Cana Resort & Casino