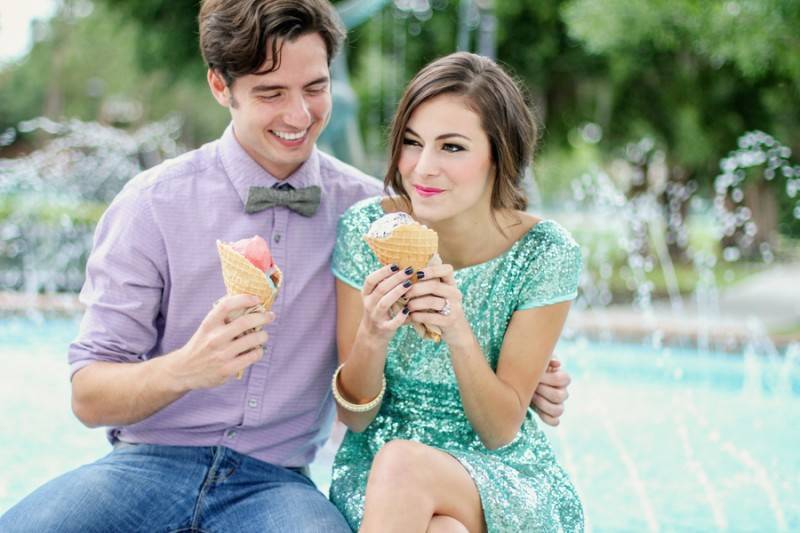 If you're thinking of how to approach your engagement shoot, then this 'first date' is a great idea. Think back to when you had your first date with your affianced and remove all the awkwardness, then recreate the activities that you have done together such as movies, ice cream, dinner, or park picnics. The possibilities and settings are endless – movie theaters, ice cream parlors, restaurants – they all provide that sweet and romantic backdrop. Plus, it's a good way as well to reminisce those moments when the spark just started to ignite, especially now that the spark has fully turned into blazing fire of love.
See as models, Mckenzie & Robert, portray a young couple who's totally in love  and are in their first date. Also, you can read some insights from the photographer on how they achieved this lovey-dovey photos. Enjoy!
What do you think is the overall story for this album?
We wanted to do romance in a new light; more cute and simple. Throughout this shoot we wanted the viewer to feel as though they were looking in on a date night between the adorable couple. With Winter Park Fl as the perfect setting for a sweet date we had a lot of fun, even stopping to get ice-cream along the way (how could we not treat ourselves to Kilwin's legendary scoops?!)
What inspired the wedding day outfits?
It was also very important to us for our couple to be stylish. I always tell my couple's that your engagement shoot should serve as a "preview" into the style of your wedding so we thought it would be fun to incorporate some glitter and sparkles for McKenzie's outfits. We also wanted our "groom to be" Robert to show some fashion forward statements. So often the male in a shoot kind of plays backdrop to the female, but we wanted our guy to make some statements of his own.
What was your favorite part of the day?
As it is with all my couple's, my focus is on having fun. Im less into posing a couple and more into capturing their true interaction with each other. I loved when these two were eating ice cream and not only enjoying the flavors, but having a good time playing with each other and Mckenzie decided that Robert needed some ice cream on his nose.
Vendors
Photographer:  Alice Rose Photo
Makeup Artist:  Marigold Scott On Location Hair & Makeup
Other Location:  Kilwin's Chocolates and Ice Cream Winter Park
Models:  Mckenzie Stephenson & Robert Spellman