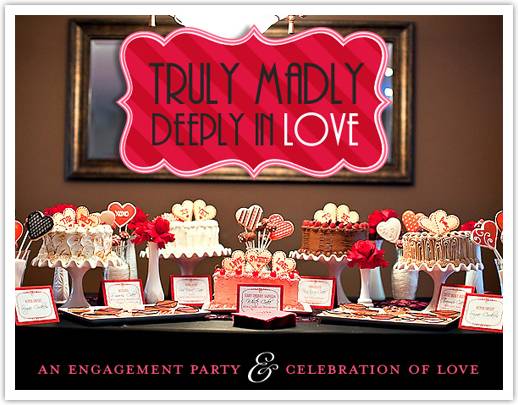 The day that you've been waiting for has finally arrived! He went down on his knees and asked "will you marry me?". Whether you remember if you said yes or not, you are now wearing the most beautiful ring you've ever seen and you are now engaged! Your boyfriend now has a new title – fiance. An engagement usually calls for a celebration and what better way to celebrate than to throw an engagement party with loved ones. But how do you exactly plan an engagement party? You've probably been to some in the past and have probably thought of your own when the time comes. Now that it's here, you find that you don't know where to begin.
Here are some tips on how to have an engagement party.
Who hosts the engagement party?
With facebook and media these days, the announcement about your engagement is probably out minutes after you said yes. But that doesn't mean you can't still have an engagement party. Traditionally, engagement parties are hosted by the bride's parents, but those days are gone! Nowadays, almost anyone can host the party for the happy couple. Even the happy couple themselves.
When to have the party?
It would be nice to have the party as soon as the engagement happens while the news is still fresh. For some they use this time to announce the engagement (again, if Facebook didn't announce it first). But some couple prefer to wait it out to plan out an exciting party that will be remembered next to their big day.
Who gets invited to the engagement party?
Etiquette suggest that people invited to the engagement party should also be invited to the wedding. It is after all, just an intimate and smaller version of your wedding (so to speak). But with wedding costs going higher year after year, some have used their engagement party to invite those who would not be invited to the wedding to still be able to celebrate with the couple. If you are having a traditional party that is hosted by the parents; both families are usually invited along with some close friends of the family and the couple.
What kind of party should you have?
Just as brides are getting creative with their weddings, people who host these parties are also just as creative with engagement parties. From simple to elaborate, the options are endless. That's the best part about planning an engagement party! So put on your thinking hat and be creative!
Things to think about when throwing an engagement party.
Just like any celebration, guests would usually like to have a few moments with the celebrants to ask them questions about how he asked, where it happened and of course what was her reaction. So be careful to give enough time to just relax and allow the couple enjoy some time with their guests. Also leave some room for toasts. And for the couple, this is the best time to thank the host for the wonderful party.
Image from: