This is a sponsored post written by me on behalf of Andre Champagne for IZEA. All opinions are 100% mine.
A bridal shower should represent the bride's personality, and give her the perfect chance to bond with her favorite girls. Whether you're the bride or the maid of honor who is planning a bridal shower for the bride, the tips and recipes in this post will show you how to create elegant, beautiful and tasty bridal shower drinks that will wow the guests! My "go to" beverage for creating drinks of virtually any kind is Andre's California Champagne and Sparkling Wine. They offer a variety of flavors and it mixes well with many different ingredients to create fantastic drinks.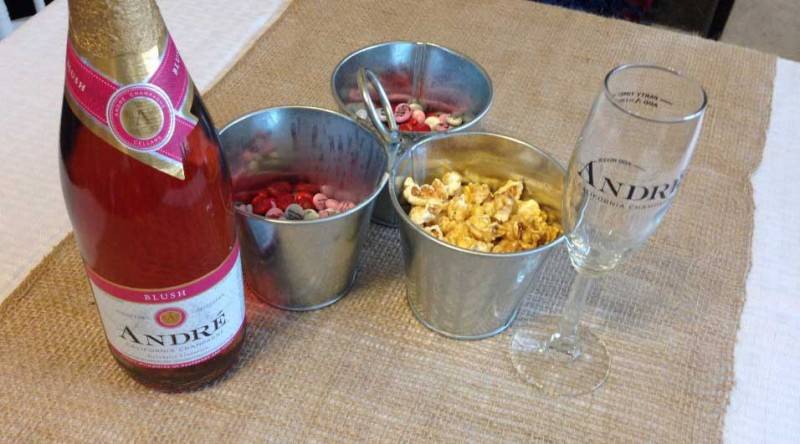 Established in 1966, Andre gives you a luxurious drink that isn't too expensive. They have evolved from just making sparkling wine to now carrying 9 different California Champagnes and Sparkling Wines. What I love about this is that there's something for every taste. I personally don't care much for drier wines, but I do enjoy Moscato. Many of my friends, however, think Moscato is a little sweet and prefer something more like Brut. So, by picking up a few bottles of Andre, you can be sure to have something that will please all of your guests.
Delicious Brunch Mimosas with Fresh Mint Sprigs
Create an elegant and refreshing mimosa to go with a brunch bridal shower! Here's what you'll need:
8 Ounces Orange Juice
1 Bottle of Andre Brut Champagne
2 Ounces Orange Liqueur
Fresh mint sprigs or Strawberries
This creates 4 mimosas, so be sure to adjust your shopping list if you'll need more than that. First, rinse your champagne flutes and place them in the freezer to chill. After about 15 minutes, take the glasses out and pour 2 ounces of orange juice into each glass. Fill the glasses nearly to the top with the champagne and add 1/2 ounce of orange liqueur. Stir, and add a fresh sprig of mint to the top of the drink. You can also make these look fantastic by placing a thin strawberry slice on the rim of the glass, or by adding a pretty paper umbrella.
Zingy Sunrise Fruit Cocktails
This delicious drink is the perfect afternoon cocktail and is elegant and pretty. Think you can't make a cocktail with wine? Think again! You'll need:
1 Bottle Andre Blush Wine
1 2-Liter Lemon Lime Soda
Ice
Sliced Fruits (Strawberries, raspberries, and sliced citrus are excellent with this drink)
Rinse and chill glass tumblers for about 15 minutes in the freezer. Next, pour 3/4 cup of the Andre Blush Wine into the glass and then add about 1/2 cup of the lemon lime soda. Add your ice and sliced fruits together, and garnish the glass with a slice of citrus fruit or a strawberry. This one is also really great with colored sugar along the glass rim, which you can purchase at any liquor store.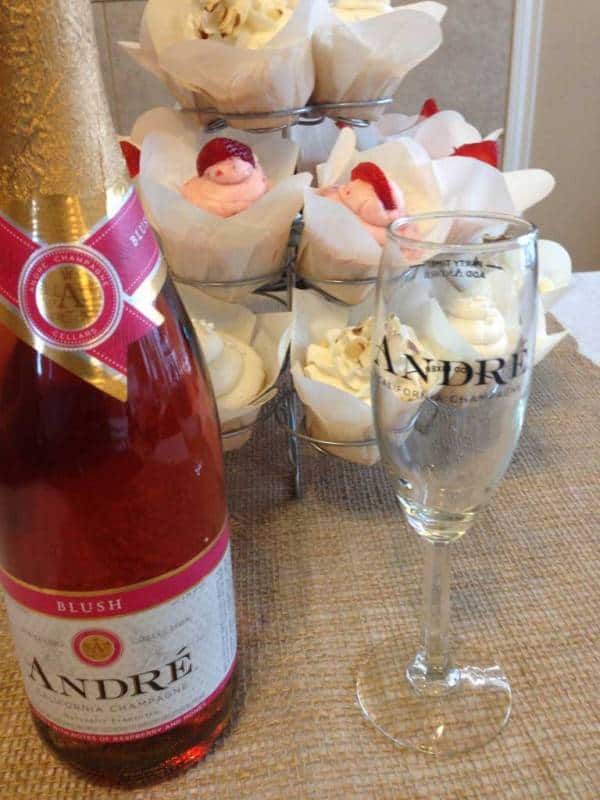 Spiced Apple Autumn Cocktail
For a bridal shower in Autumn, you can't go wrong with this delicious and mature cocktail that features the very best flavors of the fall season. You'll need:
1 Bottle Andre Brut Champagne
1 Can Apple Juice from Concentrate, Completely Thawed
Pumpkin Pie Seasoning (If you don't have this handy, you can use nutmeg, ground cloves and ground cinnamon)
Cinnamon Sticks for Garnish
This is such a fun drink, and super easy to create. Simply chill tumblers or highball glasses in the freezer for about 15 minutes. Next, add 3/4 cup of the Andre Brut Champagne and about 1/4 cup of the apple juice concentrate. Season the drink with 1 teaspoon of the pumpkin pie seasoning. If you're using individual spices, add 1/3 a tablespoon of each. Stir and garnish with the cinnamon sticks.
These are just a few of the fantastic and elegant bridal shower cocktails you can make using Andre's line of champagne and wine. I recently had the opportunity to try out a bottle of the BLUSH and I couldn't have been more pleased!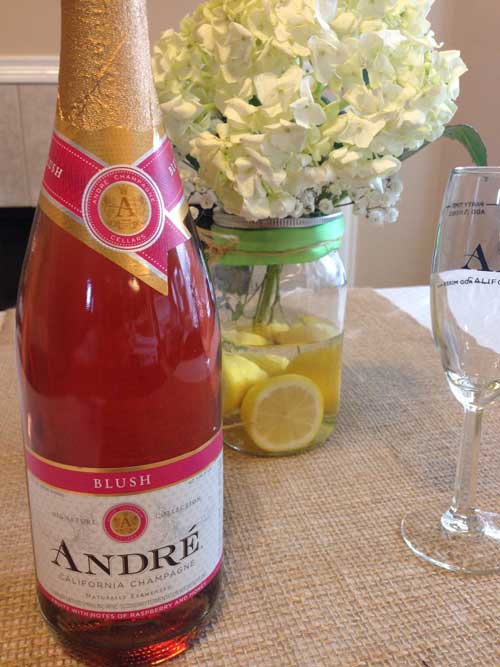 I personally love the rich yet gentle sweet bubbly taste of it. It's perfect to serve with some treats on a party tray or on have it waiting by the door for when you guests arrive.
Have you had the chance to try Andre? How did it take your party or bridal shower from ordinary to extraordinary? #EpicWithAndre
Share with us in the comment section below and always remember to drink responsibly!