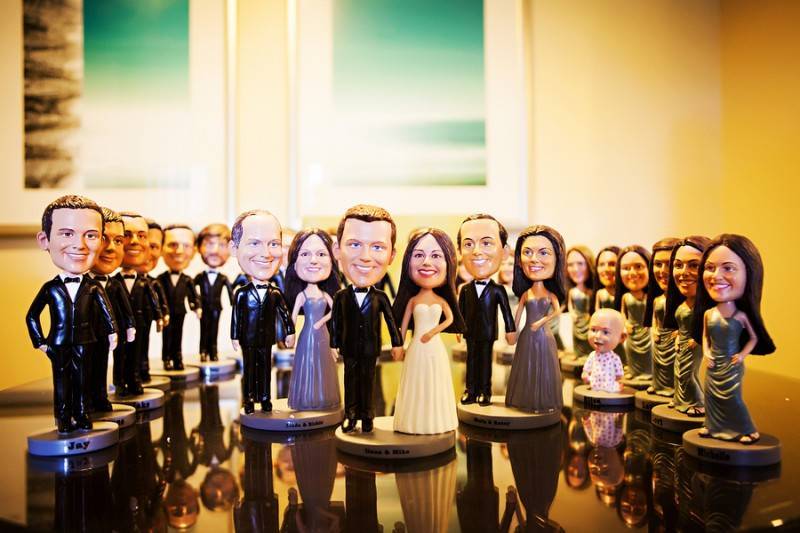 That bobblehead collection depicting the bride, the groom, and their entourage is just ingeniously creative . But truly, that itself gives us an image that this wedding is not only elegant but fun and lively as well. The details are very crisp and traditional – from the cake to the outfits. I love how the bridesmaids had ash black dresses. Black is an uncommon outfit color for weddings so they had the shade a bit lighter and came up with this hue that is (still) rare but tasteful. Aside from this elegance side, the couple and their guests look far from stiff and they all looked like they had the time of their lives with this wonderful event. Congratulations Ilana & Mike!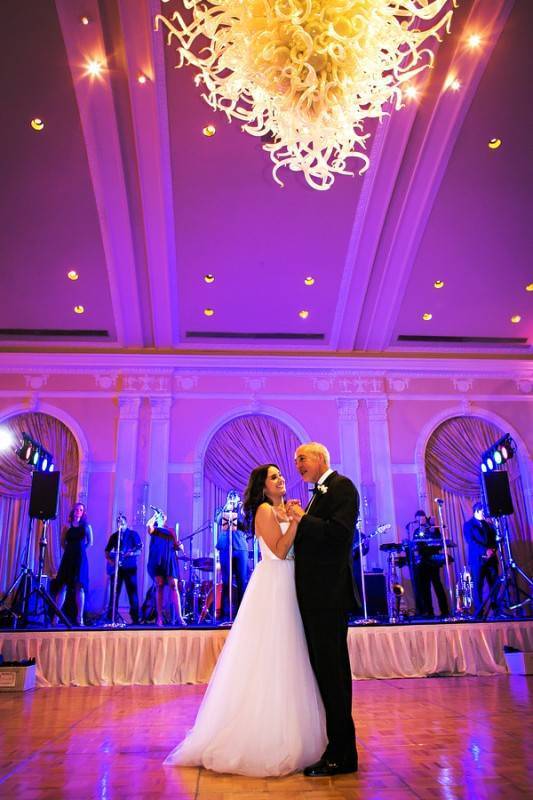 What do you think is the overall story for this album?
Ilana and Mike were high school sweethearts and met when they were only 15 and 16 years old! It was very fitting that Mike proposed to Ilana at their high school gymnasium on a trip to their hometown of Bellmore, NY. This adorable couple has so much fun together and truly make each other the best version of themselves. They enjoy traveling together, lazy days watching TV and going to the beach. When Mike first moved to Tampa, Ilana came to visit with Mike's brother and sister-in-law. It was a rainy day and someone suggested to Mike's brother that they go to the Vinoy for drinks. So they did and they loved the Vinoy from that first day! The Vinoy was the perfect backdrop for their elegant, but very lively wedding. It was very special to Mike and Ilana to have all of their friends and family travel from out of state to celebrate their wedding with them.
What was your favorite part of the day?
They had a blast at the reception, crowd surfing in chairs!
Was there any Do it Yourself (DIY) projects? If so, can you describe them in detail?
The bride paid a lot of attention to details of her wedding. The most unique feature was were the personalized bobble heads of everyone in the bridal party. At the reception, there was a basket of sandals with a ribbon tied on them labels "dancing shoes." This was for guests to change out of their high heels so they can be more comfortable on the dance floor.
What were the highlights from the ceremony & reception?
Jewish features, Hebrew interpretation, very upbeat reception
Was there a theme for the ceremony and reception?
The couple fell in love with the Vinoy venue, and and focused both he ceremony and exception around it.
What part of the ceremonies do you think was the most memorable for the bride and groom? Guests?
Their first look at each other as she walked down the aisle.
Vendors
Photographer:  Limelight Photography
Musicians:  Bella Musica
Hair Stylist:  Kelly Anne Makeup
Dress Store:  Malindy Elene Bridal
Floral Designer:  Tampa Wedding Studio
Band:  The Headliners
Reception Venue:  The Vinoy Hotel
Caterer:  The Vinoy Hotel
Cinema and Video:  Trinity Wedding Cinema
Cake Designer:  Vinoy Renaissance Resort