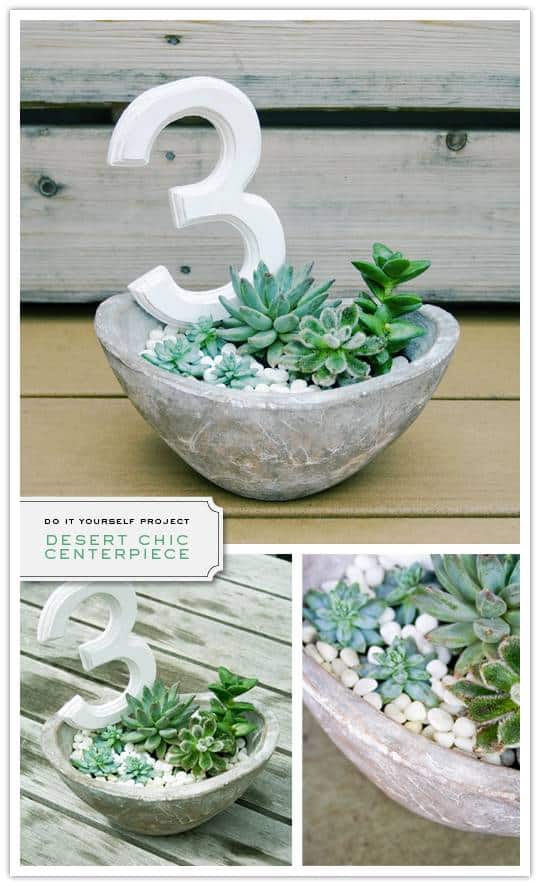 Create a more long-lasting centerpiece by incorporating succulents in different heights and a removable painted wood table number. As great decorative accents they can live on in your home long past the big event, and you can certainly give them away, too!
As an added bonus – the company that I purchased my succulents from, Succulents Galore, is offering you guys a 10% discount when you mention that you found them through the do it yourself project on this blog.
• • ♥ • •
What You'll Need

Planter (Our Cement Finish Piece is from JoAnn Fabric)
Potting Soil, Preferably Cactus Formla
White Pebbles (Available at JoAnn Fabric)
Succulents in Bulk (Ours are from Succulents Galore)
Wood Numbers (Available at Michael's or JoAnn Fabric)
Acrylic Paint and Paint Brush
Hot Glue and Glue Gun
Popsicle Sticks

Paint your wood numbers and popsicle sticks (one for each number should be fine) and set them aside to dry. For a more weathered look, water down the paint so it becomes more of a color wash than a solid color.
While the numbers are drying, design the centerpieces. If there is no drainage hole at the bottom of your planter, fill it with around an inch of pebble filler to act as a draining system to avoid complications from over watering. Fill the planter with potting soil, preferably the formula designed for cactus plants, up to about an inch from the rim of the planter.
Select the plants you want to incorporate into each centerpiece. Design each to your taste, but incorporating plants with different scales will help add visual interest. I also like to use common tones and plant shapes together. Be careful not to overcrowd the planter, and build in enough room so that the wood number will be able to fit in later. After the succulents are planted, spread a thin layer of pebbles  over the surface of the soil so it is covered.
Hot glue a popsicle stick to the bottom part of the back of a wood number. When the hot glue is cooled, push the wood number popsicle stick first into the soil until the stick is no longer visible.
To maintain the centerpiece, water lightly once a week.
Images by Maddy Hague.