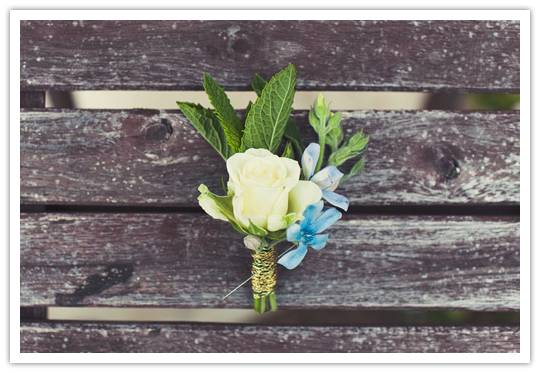 It's time for another lovely boutonniere from Leigh Anne of the Floral Lab featuring photos from Jackie Wonders. Simple and lovely, this boutonniere looks stunning with the white popping off of the lush green and soft blue.
• • ♥ • •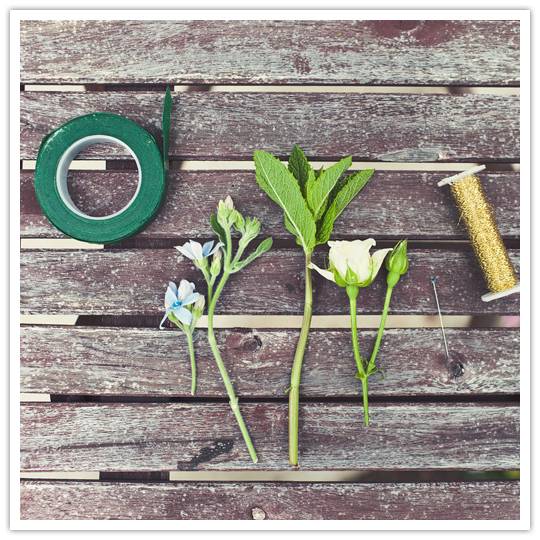 WHAT YOU'LL NEED
Spray Rose
Tweedia
Mint
Floral Tape
Floral Shears
Boutonniere Pin
Decorative Wire or Metallic String
Glue Dot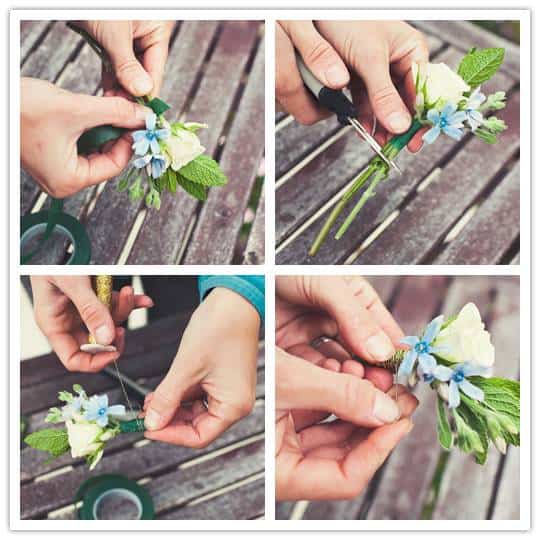 Gather your spray rose, tweedia, and mint so that the rose sits in front with the tweedia to its side and the mint behind both. Remove any stem leaves to clear the area in order to wrap it. While holding the stems together in their final position, wrap the bunch with floral tape. Trim the stems so they are even just below the end of your floral tape wrap. Beginning at the top of the boutonniere, wrap the metallic string or wire around the taped stems until the length of floral tape is covered. Secure the string with a glue dot if the floral tape is not tacky enough to hold it. Finish the piece with a boutonniere pin.
Storing and Attaching Your Boutonniere: If you have a refrigerator without ANY fruit or vegetables in it, you can store your boutonniere in it for up to two days. Produce gives off an enzyme that will wilt your flowers if stored together. Otherwise, it's best to make your boutonniere the night before or day of and keep it in a cool place. When it comes time to pin on the boutonniere, it's best to have someone other than yourself to pin in on you. Place the boutonniere on the center of your left lapel. From the back of the lapel, insert your boutonniere pin, cross over the stem, and re-insert into the fabric.
Images from Jackie Wonders. Project by Leigh Anne Landman of the Floral Lab.