Since I had some extra blooms from Blooms by the Box after I finished the Shabby Chic Centerpiece, I figured I'd give you guys a bonus project by translating the centerpiece into a boutonniere!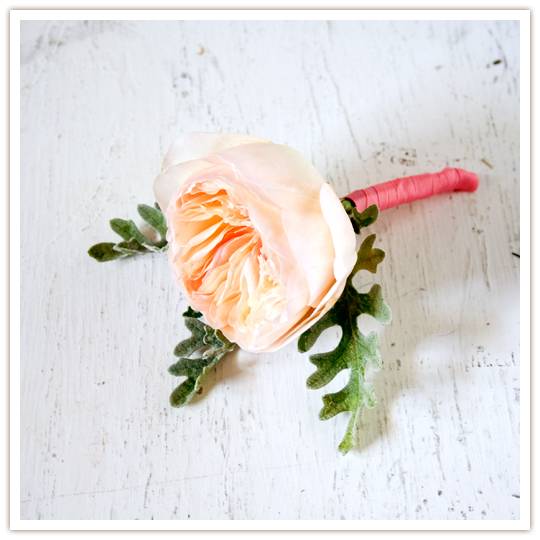 What You'll Need
David Austin Roses (this variety from Blooms by the Box were used)
Dusty Miller Leaves (from my own plants)
Floral Wire
Wire Cutters
Floral Tape
Floral Shears
Ribbon
Pearl Head Pins
Gardening Gloves (Optional)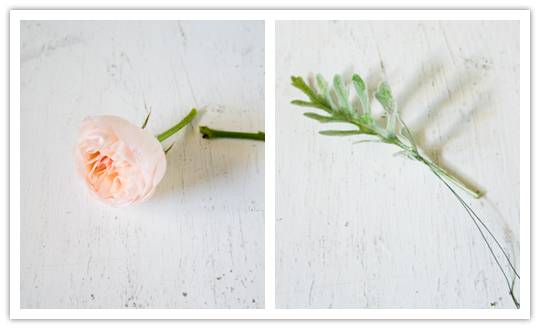 Remove the greenery from the stem of each rose. Please be careful – as with other roses, garden roses have thorns, so you may want to remove the greenery with gardening gloves. With gardening shears, trim each stem to about 3 inches below the base of the flower head. Set the flower aside in a small container with a shallow amount of lukewarm water.
Trim off two to three medium sized leaves from a dusty miller plant. Cut as close to the main stem of the plant as you can to get as much stem on the actual leaf as possible. Wire each leaf just below the bottom lobe by poking the wire through the stem cleanly and carefully Fold the wire in half as shown above to create additional support for the leaf and lengthen the stem.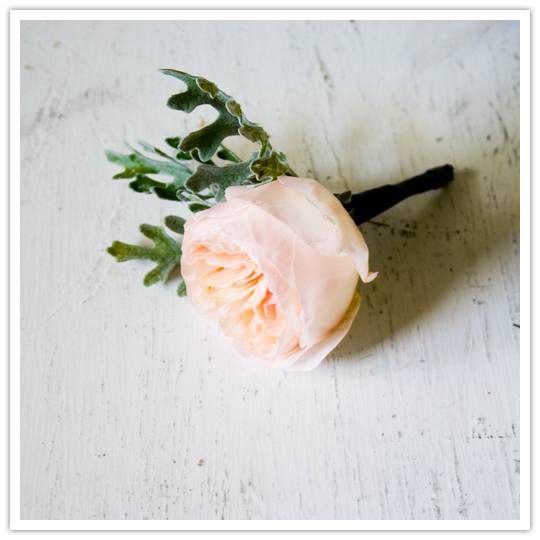 Arrange the leaves against the rose so that they line the side you would like to have be the back of the boutonniere. Using floral tape, begin attaching the leaves to the rose. Do not skip this step – using floral ribbon not only creates a smoother work surface for you when you begin to wrap with ribbon, but it holds the florals in place better and also has a sticky surface that will help keep yourribbon in place, too! Begin wrapping at the top of the stem, close to the base of the flower, towards the bottom, making sure to overlap the floral tape on itself. Cut the floral tape when you reach the bottom, and finish it off by wrapping it on itself so its tacky surface holds the end in place.
Repeat the wrapping process with a ribbon. Start at the back of the boutonniere at the same height below the base of the flower as you did with the floral tape. Wrap the ribbon around the floral tape stem, making sure the ribbon is tight enough that it's not moving or bubbling, but not so restrictive that it may damage the stems underneath. To finish the wrap, cut the ribbon, tuck it into itself on the back side of the boutonniere, and pin it in place with a pearl head pin.
Images by Maddy Hague.

• • ♥ • •
Blooms by the Box is a sponsor of the Inspired Bride, but no financial compensation was received for this post. Samples were provided for the project at our request. For more information on our editorial policy, please click here.