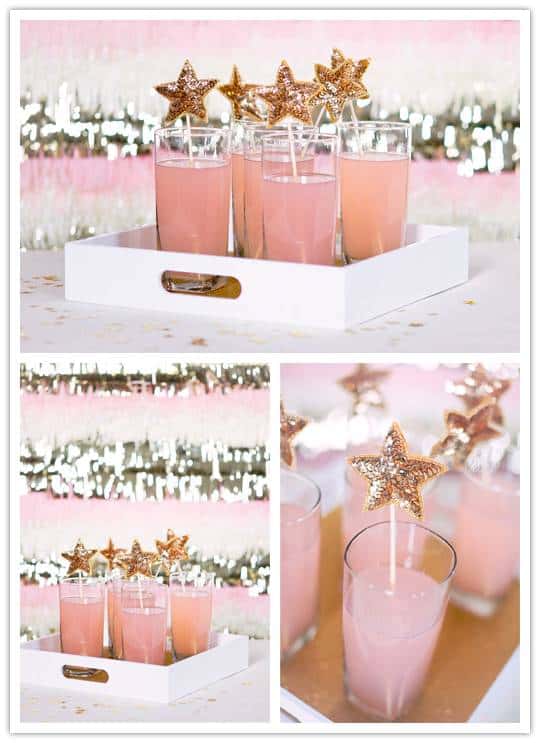 These star stir sticks were probably one of my favorite details of the entire shoot. They were inspired by ones Carter and Cook had made for a shoot late last year, but I made the scale a little larger for our shoot. The sticks are incredibly easy to make and don't take a huge amount of time, which makes them even more attractive in my book. The gold sequins on the star are the perfect complement to the pink lemonade signature cocktail I made (for the recipe, visit Somewhere Splendid).
• • ♥ • •
What You'll Need:
2″ Sequinned Star Appliques
Bamboo Barbeque Skewers (Available at Target or your local grocery store)
Craft Felt, Preferably Matching Sequin Color
Hot Glue and Glue Gun
Scissors
Lay the sequinned star over the craft felt and cut the felt to the size and shape of the applique. Place the applique sequin side down, and position the bamboo skewer in the middle of the applique. The placement should be set so that the top of the skewer aligns with the horizontal edges of the top left and right star points, and the skewer stem aligns with and breaks through the center of the bottom two points. Hot glue the bamboo skewer in place in this position. Set aside with its matching felt cutout to cool and set, and continue creating more as needed.
Draw and outline of hot glue around the edge of the felt cutout, then draw a small "X" of hot glue in the inside of the outline. Press the felt cutout over the applique and the bamboo skewer to create a covered backing for a finished look.
For a wide selection of wedding dresses you can visit TopWedding.fr.
Images by Paper Antler.