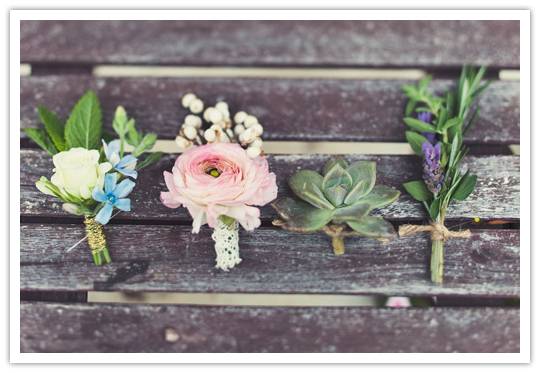 The next project we have scheduled for today is from Leigh Anne from the Floral Lab and is shot by Jackie Wonders. These ladies are personal favorites of mine after being introduced to them both by Carter and Cook, so when I wanted some floral projects to incorporate into DIY Week, I knew exactly who to go to. Leigh Anne was kind enough to design four extraordinary boutonnieres for the Inspired Bride this week, and I'm looking forward to sharing one with you each day for the next few days! I've posted a sneak peek of the designs above, so sit tight for the rest of them! Our first one up this lovely lady: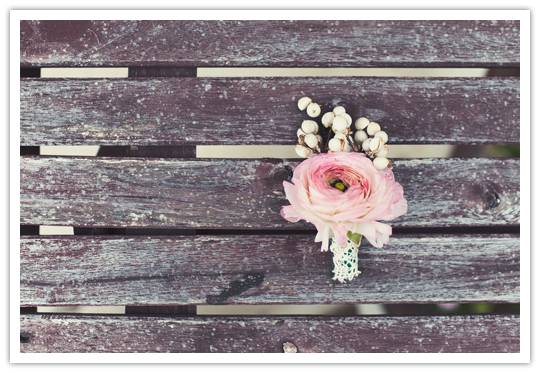 Isn't it beautiful? I love ranunculus, and the color is stunning. This boutonniere makes for a very romantic piece when combined with the lace ribbon. Happy crafting!
• • ♥ • •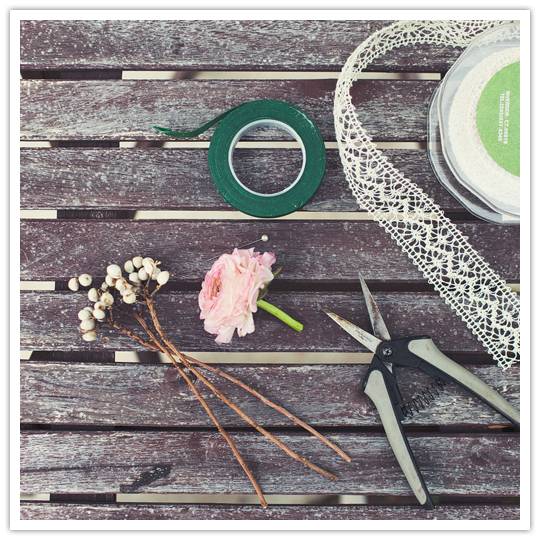 WHAT YOU'LL NEED

Ranunculus
Tallow Berries
Floral Tape
Floral Shears
Boutonniere Pin
Lace Ribbon
Glue Dot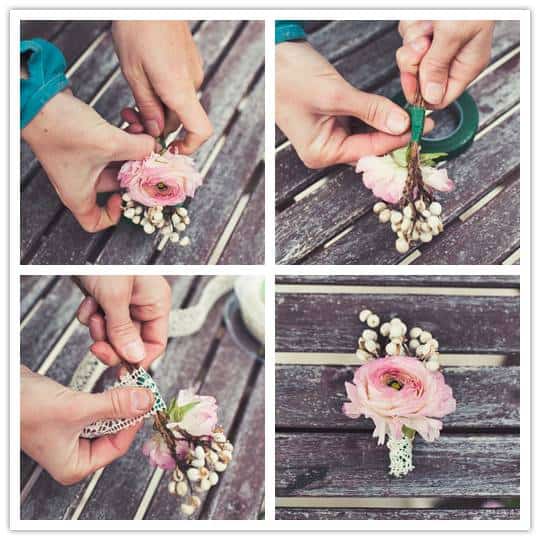 Trim your botanicals so that their stems are about three inches long. Gather your ranunculus and your tallow berries so that the ranunculus faces outward and the berries fan out behind it. Remove any leaves to expose the stems. While holding the stems together in their final position, wrap the ranunculus and berries with floral tape. Beginning at the top of the taped area, wrap the lace ribbon around the stems until the entire taped length is covered. Secure the ribbon with a glue dot. Finish the piece with a boutonniere pin.
Storing and Attaching Your Boutonniere: If you have a refrigerator without ANY fruit or vegetables in it, you can store your boutonniere in it for up to two days. Produce gives off an enzyme that will wilt your flowers if stored together. Otherwise, it's best to make your boutonniere the night before or day of and keep it in a cool place. When it comes time to pin on the boutonniere, it's best to have someone other than yourself to pin in on you. Place the boutonniere on the center of your left lapel. From the back of the lapel, insert your boutonniere pin, cross over the stem, and re-insert into the fabric.
Images from Jackie Wonders. Project by Leigh Anne Landman of the Floral Lab.