Hello, everyone! I write to you from my brand new living room! We closed and moved in on Friday, and it's been absolutely hectic around here. Expect me to continue to be a little slow on email for a few days, but if it's absolutely urgent, direct message me or reply to me on Twitter.
Today I'm turning IB over to Ann Martin, who is a fantastic paper crafter who specializes in quilling. She's created some adorable ideas to get you started on incorporating quilled details into your wedding, so I hope you enjoy! Remember to consult her for custom pieces if you're not up to doing it yourself – her work is lovely!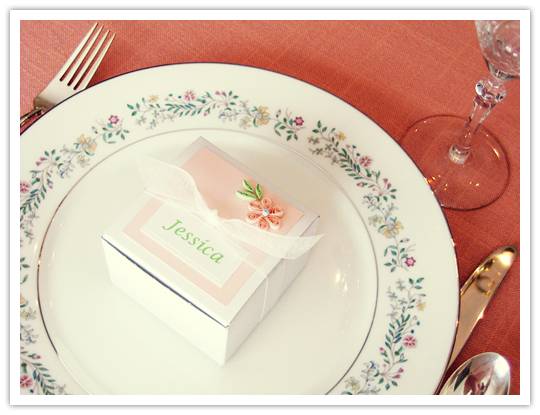 Quilling, the art of rolling and shaping narrow strips of paper, has been around for hundreds of years. Quilling is elegant and eye-catching. I like to add small touches of it to place cards, table numbers, and favor boxes. There's a wide selection of paper colors and flower styles, so a motif can be designed to coordinate perfectly with other elements of your wedding, including a custom-quilled marriage certificate.
Quilling tools and specialty papers are available from online suppliers, including Custom Quilling. Find lots more quilling tutorials and design ideas on my blog, All Things Paper.
• • ♥ • •
What You'll Need

Quilling Paper (1/8″ Standard Strip Width)
Quilling Tool (Either Needle or Slotted*)
Glue
Scissors
Ruler
Tweezers
T-Pin, Toothpick, or Piercing Tool
Glass Head Pins
Plastic Lid (to be Used as a Glue Palette)
Non-stick Work Board (Cork or Styrofoam)
Damp Cloth
*Note: There are two types of quilling tools. A needle tool is a bit more difficult to get used to than a slotted tool, but its benefit is that it produces a coil with no center crimp. If you're new to quilling and plan to make many flowers for your wedding, it will probably be less frustrating to use a slotted tool because the slot grabs the paper and holds it while you roll a coil. Look for a tool with an ultra-fine slot as it will make a less noticeable crimp than a standard slotted tool. When first learning, cut practice strips using computer paper and a paper trimmer. Before long you'll be rolling smooth, evenly sized coils.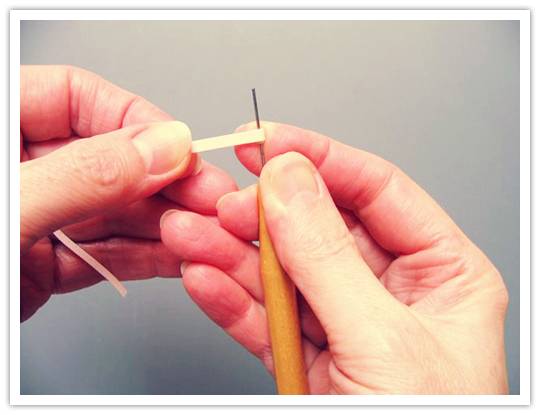 To roll a coil with a needle tool, dampen fingertips and curve one end of a paper strip across the needle. Use the thumb and index finger of whichever hand is most comfortable to roll the paper around the needle. Use even pressure and be sure to roll the paper, not the tool.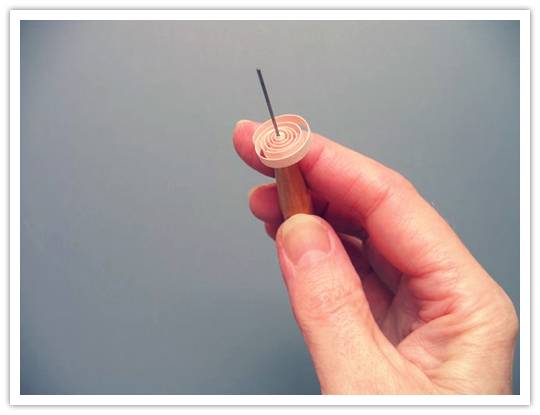 When the end of the strip is reached, allow the coil to relax (loose coil), slide it off the tool, and glue the end.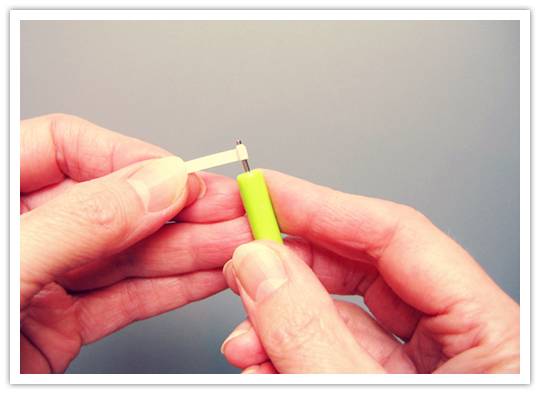 To roll a coil with a slotted tool, slide one end of quilling strip into the slot. Turn the tool with one hand while evenly guiding the paper with the other. Allow the rolled coil to relax, slide it off the tool, and glue the end.
When gluing, apply to the end of a coil with a T-pin, toothpick, or the tip of a paper piercing tool. Use a very small amount and hold the end in place for a moment to allow the glue to dry. Usually a torn strip end blends in best.
To create the flowers in these designs, you'll need the following pieces for each flower:
Large Flower: six 6″ pale pink teardrops, one 2.5″ pale blue tight coils
Small Flower: six 4″ pale pink teardrops, one 2″ blue tight coil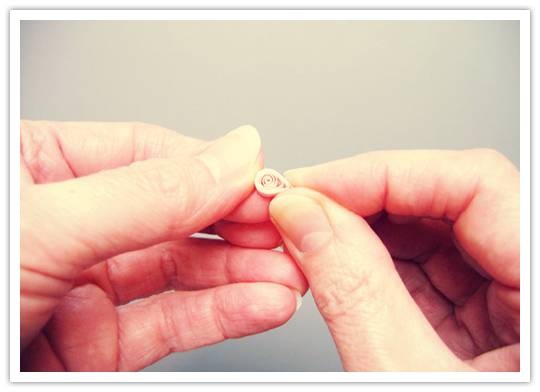 Teardrops (the petals) are created by rolling paper on your tool and allowing the coil to relax. Slide it off the tool and glue the end. Pinch the join spot, making a sharp point.
To create tight coils (the flower centers), roll paper on tool, but don't allow the coil to relax. Glue the end and slide coil off tool. To give the coil a domed appearance, press against one side of the coil with the ball of a glass head pin. Apply a thin coating of glue inside the dome to preserve the rounded shape.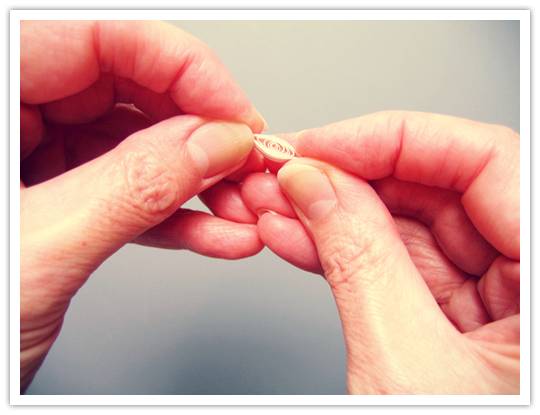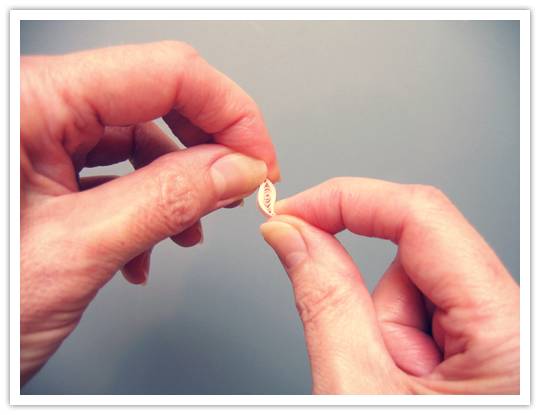 To make pale green leaves, create shaped marquises. First make a marquise by rolling a loose coil, sliding it off the tool, and gluing the end. Pinch opposite sides, making two points. To shape the marquise, hold the points and curve one end to the left and the other to the right.
Assemble the flowers. Arrange petals on a non-stick work board. (My favorite is a Styrofoam tray from the grocery store.) Apply a bit of glue to the edge of a petal and adhere it to another. Continue until flower has six petals. You may wish to hold the petals in position with pins while the glue dries. Glue a tight coil to the center of the flower.
The loose scroll on the place card is made by rolling a 2.5″ strip of pale green paper. Allow it to relax and slide it off the tool, leaving one end coiled with a gracefully curved tail.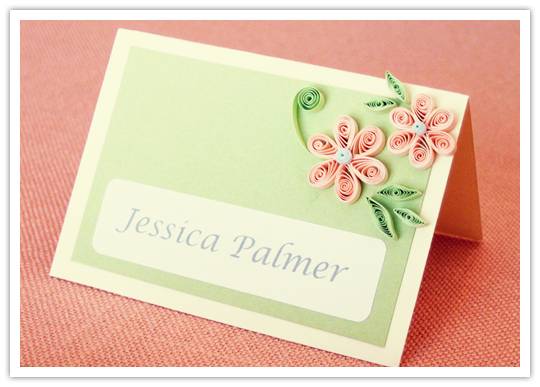 What You'll Need for a Placecard

Cardstock in Cream, Pale Green, and White
Paper Trimmer
Glue Stick
Fold a 3.5 x 5″ piece of cream card stock in half to make a 3.5 x 2.5″ tent card. Cut a 3 x 2″ piece of pale green cardstock. Use glue stick to adhere it to center of card.
Glue one small and one large quilled flower on upper right corner of green card stock. Arrange and glue leaves and a scroll as desired around the flowers. The example leaves were made using 3, 4, or 5″ strips.
Cut labels with a paper trimmer and use a glue stick to adhere them to the place cards.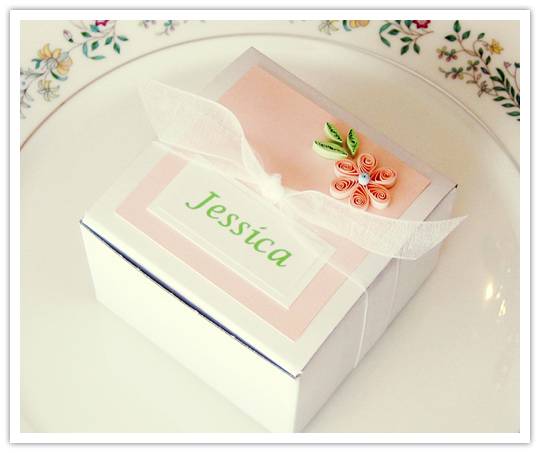 What You'll Need for a Favor Box

White Square Favor Box
Cardstock in Pale Pink and White
0.75″ White Organdy Ribbon
Paper Trimmer
Glue Stick
Printable Label PDF (Available Here)

Assemble a flat, scored box (available at big box craft stores or online) to make a 3 x 3 x 2″ box. Cut a 2.5 x 2.5″ piece of pale pink card stock. Use glue stick to adhere it to the center of box top. Glue a large quilled flower on upper right corner of card stock. Arrange and glue 3 leaves as shown, one leaf of each size – 3″, 4″, 5″.
Print labels. Maddy has designed a PDF file so you can easily print out the number you'll need. (The sample box shows Lucida Calligraphy, font size 26, pale green ink.) Cut the labels with a paper trimmer and use a glue stick to adhere them to the boxes. To finish it off, tie a ribbon around box.
Images and project by Ann Martin.