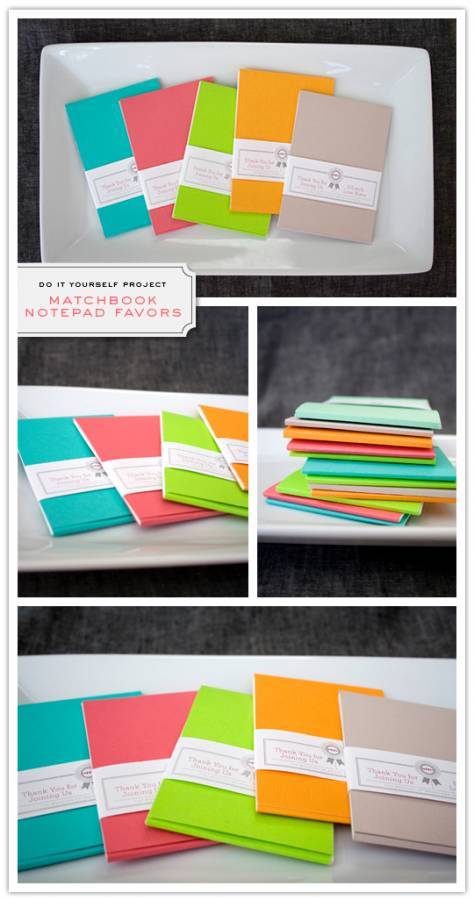 Remember when I asked you to nominate your favorite color card for DIY Week? Well, here's the project inspired by the winner. These guys are so simple to put together and only require a minimal level of craft to be able to get them to look great. I went with textured paper in solid colors for covers, but consider stamping or printing motifs or using patterned paper for something even jazzier.
• • ♥ • •
What You'll Need

12 x 12 Scrapbook Paper in Cover Weight
8.5. x 11″ Text Weight White Paper
Stapler and Staples
Ruler
Bone Folder
Ruler
Cutting Knife with Cutting Mat or Rotary Trimmer
Glue Stick
Our Wrap PDF (Available Here)

Cut your cover weight scrapbook paper into strips measuring by 3″ and 12″ your text weight white paper into 3″ by 4.25″ pieces.
Start each notepad with the cover weight paper strips. With a ruler and bone folder, score straight lines into the surface of the paper using the tip of the bone folder. The first line should be at 4.375″from the edge, the second line 0.125″ from the first, the third line 4.375″ from the second, the fourth 0.125″ from the third. Measure 1″ from the final line and trim the excess paper. Fold the paper strip into a matchbook format, reinforcing the scored folds with the bone folders if necessary.
Take about ten sheets of the cut white paper and square up the stack. Use more or less sheets depending on the pound number of the text weight that you use; the stack should be just under 0.125″ thick. Tuck the stack into the side of the matchbook with the 1″ flap. Line up your stapler so the staple placement is horizontally and vertically centered on the 1″ flap and staple through the cover and text stack.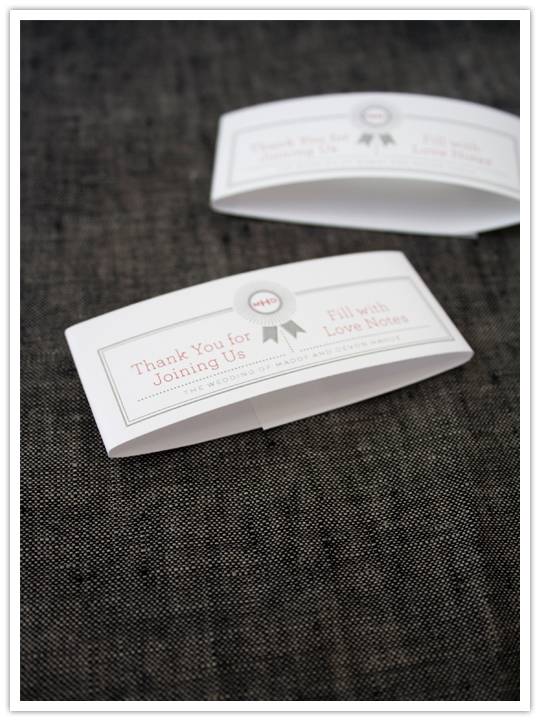 After customizing the downloadable PDF with your names as shown, print it out on text weight white paper. Trim the wraps to their crop lines and position the wrap so the artwork is centered on the front of the matchbook notepad. Wrap the ends of the paper strip around the edge of the notepad so they meet in the center of the back of the pad. Use the bonefolder to reinforce the folds on the wrap, then use a glue stick to glue the wrap together on the back.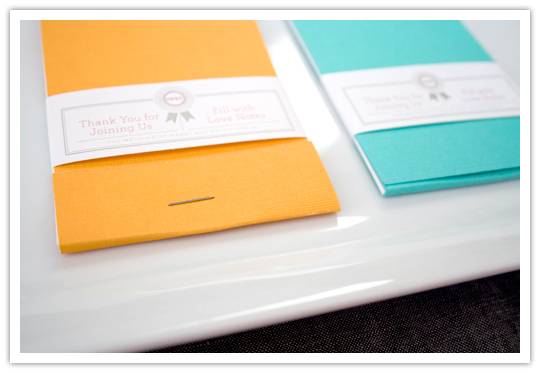 Alternate: If you'd prefer your cover flap to be able to tuck into the 1″ flap rather than cover it (as shown in the orange version above – the blue is the normal method), when you staple the cover and sheet stacks together, center it horizontally but lower the vertical position of the staple so it is closer to the bottom edge. Trim the cover flap about a half an inch shorter, then tuck it under the 1″ flap as shown.
Images by Maddy Hague.