Now that the recipes are out of the way, time to get to those tubes! This is really a great favor idea for cool weather weddings, but I'm seriously starting to consider doing it for holiday presents, too! We've provided a tag for you for this project, but feel free to create your own – just make sure to let the guests know how much mix to put in each cup they make! Each vial will make between 1-2 drinks (8 ounces of milk, not water), depending on how rich the drinker likes their cocoa.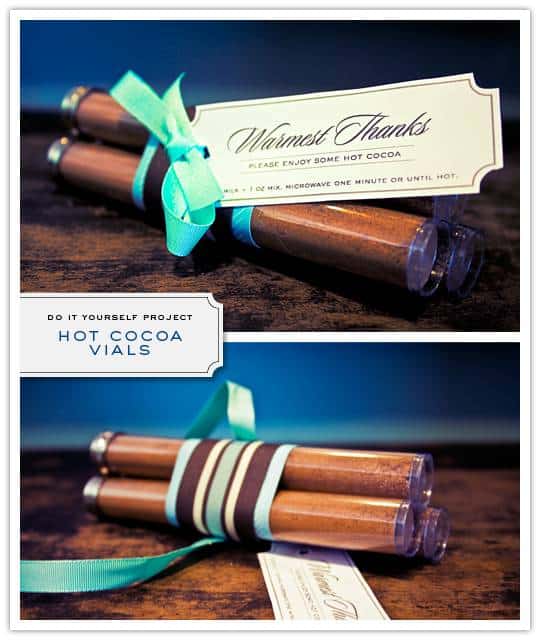 What You'll Need:
Plastic Vials with Metal Caps (our are from SKS Bottle – the 40ml size)
Paper Wrap, Measuring 2″ x 6″ (our design is available here in PDF form)
Ribbon, in Two Different Widths (ours are 2″ and ½")
Scissors
Hot Glue Gun and Glue
Double Stick Tape
Optional Favor Tag (ours is available here in PDF form) and Hole Punch

STEP ONE: Fill three plastic vials with cocoa mix (same flavor, or different varieties). Stack them horizontally in a pyramid formation and hold the ends tight to keep them together.
STEP TWO: Attach a strip of double stick tape to one end of the paper wrap, and attach it to the top of the vial at the top of the pyramid. Wrap the paper strip around the pyramid of vials until both ends meet and overlap. Attach a strip of double stick tape to the back of the end that is not attached to the vials. Press that end onto the area where the wrap overlaps to secure.
STEP THREE: Cut a length of your thicker ribbon that is approximately 6″ long. Attach the end of the ribbon to the paper wrap with a small dot of hot glue near the paper wrap's seam. Wrap the ribbon around the pyramid and secure the other end with another small dot of glue.
STEP FOUR: Face the side of the pyramid with the wrap and ribbon seam down. This will now be your bottom side. Cut a length of your thinner ribbon to about 8″ long. Fold it in half to find the center and put a dot of hot glue on it. Quickly attach the ribbon to one of the sides of the pyramid that is not the bottom seam side. All of the ribbon but the center point should be free to move around.
STEP FIVE: This step is optional – only worry about this if you plan on adding a note tag. Cut out the tag out and use a hole punch to create a space to feed one side of the thinner ribbon through.
STEP SIX: Finish your favor off by tying ribbon into a bow.