Luke and Rachel is an inspiration goldmine for brides-to-be who are into books, DIY, and vintage! Ideas like old book pages turned into boutonniere, faux bouquet, and centerpieces can be seen throughout their wedding. Rachel, today's talented bride, showcased her DIY skills through their wedding decors and accessories. These intricate DIYs are not an easy task to do. Read more to know how Rachel pulled off everything!
Click image to enlarge
3

Like. Click to Vote
>
We're All About The Details
Most brides-to-be, especially those who love DIYs, opt for a unique 'bouquet'. Like in Rachel's case, she used pages of her favorite books to make this lovely faux bouquet. Embellish it with pearls then it's good to go! You can definitely see the vintage impression.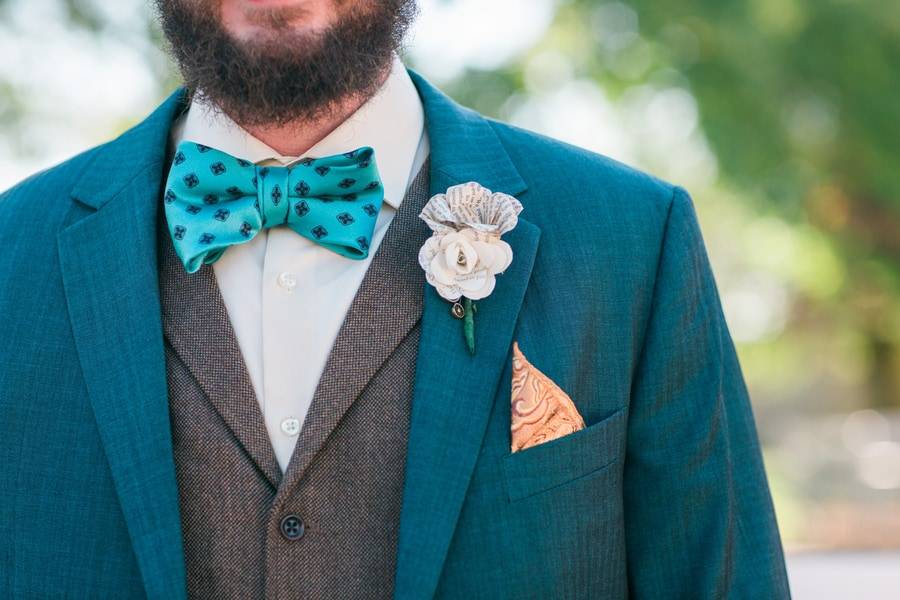 Luke was pretty adamant that he wanted to wear teal, so they had a teal suit tailored for him. Plus the DIY boutonniere and quirky bow tie added a significant charm! If I were to choose I'd have my husband-to-be get a tailored suit. How about you?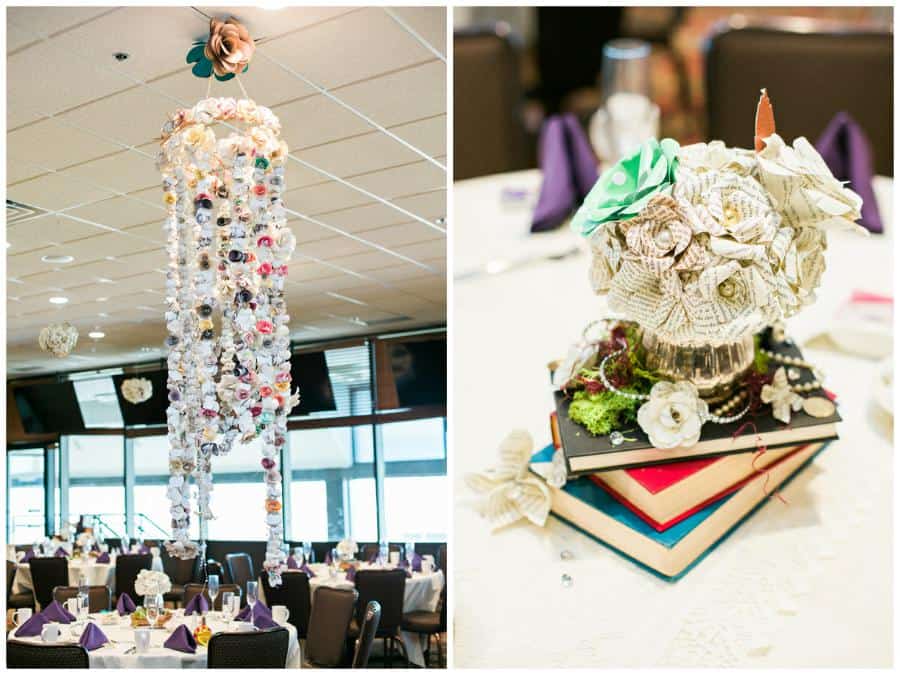 Rachel definitely showed her talent and love for anything DIY on her wedding day! Aside from the faux bouquet, the centerpieces and hanging decorations were also made out of pages of her favorite books! Come to think of it, I haven't seen any real flowers at this wedding. They were a big hit that even several people asked to take a centerpiece home!


The Bride's Advice
Don't start a DIY project that you don't have time for. If you only halfway finish something or end up rushing at the very end then you'll either have to spend extra money last minute or won't be happy with the result. DIY doesn't always save money and it ALWAYS takes time.

And if you aren't an everyday crafter then you may have to make several attempts at something. Even if someone is helping with expenses doesn't mean they get to make all the choices. Sometimes you feel like you're hurting someone's feelings by rejecting all of their ideas, but in the end the wedding has to make YOU happy.
Money Matters
$10,000 – $20,000
Vendors
Photographer: Eileen K Photography
Event Venue: Canterbury Park
Makeup Artist: Muse Onsite Hair & Makeup