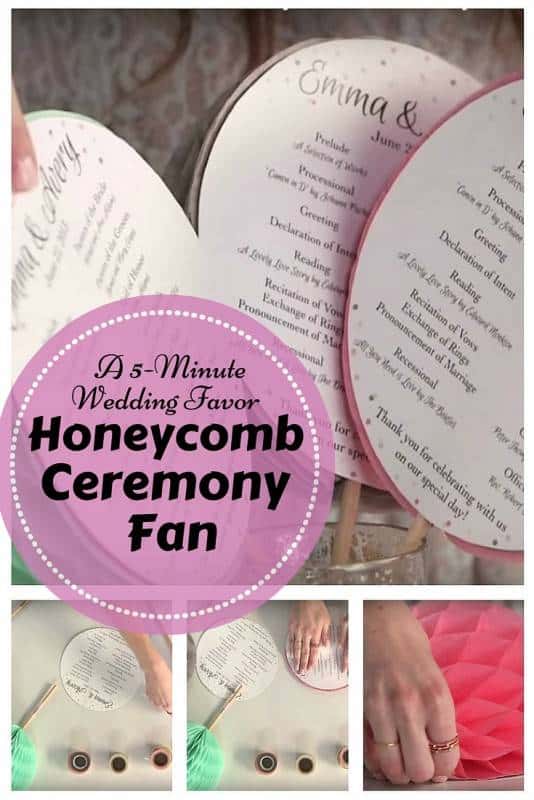 A fan as well as a ceremony program. A dual purpose DIY project that you can finish in less than 5 minutes. A ceremony program to inform guests your wedding details and a fan to cool off with style. A fun DIY project that you won't regret. Read on for instructions.
What you need:
Wooden stick/popsicle stick

Honeycomb

Glue dots

Ceremony program

Washi tape
First and foremost, print the ceremony program into a circle-shaped cardstock. Next, put style into the wooden stick with washi tape. This is to put something vibrant to the favor.
Grab the ceremony program, flip it over and use washi tape to secure the stick at the back. Make sure to put it at the center and put tape at the top and bottom.
Grab the honeycomb. First, we work on one side. Place a few glue dots on the edge of honeycomb. Take the ceremony program and carefully lay it on the honeycomb.
Flip it over and place more glue dots on the other side of the honeycomb. Unfold the honeycomb and adhere it to the other side of the program. Press firmly to secure everything in place.
And you are done! A good-looking honeycomb fan/ceremony program to add to your DIY wedding projects.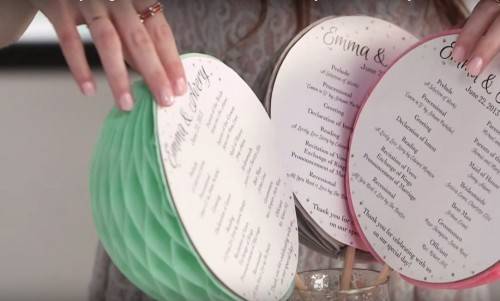 Watch How it is Done
Save All the Steps Using this Bookmarklet