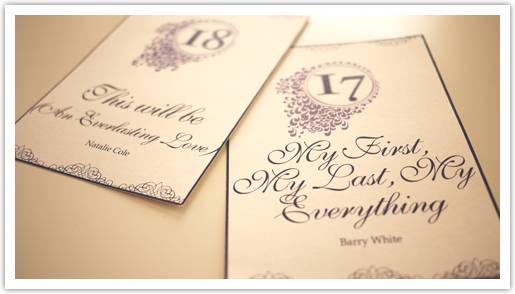 For my first post as the new Inspired Bride member, I think it's only fitting to post one of the DIY projects that I created for my wedding.
Just like any bride, I wanted our wedding to be unique. I wanted our guests to say at the end of the night, "that was nice and different". With all the different trends in weddings these days, it's definitely hard to keep up in making sure your wedding will be "unique". (My fiancé actually joked about how I wanted everything to be unique that he was afraid I would find a more unique groom). There were 3 things that I thought of again and again in terms of making our wedding suit our personality as a couple; I wanted our guests to have fun, unique table numbers that's not provided by our venue and a unique kissing game. With just a few months left before the wedding, I finally thought of an idea that had all 3 things I have in mind in one!
I call this table number project – 3 in 1 table numbers. Why the name? Not only was this a table number, it also served as a conversational piece or an icebreaker for the people at the table AND as part of our kissing game.
Each card has 3 details in it – the table number, a song title and the artist.
This is how the 3 in 1 table number worked:
Just before dinner was served or when our guests started clinking their glasses to see us kiss, our emcees then explained the "kissing game". This is where the title of the song comes in. Since every table has a different song (we had 18 tables), we gave our DJ the 18 songs to play at random throughout the night and whatever song he plays, the table that has that song has to dance, sing or give an advice to the couple.
Everyone was up for it that one table even asked the DJ to play their song and had a presentation prepared!! And of course, my husband and I made sure to give them a kiss that the presentation deserved. It was such a success that until now, some of our guests still wished "their song" got played. We sure would've loved to see that!