So, with my last post, I spoke about how you can plan to mitigate your damages if you do happen to have a rain wedding.  Well, this go around, I am going to talk about how to make your rain wedding as fabulous as possible if you know you just can't avoid the rain.
Tips to make your rain wedding fabulous:
1. Hopefully, you have chosen a venue with a Plan B option.
If you didn't, I am sad for you.  But hopefully you did.  If you have, ask them if they can set up both a ceremony area outdoors and indoors.  Just in case it doesn't rain, or in case the rain stops in time to dry everything off and still have your ceremony outside.  Some will make you pick one or the other, but some will be willing to accommodate you.  And then even if you can't have the dream ceremony outdoors, maybe the rain will stop and you will still be able to get beautiful images with you and your new hubby in the ceremony area like Mallory and Brent did!
2. Get some great rain props to make your day special.
Rain boots, umbrellas, cute little tags with sayings on them.  If you are getting married in the spring, make some last minute chalkboard signs with cute rain sayings on them to sit around at the wedding.  Hobby Lobby always has their frames 50% off and you can run in and grab a few of those, along with some chalkboard scrapbooking paper and a chalkboard pen and create these in about 15 minutes.  Have your wedding planner make some cute tags to go on your rain boot, things like that. Bekah and Chris's wedding is a great example of this.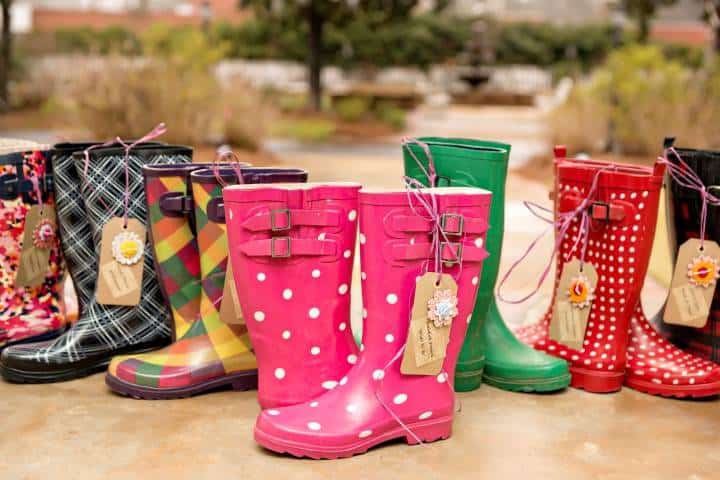 The week before the wedding, we knew it would rain.  There was just no way around it.  Bekah is one of my favorite all time brides, and since her wedding, we have become great friends.  Her planner, Southern Sophistication Designs, and I were really upset that it was going to rain on such a special bride's big day.  So we got together and made a plan of fun props to use to make her day special.  We started emailing her ideas and pictures.  All of her bridesmaid's ran around to friend's houses borrowing rain boots.  By the time we were done planning, I think Bekah would have been mad if it hadn't rained on her day.  But it did, and it turned out to be a stunning day.  Check it out here! And that leads me to my next point.  Like that segue?
Here's another fabulous post about fun rainy wedding props!
3. Have a plan with your photographer
Any photographer worth their salt has photographed plenty of weddings around the rain.  In these last two years, I think I have photographed about 10 that have had rain during some portion of the day.  I have just learned to work around it and keep on truckin' no matter what the weather is doing.  I have also become really adept at reading a weather map and determining what is going to happen.  So chat with your photographer about a rain plan if it looks like rain is unavoidable on your day.  It may even turn out that they have loads of umbrellas to use (like I do) so that you don't have to purchase those as props for your big day.
4. Start a Pinterest Board for your rain plan
Let your photographer, planner, and venue know what types of rain images really speak to you.  We all feel bad when it rains on a bride's big day. So we try extra hard to make it super special.  Here's my rain wedding PInterest board.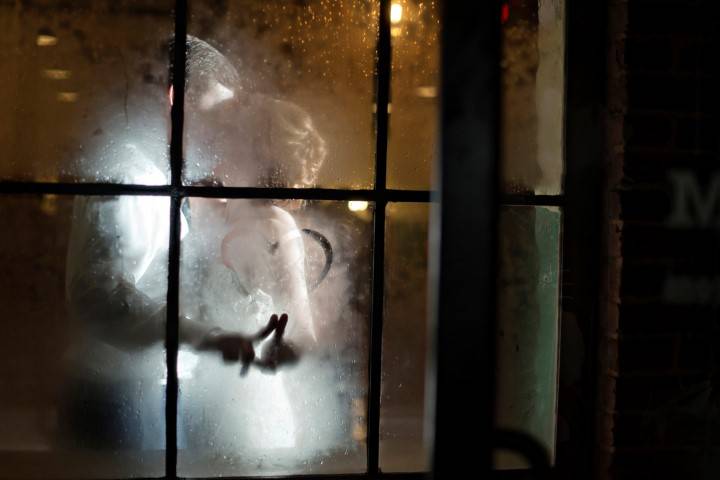 5. Remember not to panic and just to have fun:  
Lastly, remember to just relax and have fun with it.  I mentioned in a previous post on how to look picture perfect on your big day that if you are tense, it will show.  This is extra important if it rains on your big day.  Remember to just make the most of what nature has given you.  Some of my very favorite weddings are rain weddings, like Mallory and Brent's wedding at the Thompson House and Gardens and Erin and Ricky's at the Engine Room!!  If you have a good time with it, you will get amazing images.  I promise.
And remember this above all.  It really IS good luck to have rain on your wedding day.  I know that we hear this over and over and scoff at it.  So one day, I decided to look it up to find out why it was lucky for it to rain on your wedding day.  And this is what I found; it is a washing away of the old and a beginning of the new.  Isn't that amazing?  Makes me kinda wish it had rained on my wedding day. . .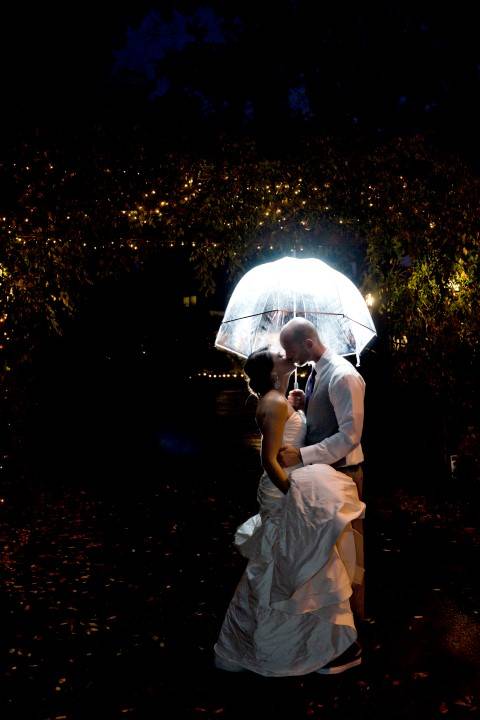 All image credit of Andie Freeman Photography