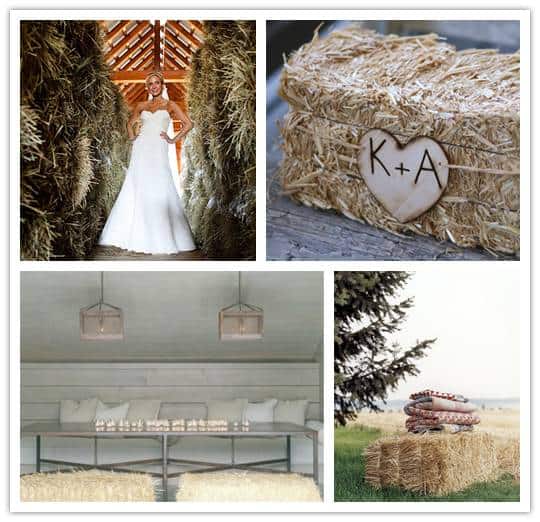 From Trisha:
It's always fun to treat your wedding guests to the unexpected – details that keep them on their toes and in awe. As rustic outdoor weddings have become more popular, there are endless possibilities of fun details that brides and grooms can include in the décor.
I'm loving the feeling that hay bales can evoke, especially as a seating option. Whether used within the ceremony as guest seats or in the reception as a late night lounge area, hay bales provide softness with a festive family vibe. They can also be fun to dress up! I found these adorable heart signs over on Etsy from Bragging Bags, which make for a very sweet way to personalize hay bale seats.
Pillows can add pops of color and comfort, and fun patterned blankets, draped over the tops of the bales, creates a snazzy look. I think the addition of pillows and blankets work best when the bales are used for ceremony or lounge seating. When used in a reception space, hay bales can sometimes compete for attention with all of the other wedding design elements. The clean lines in the reception space below work well with the simple straw bales.
Another fab thing about the hay bale is its use as a photo prop. I can't get enough of the bride below surrounded by hay. Such a fun backdrop – and really, what wedding isn't complete without a fun late night romp up in the hay loft!?
• • ♥ • •
Trisha Dean is a wedding and event planner in the San Francisco Bay Area. A background in graphic design and corporate event planning led to her love of designing and planning weddings. She is the author of Adore and a contributing blogger to Bay Area Bride Guide in addition to the Inspired Bride. She lives in Walnut Creek, California with her husband, daughter, and two cats.