If you're having a fall wedding shower and you want the perfect favors, these are fantastic. Not only are they great, but they're inexpensive and you can make them yourself! It can be a lot of fun and your guests are sure to love them.
Here's what you'll need:
1 Apple for Each Guest
1 Small Mason Jar for Each Guest
Caramel Apple Dip (recipe below)
Clear Cellophane Bags
Ribbon or Tags for Embellishment
Caramel Apple Dip
To create this dip, you're going to need:
1 package (8oz) cream cheese, softened.
¼ cup brown sugar.
1 teaspoon vanilla
½ cup caramel ice cream topping.
Mix all of these ingredients together until everything is well incorporated into the cream cheese. You may want to add a pinch of cinnamon or nutmeg to make it extra delicious. Fill the small Mason jars with the caramel dip and close the lid. Place it at the bottom of the small cellophane bag. Next, place the whole apple on top of the dip and tie the bag closed.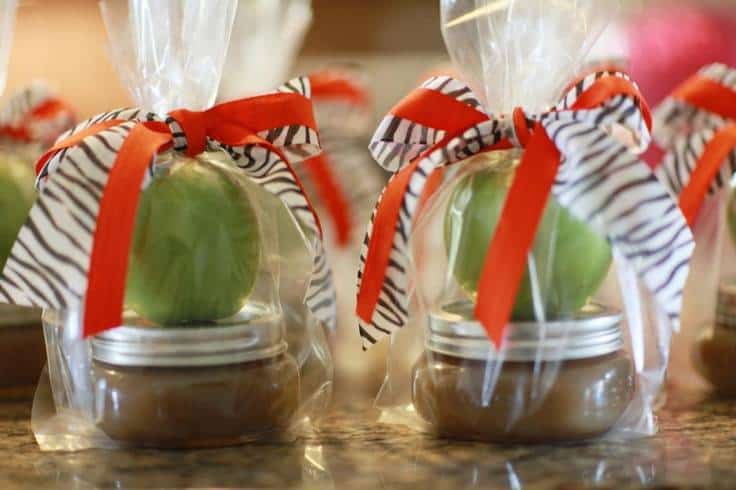 You can then use your ribbon to embellish the bag if you want. The dip is absolutely delicious, but it should be made within 24 hours of the wedding shower and kept in the refrigerator until you're ready to serve it.