We've all had it: the dreaded creative block. You're trying to think of great ideas to make your day special, but you don't know where to start and the ideas are certainly not coming. Looking out for you as ever, here are some great craft supplies to peruse, and a little bit of brainstorming on project ideas to spark your Left Brain.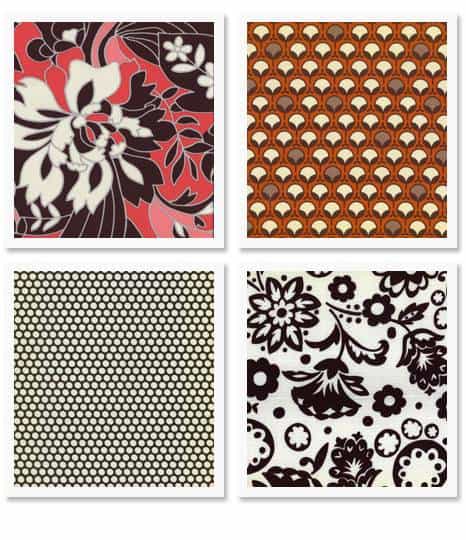 Bold, Modern Print Fabrics from PurlSoho: Contemporary prints that fit in with your color scheme or your inspirational theme can add a lot of visual interest and character to your wedding if you use it right. I'm a huge fan of the prints above, which are currently available through their website.
How to Use Them: sew a table runner if you're bored by the blahs of your table linen choices  or want to add a little decoration to your buffet tables. Buy a lot of yardage and channel Lena Corwin with a fantastic fabric photobooth. Buy a bunch of different patterns in your wedding colors and frame a sample of them in an Ikea Ribba frame in place of table numbers – use a swatch of the pattern on your place cards to guide your guests where to go!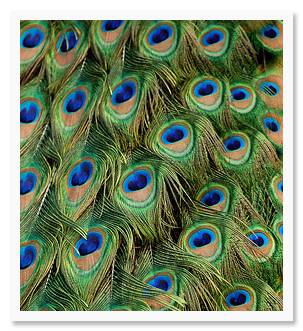 The Feather Collection from Save on Crafts: With feathers becoming a more popular element used in weddings, from decorations to invitation designs to accessories, why not jump on the boat while putting your own spin on it? Save on Crafts has a great collection of feathers, including peacock, ostrich, and dyed.
How to Use Them: pull a Marie Antoinette and add pin a smaller one in your hair or as your florist to incorporate them in your bouquet. Take a cue from Amy Atlas's Marie Antoinette-inspired buffet and use a round floral foam piece to hold an assortment of feathers in place in a decorative urn-style vase.
Branches from Blooms and Branches: A great way to incorporate a little bit of nature without being a floral expert is with branches. They're also endlessly adaptable.
How to Use: create a "Wishing Tree" instead of a guest book. Plaster of Paris a branch into a vessel that compliments your wedding tone, cover the surface with sheet moss, and affix mushroom birds to it as a cute, simple centerpiece or a great accent to a candy or dessert buffet. Use tall branches to hange votive candle holders from and place the branches upright along your ceremony aisle or near tables if your evening reception is outdoors in the evening.