Click image to enlarge
Like. Click to Vote
>
Don't you just love fun and quirky weddings? It's one thing to have a formally decorated wedding with fun guests, but it's a whole new level of awesome if your wedding is equally as quirky and colorful as you and your guests. And this is what our feature today is about. Lisa & Ben is all about vibrant colors and as much as they love the classics, they just can't help but bring in pops of bright hues to their special day. It was the perfect complement to their cute personalities. But of course, their love for vintage didn't go unnoticed and they had their ceremony in a magnificent old theater that was regal and perfect for this lovely couple. Every photos in the slideshow is a bundle of awesome. Congratulations to our couple, Lisa & Ben!

Bride:
What is your story as a couple, how did you meet & fall in love?
Ben (Groom), Is my Best friend's older brother. He always made me laugh, and before we knew it our friendship grew into love.
What makes the two of you a perfect match?
We love the same things and dislike the same things.It just works out perfectly.
How did he (or you) propose?
Ben decided to surprise me for my 30th birthday. One of the first things we did together in LA was ride the ferris wheel at the Santa Monica Pier . So he had this awesome plan of going to get a 90 minute couples massage, then a super nice dinner, then down to the pier for skeeball, and a ride on the ferris wheel. The plan was going great. I had no idea that after dinner Ben would purpose. So, of course when we saw our friends in the crosswalk the opposite direction from us on the way drown the pier, I said, "YES! lets have a change of plans and go to the
bar with them and play Cards against Humanity." Because I had never played it and heard it was crazy awesome. So we have the best time ever just laughing the night away. Before we know it its 10:30 and the ferris wheel closes at 11. At this point Ben is panicking. Im like its no big thing and Ben knows ITS A BIG THING so he's rushing us down to the pier and our friends are following us down. We make it there just in time…for it to close. So now Ben has to figure out a plan B. So he pulls me in a photo booth and pops the question ! And its all caught
on camera! now we have to go in every photo booth we see for good luck.
How long was the planning process? Did you think it was enough time?
We decided to have the wedding a year after our vacation in Japan, so a total of 1 year and 5 months.
What was the best advice you received when you were planning your wedding?
Something will go wrong, it always does. Don't let it ruin your big day.
What tips & tricks (can we use "hacks"?) can you share future brides that you yourself have learned during and after your wedding?
Checklists are the best!!!! Find ones online that tel you when you need to complete all the tasks, they helped me the most!
What were some challenges you faced while planning your wedding & what did you do to address them?
Making sure all our wedding party had all the things they needed. We just communicated through emails and lots and lots of checklists!
What inspired your wedding décor? Why did you choose the things that you did?
I love the look of vintage classic but i wanted to add some of us into it by adding pops of color cause we love vibrant colors.

Where did you save the most money?
My mom, grandma, and I did all the flowers ourselves.
What was the biggest expense?
The venue but it had everything rolled into one, DJ, Food, Drink, Etc…
How many guests were invited in your wedding and what was the final guest count?
We invited about 180, a total of 130 attended.
What songs did you use during the ceremony?
Our wedding party walked down to Arcade Fire, Wake up (Instrumental) and the bride and her dad walked down to Florence and the Machine, Cosmic Love (Instrumental)
Where did you go on your honeymoon?
The Big Island Hawaii
What are you most excited about for the future?
To spend our lives together, laughing, and taking on this awesome adventure.
Do you have advice for couples still in the planning process?
Just say, "Yes" to everything, it makes things much easier.
What do you think is the overall story for this album?
We spent the day laughing and feeling so much love from our friends, families, and each other. It was a great day!
What inspired the wedding day outfits?
I knew I wanted my dress to be pink . I finally found one in a beautiful pale pink. I liked the idea of a traditional vintage style and a hip wedding. So we did classic black and white and then added POPS of Color anywhere we could, without over doing it.
What was your favorite part of the day?
Hanging with all our friends taking photos during the day and just laughing and smiling none stop, it was awesome.
Was there any Do it Yourself (DIY) projects? If so, can you describe them in detail?
I made All my bridesmaid's necklaces out of old vintage brooches. My parents made my bouquet out of old vintages brooches, some of which I bought in cities Ben and I traveled to.
What were the highlights from the ceremony & reception?
We made a 3-D Movie and played it before the ceremony
Was there a theme for the ceremony and reception?
Since we both love movies, and being held at a vintage movie theater. We decided to have a semi vintage theme with movie accents.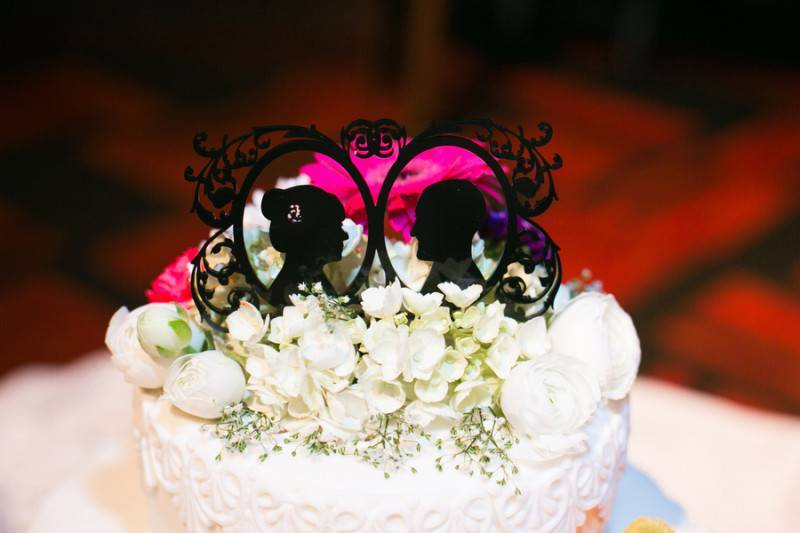 Vendors
Photographer:  M and E Photo Studio
Event Venue:  The Uptown Theater