From Katie: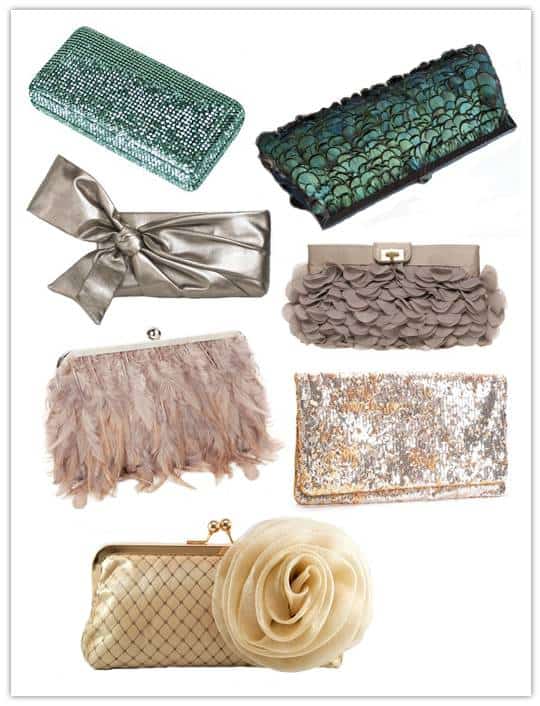 I have a serious clutch obsession. My collection is well over ten and you will always find me carrying one of them around rather than a larger handbag. They are the perfect accessories for any bride or bridal party member. Your maids would surely love one of these as a gift! Clutches are a fabulous way to add a bold pop of color or some serious sparkle to any wedding wardrobe – gone are the days when a bride's only option was a white satin purse!
I've collected some of my favorite selects that I've been swooning over from around the web. I'd love to hear your thoughts on these gems and most importantly find out which clutch is YOUR absolute favorite. Thoughts?
Turquoise Crystal Clutch from Kotur; Peacock Clutch from Kotur; Valentino Bow Clutch from Net a Porter; Faux Feather Clutch from Asos; Feather Clutch from Monsoon; BCBG Sequin Clutch from Shoebox; Gold Flower Clutch from Angee W.
• • ♥ • •
Katie Murphy is the founder and editor of Aisle Candy, a sparkling new wedding blog offering the utmost in sweet inspiration for the modern bride. She loves to share her passion for beautiful photography, pretty paper, stellar design and unique weddings with others in the industry and modern brides-to-be. A graduate of Boston College, Hallmark Institute of Photography and former student at Massachusetts College of Art, she works as a graphic designer and marketing director. Katie grew up on Cape Cod and currently lives in Boston, Massachusetts.