When we first received this feature from Classic Wedding Invitations, I could not wait for the day until we get to publish and share with you guys these amazing invitation designs and cute photobooth props. I drooled over every single picture they showed us and I know that you will too. It's genius, creative, and just aesthetically perfect. Enjoy!
Words from the CWI:
Classic Wedding Invitations are excited to release new images of their laser cut invitations from their photoshoot with renowned photographer Lilli Waters. The new photos beautifully showcase the delicate and unique work of Classic Wedding Invitations.
Photographer Lilli Waters of I Got You Babe photography has captured the creative style and exceptional craftsmanship of Classic Wedding Invitations through these new stylised images.
Classic Wedding Invitations prides itself on the intricate detailing and high quality materials that are used to create every invitation. The revolutionary laser cutting technology ensures that each invitation is produced with precision and beauty.
Owner and designer Linda Vydra said, "We are so happy to be releasing these new photos, as they really show the endless possibilities that Classic Wedding Invitations can provide. We are also excited about launching our digital fabric printing service which allows clients to print custom cushions, aprons and napkins for their wedding."
The possibilities really are endless at Classic Wedding Invitations as they are able to customise any of their designs to suit their customers' needs. They also love creating original invitations from the ideas and designs that their customers bring to them.
At the moment interactive invitations are very popular with customers as they give guests more than just an invitation. These interactive designs as well as the other new images can be found at Classic Wedding Invitations website. You can also submit an enquiry to Classic Wedding Invitations through their website.
Art Deco Glamour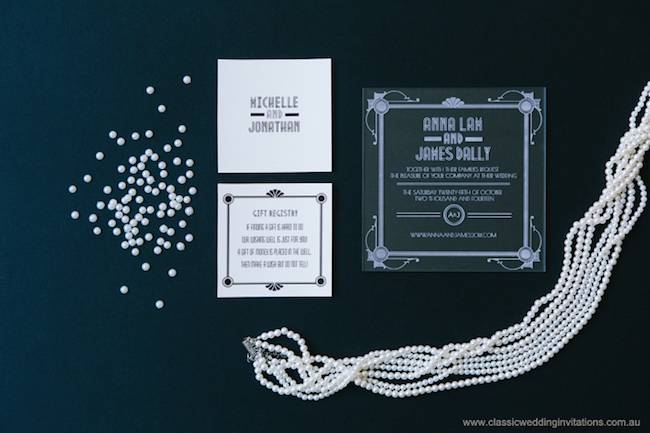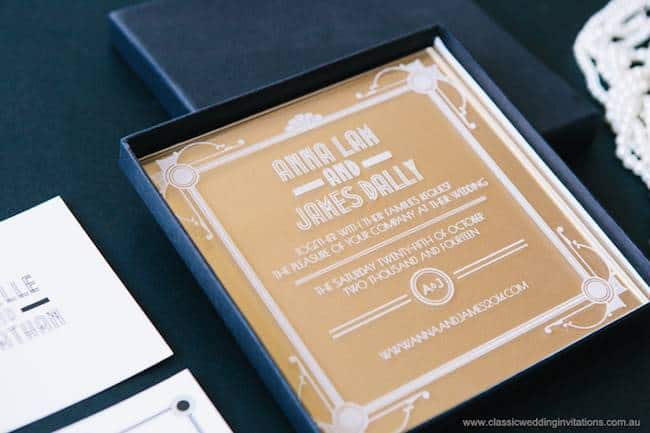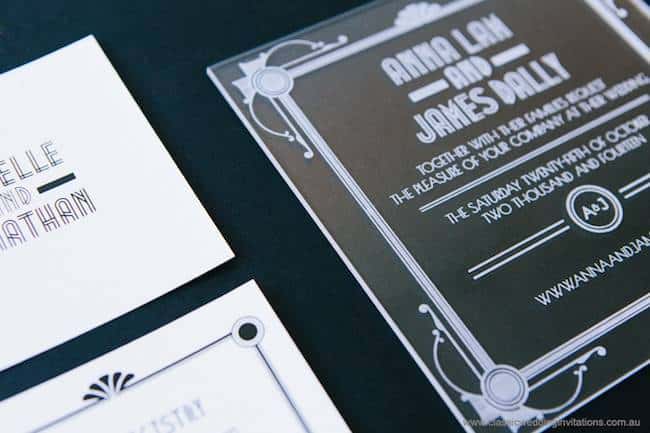 The acrylic wedding invitation is an Art deco design that is inspired by the Great Gatsby and the fashion from the 1920's. It is an elegant invitation that is laser cut onto 3mm acrylic, which creates a unique invite.
Baroque Lace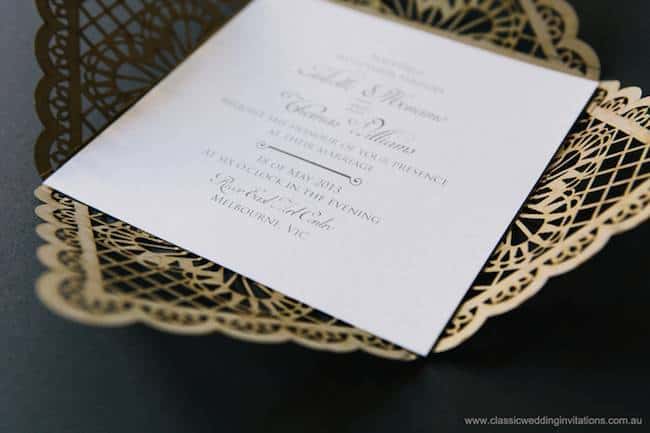 The baroque lace wedding invitation is a delicate design that uses intricate laser cutting to create the beautiful design. It is a very elegant piece that would be suited to a classical wedding. The stylized photos uses pieces such as the beautiful vintage Lang engagement ring to represent the style.
DIY Photo Booth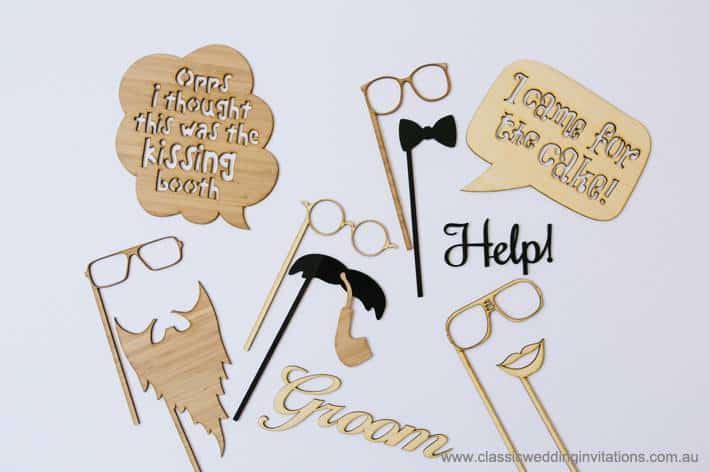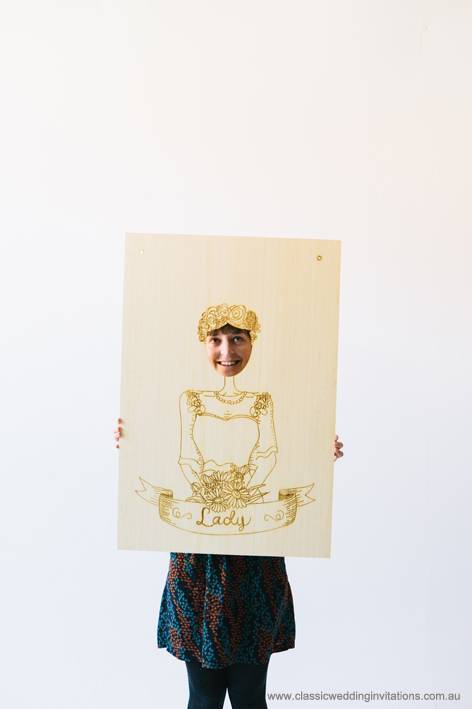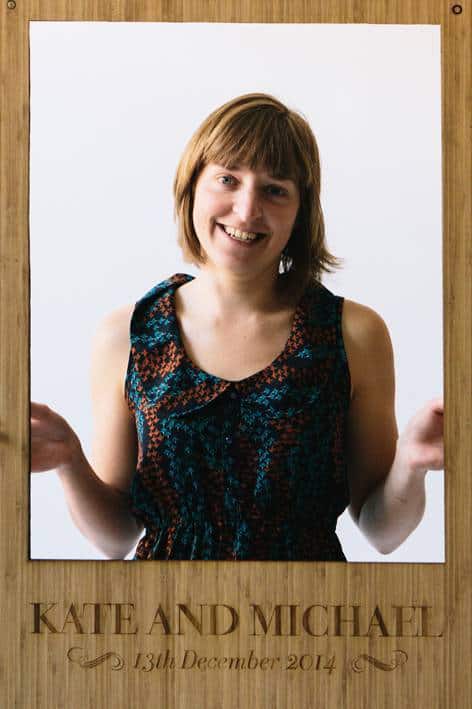 The DIY photo booth is laser cut from bamboo and is a great way to get your guests involved in your wedding. It is a unique way to get candid photos of your guests that really reflects the fun of a wedding.
DL Gatsby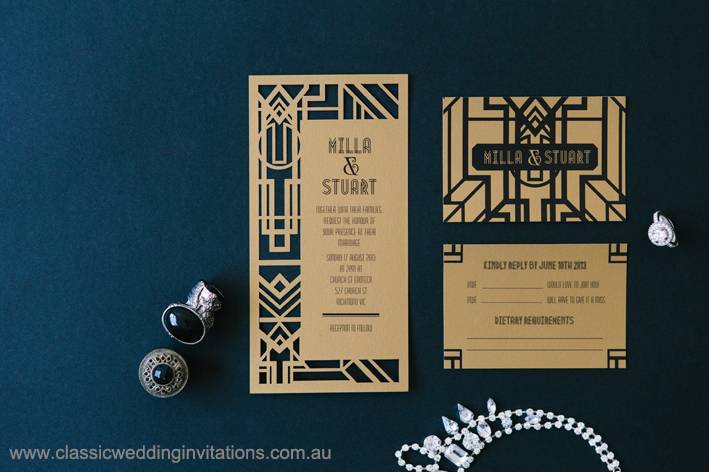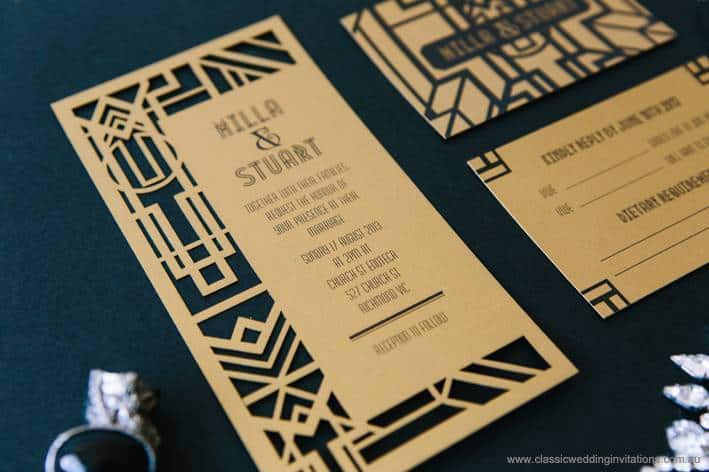 The DL Gatsby invitation is inspired by the 1920's and specifically the film The Great Gatsby. The design and colours used make this invite sophisticated and timeless. It is also a very cost effective design that still looks elegant.
Lettered Heart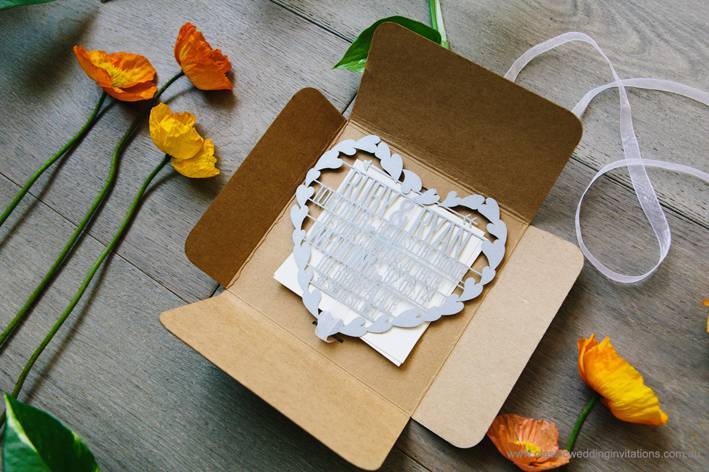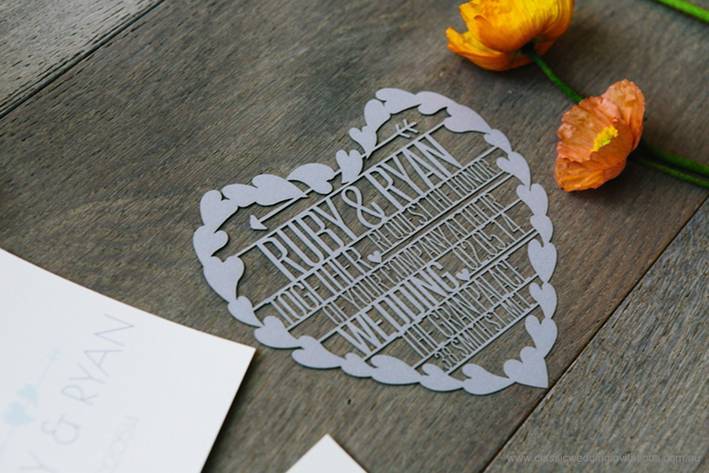 The lettered heart invitation has a very intricate design that is achieved using accurate laser cutting. It is a very unique invite that is inspired by spring. It is perfect for an outdoor wedding.
Lovebirds on Word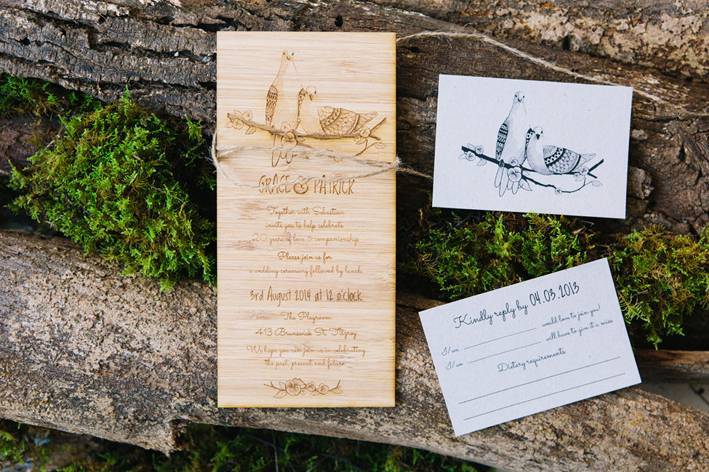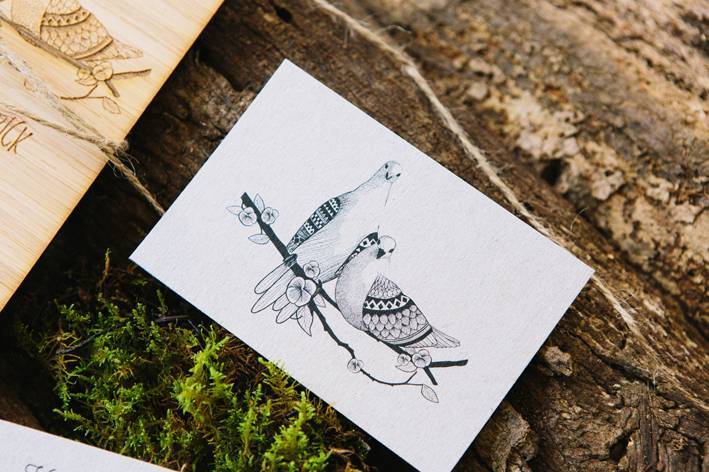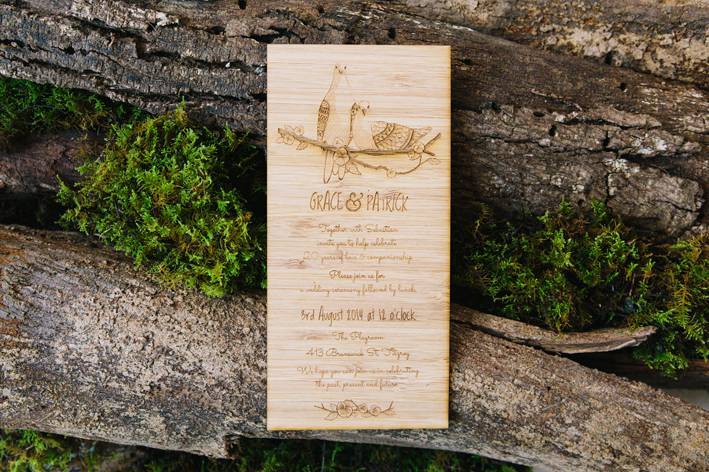 The lovebirds invitation is inspired by the forest and is an excellent design for a country or outdoor wedding. The design is laser cut onto 1.5mm bamboo, which gives it that earthy and rustic feel.
S&F Trifold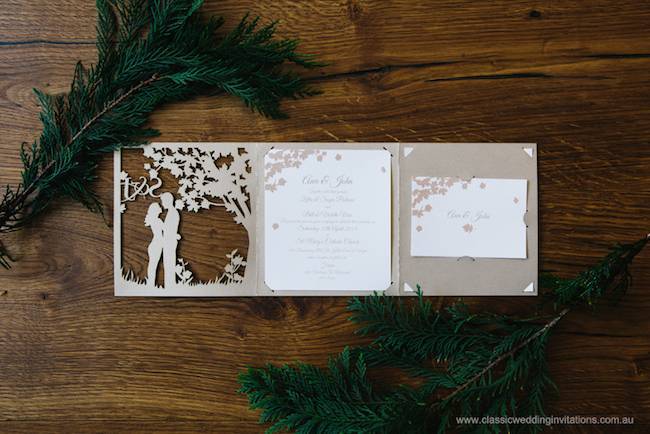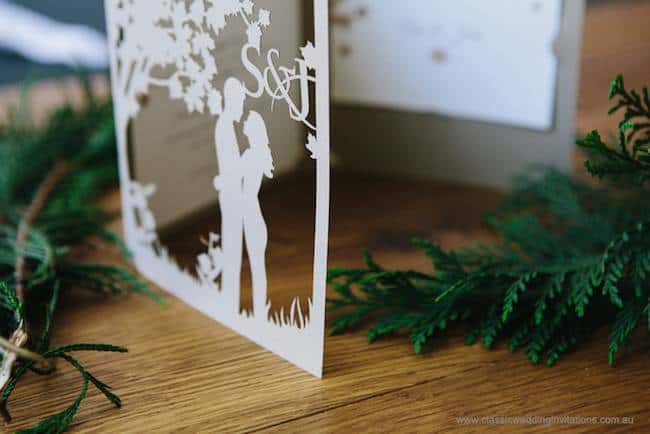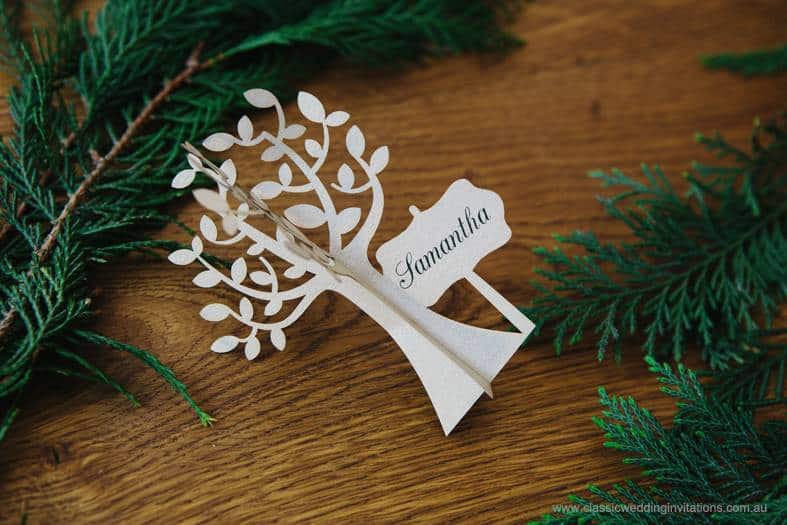 The S&F trifold uses the effective trifold design that allows for an intricate design. This beautiful design is inspired by the countryside and it a perfect invite for an outdoor wedding. Laser cutting is once again used to create the delicate design.
Vineyard Landscape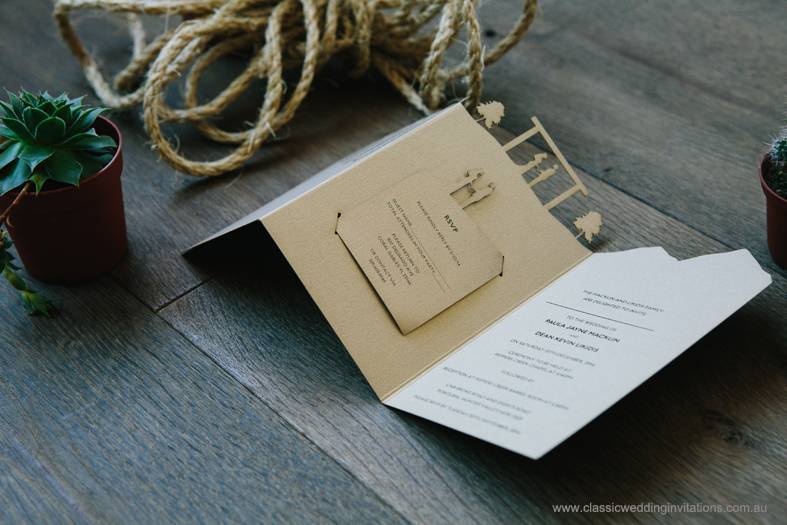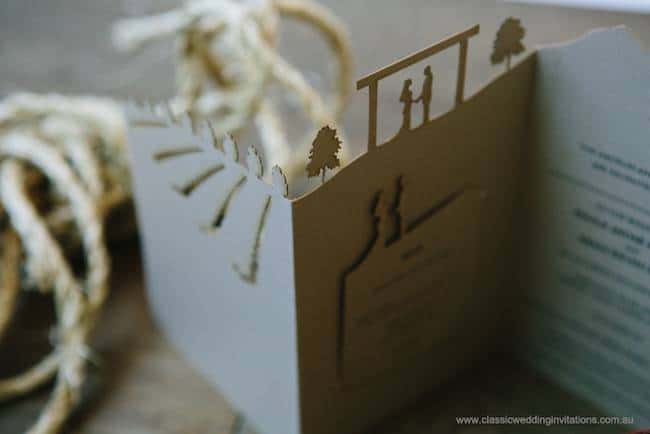 The vineyard invitation is a beautiful example of our landscape series, which uses the trifold design to create an amazing landscape that can be tailored to each customers needs. This particular design is perfect for a wedding at a winery and helps to create an earthy but elegant theme.
Vendors
Designs:  Classic Wedding Invitations
Photographer:  Lilli Waters