A city wedding can take place in multiple ways depending on one's taste.There's the classic grand ballroom, with an air of elegance and sophistication. A modern rooftop wedding with endless views and for adding urban industrial vibe to your wedding go for a gallery wedding. You can even try restaurant receptions that have some real charm.
But no matter what you choose for a venue, there are always a some common elements that bring in a vibe of city style. Silver tones give off a smooth vibe reminds of a city's steel architecture, while gilded accents create an aura of uptown city glamour. An urban feel can be brought in by jet black.
Abstract canvas to boldly dress up a ceremony, sweetheart table or lounge area are some great ideas for an artistic backdrop. Set a contemporary tone in all your paper goods with a simple font.
It is not completely on decoration – think of your bridal party. You can get a city girl look by wearing black or metallic dresses. If you are going for a winter wedding, try pairing your dress with a leather jacket and this will make you stand out the best. Classic black and white tuxes are generally the best for a city wedding. Check out these below listed 25 ideas for your city wedding.
Kick It All Off With Modern Invites
Start with modern and bold invitations. Try these black and gold mixed invitations that are super good for your city wedding.
Consider Contemporary Centerpieces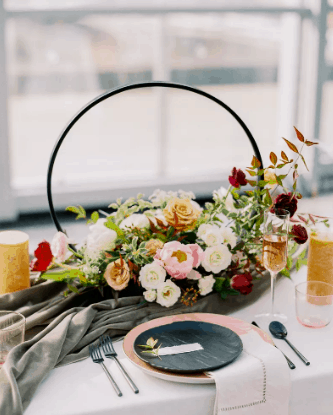 A circular centerpiece decorated with flowers has a complete vibe for an urban wedding.
Choose Acrylic Chairs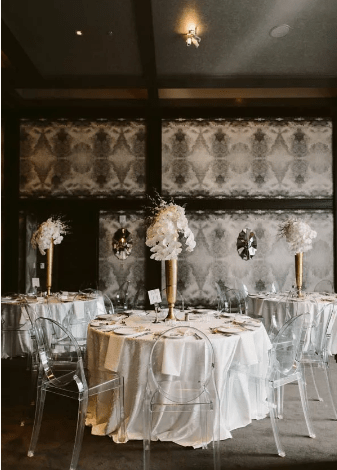 This smoky setup is about the glam vibes. Shades of grey and acrylic chairs makes a luxurious city combo.
Say "I Do" on a Rooftop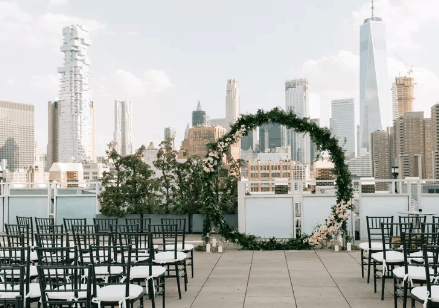 Rooftop expresses a city wedding perfectly. A stunning backdrop is all you need and can even try this large oversized wreathe.
Design Minimalist Details
Add a mini drink menu with graphic design for adding a urban style beauty.
Play With a City-Inspired Color Palette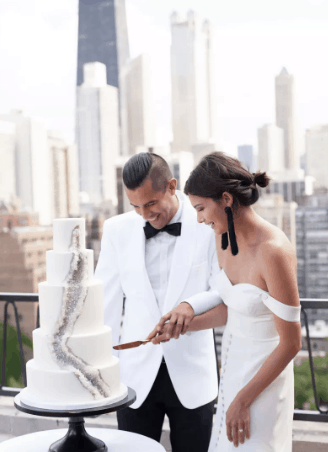 Try such cakes with glittering grey sprays that regards to concrete skyscrapers. Perfect for your city wedding.
Pair Black With Copper
You can have an industrial urban look by adding warehouse walls with black linens and copper seating.
Have Your Bridesmaids Wear Their Favorite LBD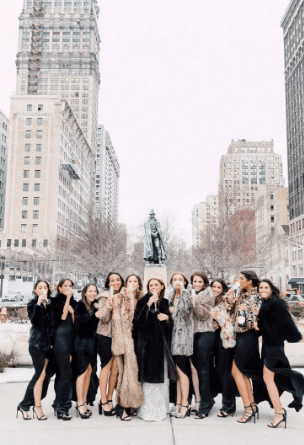 Your bridal party would stand out to be perfect with black dresses and faux fur coats.
Embrace Abstract Art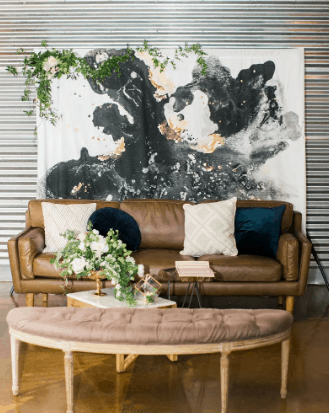 If you think to create a lounge, add a canvas with abstract art for your lounge area backdrop.
Add Monogrammed Details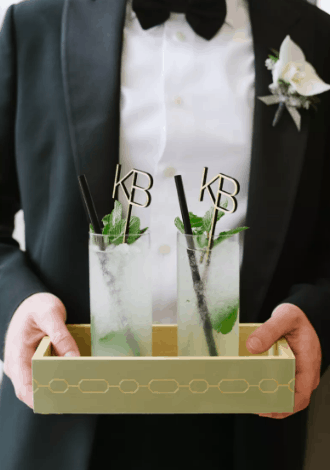 Monogrammed cocktail stirrers are stylish and elegant and perfect match for your city wedding.
Rent a Vintage Getaway Car
Hire or rent and drive away in a vintage getaway car to enjoy some old school city vibes.
Incorporate Geometric Decor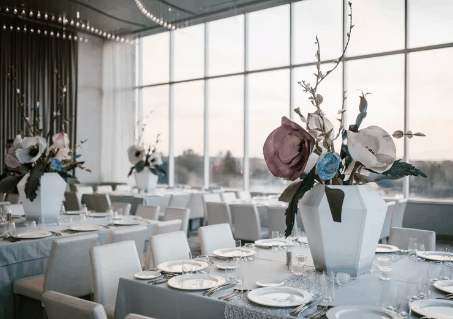 This table setting is modern table setting perfect for a city wedding. Everything from linens to centerpiece looks stunning and attractive.
Light It Up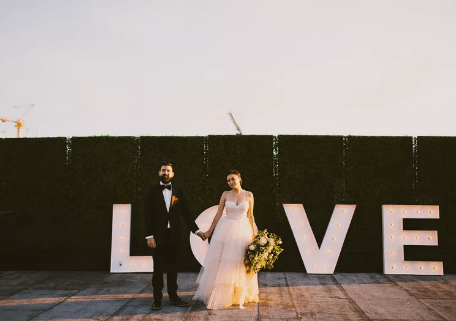 Marquee lights are made for fun time, especially when they say something to everyone. You must surely use them to give your dance floor a downtown vibe.
Consider Concrete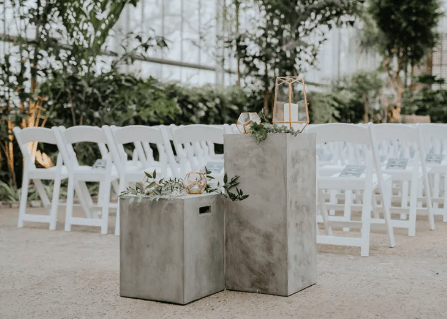 Concrete blocks can be used as statement aisle markers. Decorate them with some greenery and candles.
Find a Venue With Big City Views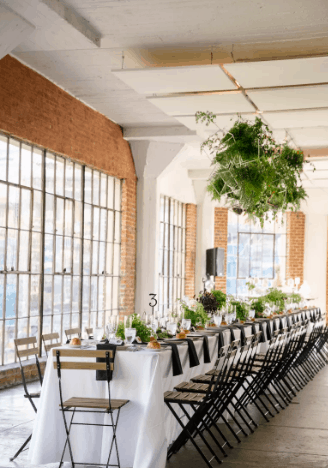 You do not need to focus on decoration much when your venue includes big windows and gives some beautiful city views.
Refine Your Dessert Selection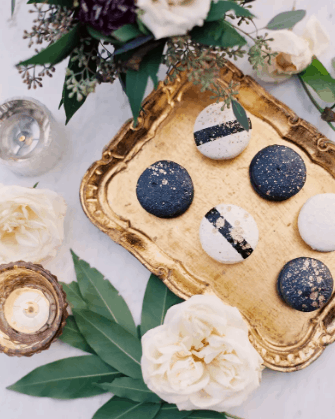 Make your dessert table more elegant and stylish with macaroons polished with white, black and gold colors.
Play With Texture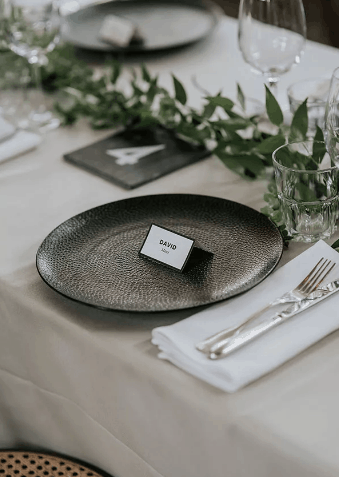 Textured metallic plateware adds an urban touch to your reception tables.
Celebrate With a Champagne Toast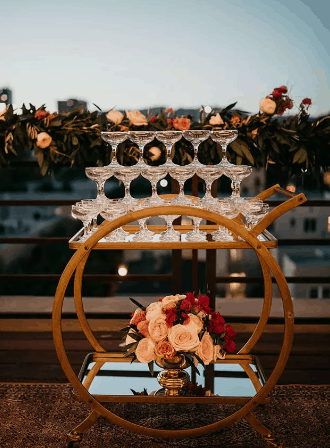 For adding a romantic vibe to your rooftop reception, try arranging a shapely bar cart that can carry a tower of champagne glasses and a bouquet beneath.
Go With Glided Details
Elevate your city classic church wedding with greenery and gilded chairs. Plus this adds a aristocratic look to your setting.
Work With Wallpaper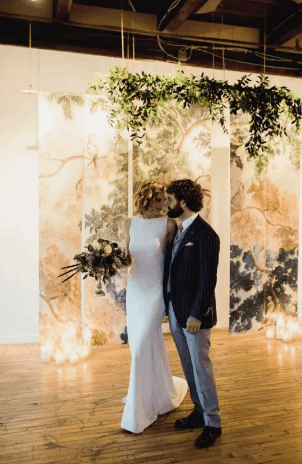 This bride managed to create a backdrop from a Anthropologie wallpaper. The bride set the tone by adding glowing candles on each side of the backdrop.
Adorn Acrylic Chairs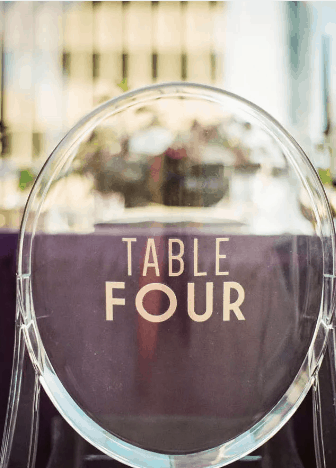 Stay unique with your table numbers, make the table numbers to be printed on the back of chairs. Unique and unexpected but beautiful and attractive.
Choose Tall Floral Centerpieces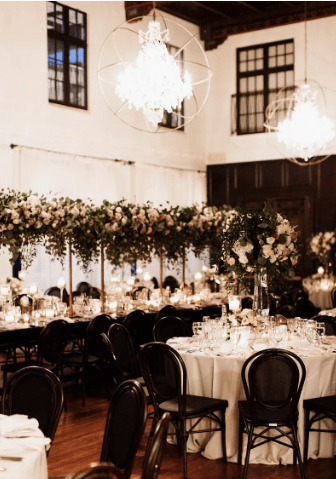 This reception setting throws out a vibe of city sophistication, from the glittering chandeliers and high ceilings to the towering floral centerpieces and classic color palette, everything speaks out for a city theme.
DIY a Mirrored Welcome Sign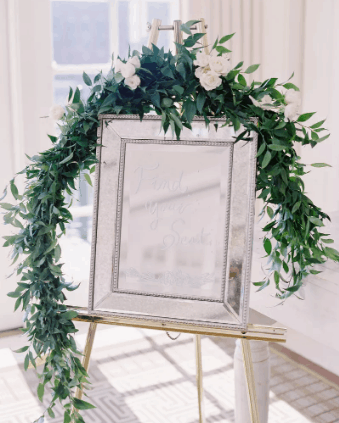 You can set up a modern welcome by creating DIY mirrored signs.
Dress Up Your Dance Floor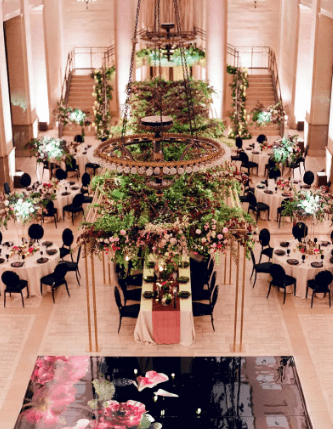 A black lacquered dance floor with a bold print makes this city reception attractive and stylish.
Include Industrial Bulbs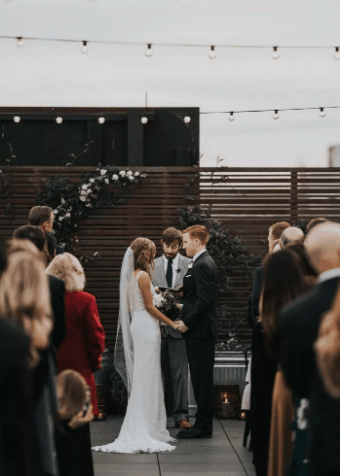 Hang string lighting as industrial bulbs across rooftop of your ceremony for a bit of romantic and moody ambiance.