Happy Halloween to our readers! If you love this festivity so much that you're contemplating on incorporating it with your wedding or engagement, then look no further and feast your eyes on this styled "Spooky Engagement Party". And nothing screams spooky and romance more than the Addams family's Morticia & Gomez, so the planner tried to make details as relevant to the couple. Enjoy!
Gomez: To live without you, only that would be torture.

Morticia: You're dearer to me than all the bats in all the caves in the world.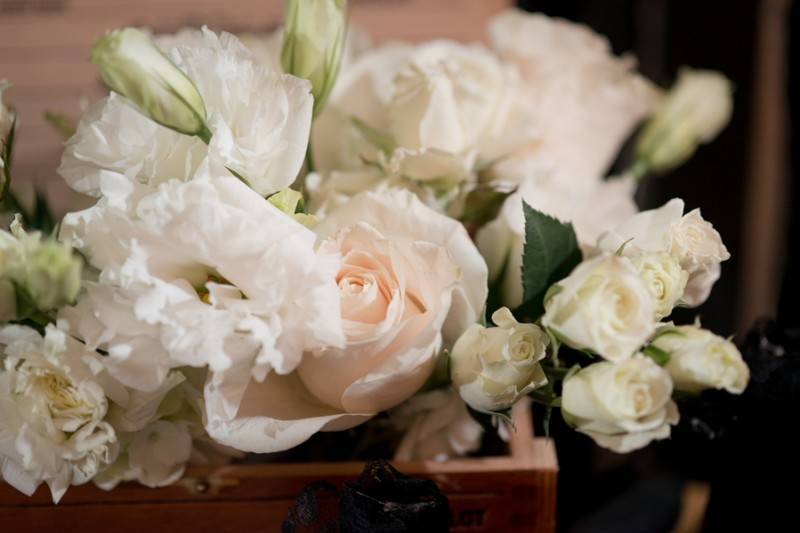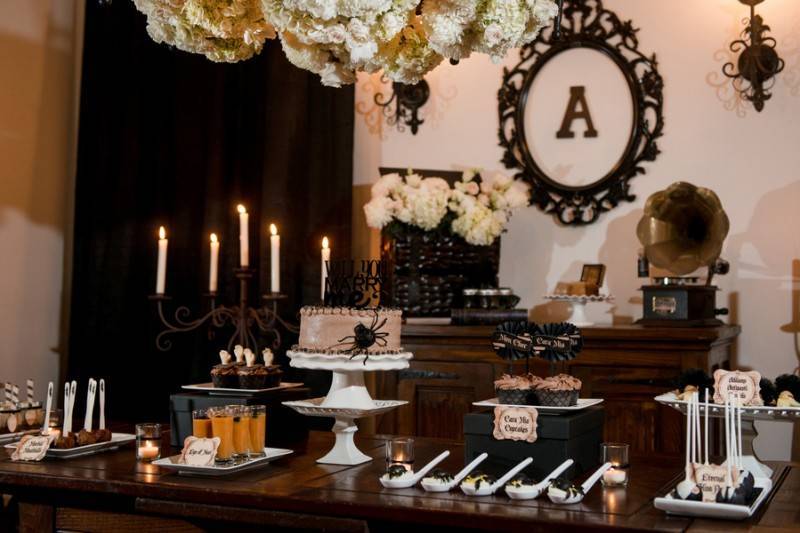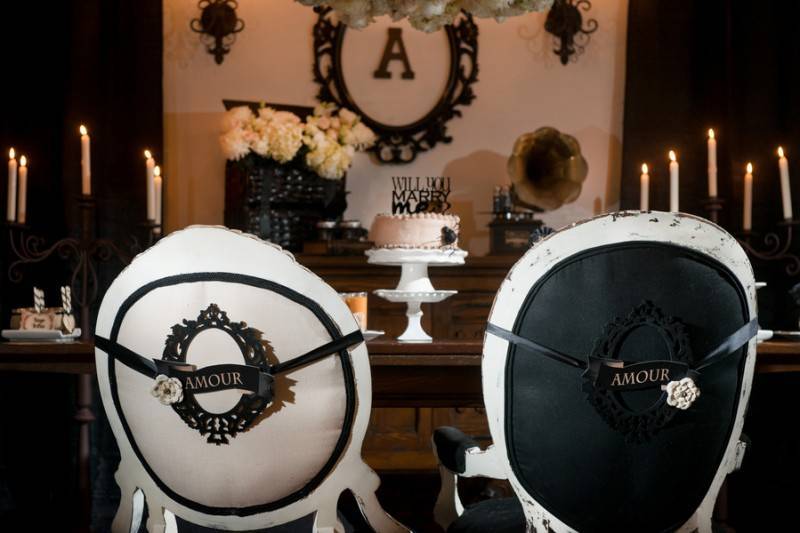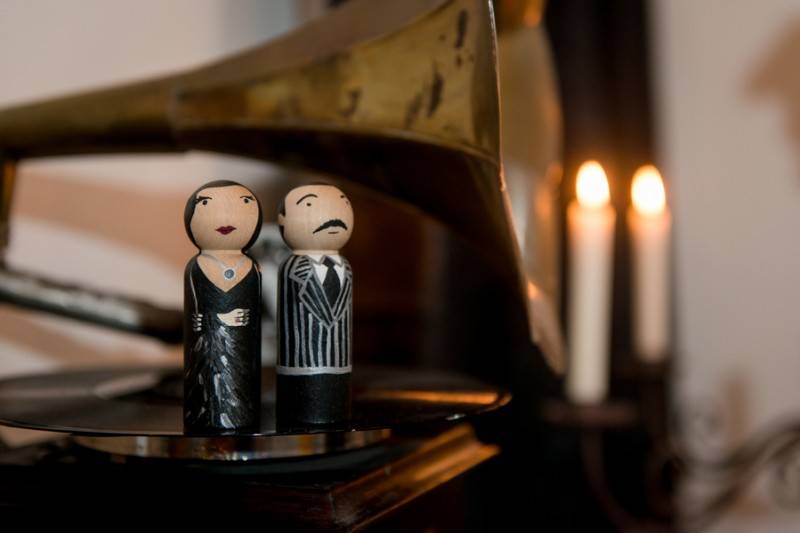 This is one of the strong points of this shoot – the food! The menu includes:
Savory hors d'oeuvre such as meatballs on hand painted mustache fork skewers
Tulle topped antipasto swords, and caviar topped lobster bisque shots
A gorgeous devil's food cake with a rich peanut butter ganache frosting, topped with a custom topper "Will You Marry Me?".
Gorgeous red velvet cake pops that depict the bust of the very glamorous Morticia adorned with a soft flower and the classic pin striped suit of the dapper Gomez
Cupcakes topped with fondant hands coming out of the box, aka "Thing"
Mini layered cookie and cream cheese frosting trifle
Rich chocolate macarons
Two signature cocktails for "Gomez's Cigar Bar", one is the "smokin Gomez", complete with smoke and fondant cigars and the Black "Morticia Martini" garnished with dark blueberries in bamboo skewers.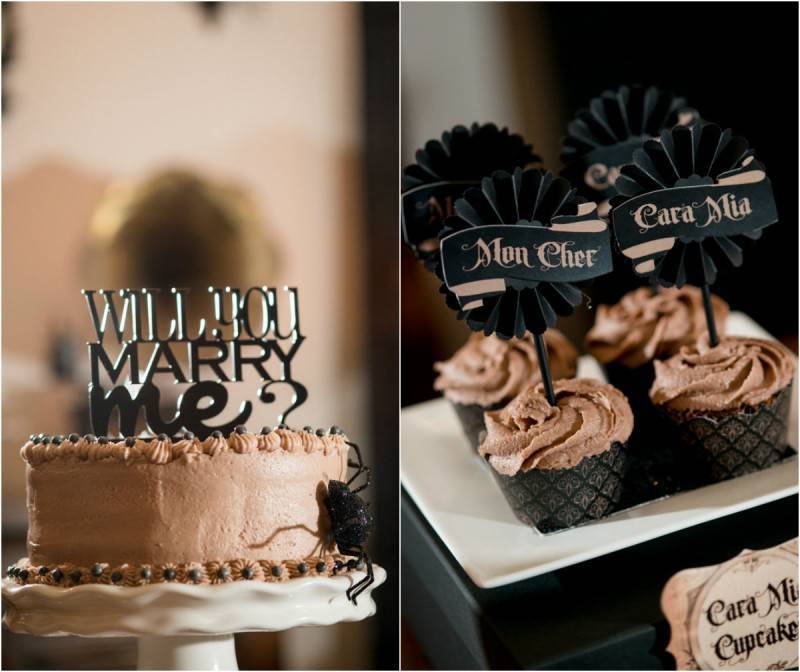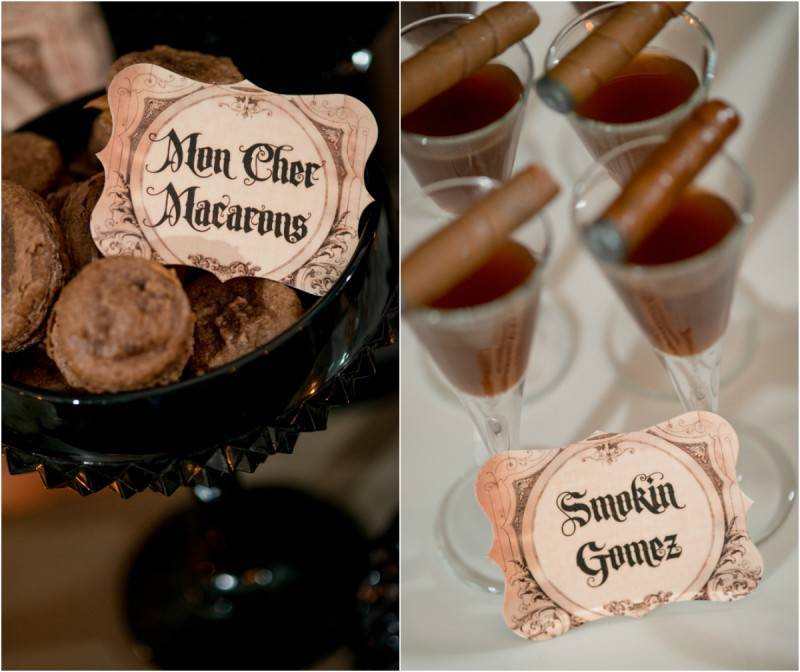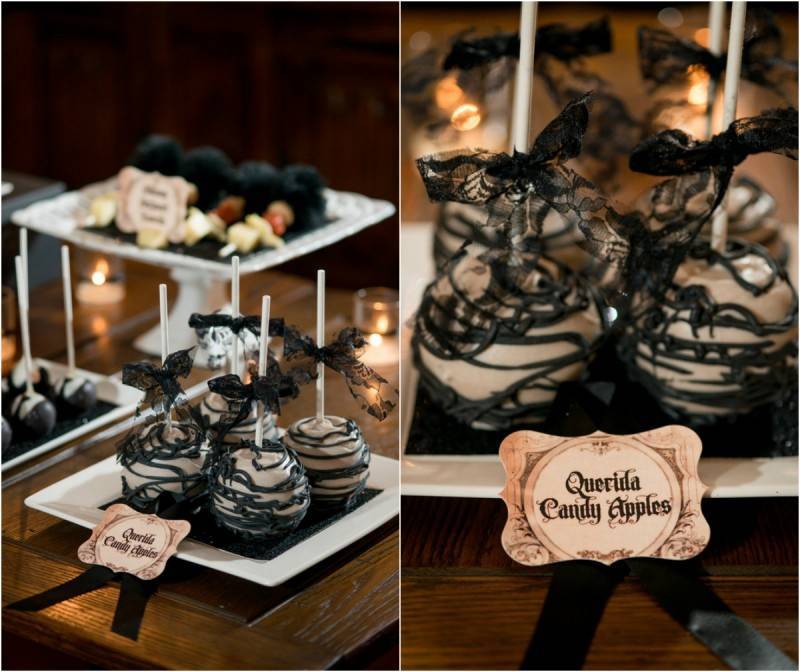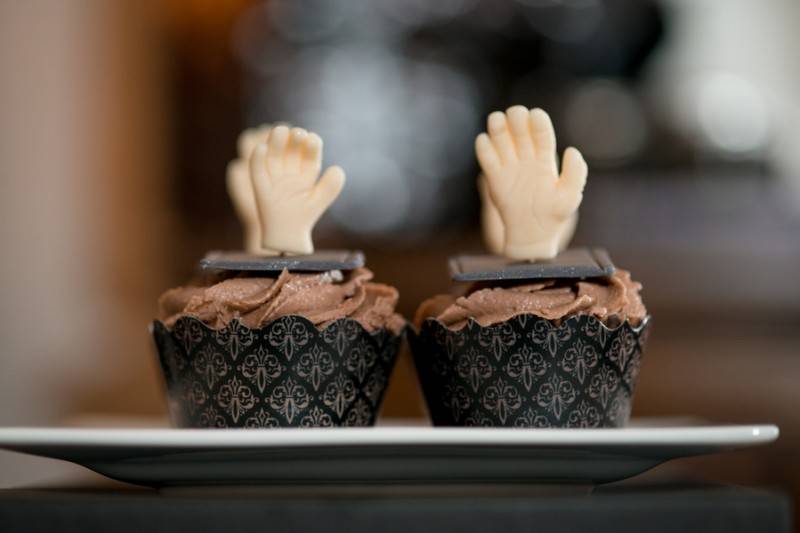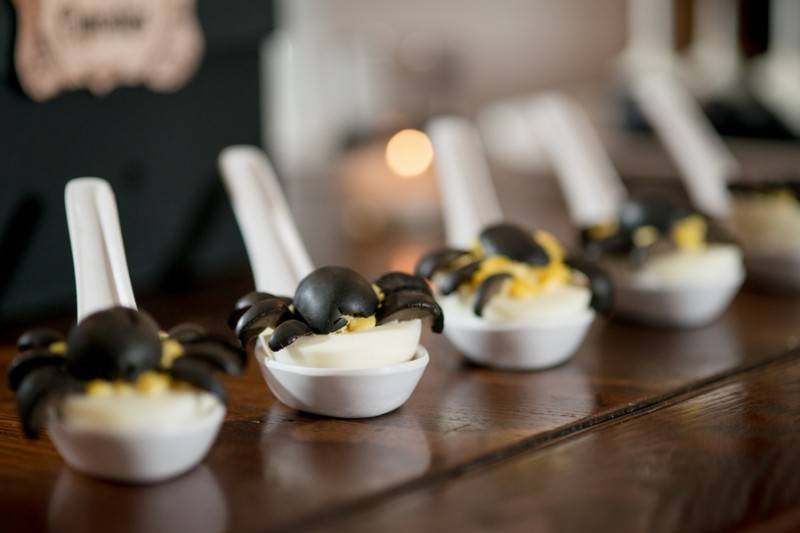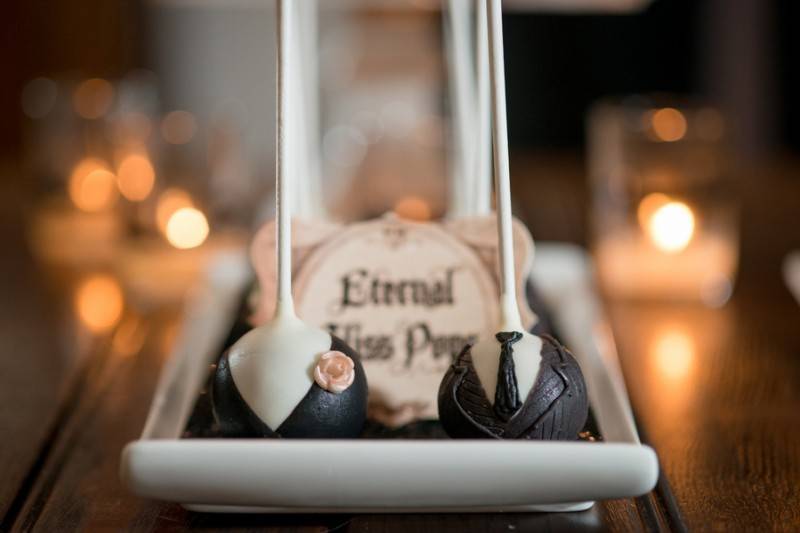 Here are also some of the creative details:
A little handmade wood-carved box, which asks a hopeful "Yes?". It holds a sparkly engagement ring.
Beer crate that holds a flower filled cigar box as well as some beers for guests to enjoy.
A distressed shadow box holds vintage tags that are ready for guests to write some well wishes for the happy couple.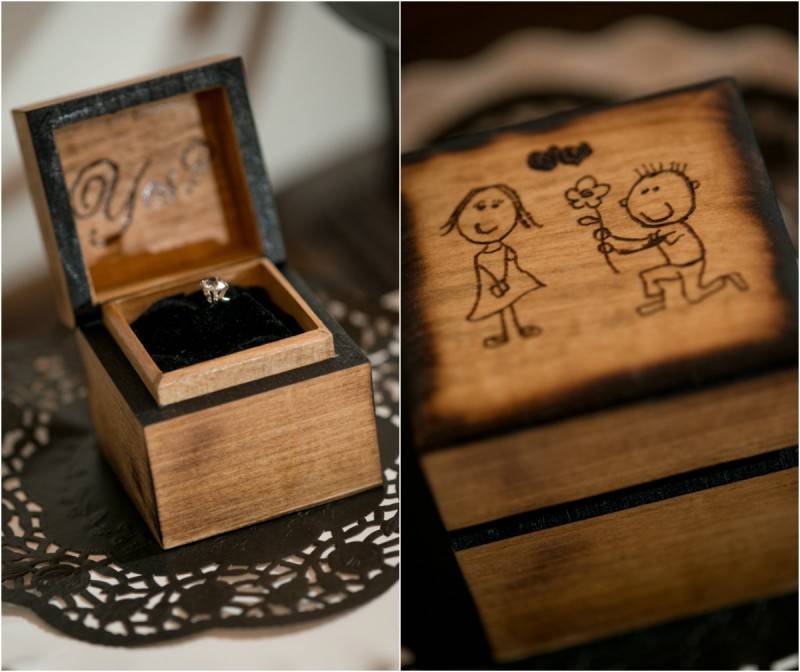 The floral designer perfectly executed our vision of luxurious neutral color flowers that would soften and be a perfect juxtaposition to the gothic wrought iron chandelier, fixtures and dark rich wood furnishings. The lush arrangements of cream color roses, fragrant hyacinth and lisianthus added to the romantic and elegant feel of this spooky engagement party.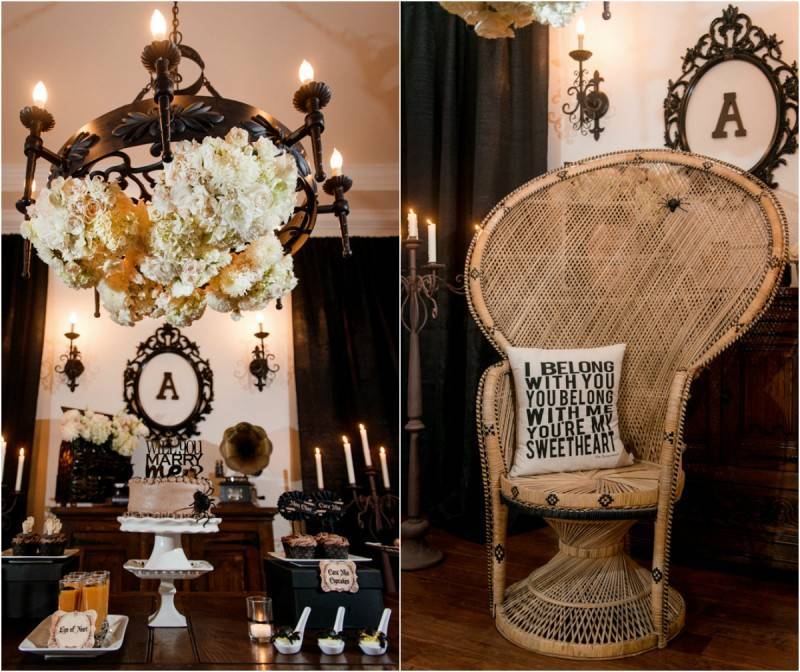 Vendors
Photographer:  Marc Edwards Photographs
Etsy Designer:  Big Sky Rustics
Etsy Designer:  Craft That Party
Specialty Foods:  Frog Prince Cake and Cookie Design
Invitation Designer:  Loralee Lewis
DIY or Handmade Goods Designer:  Michelle Dwights Designs
Etsy Designer:  Miss Sarah Cake
Specialty Foods:  Painted and Sprinkled
DIY or Handmade Goods Designer:  Sucre Shop
Etsy Designer:  Titi's Tutus
Etsy Designer:  Woodburned Doodles
Floral Designer:  FH Weddings & Events
Event Designer:  Two Prince Bakery Theater
Bakery:  Two Prince Bakery Theater