From Trisha:
It seems like dessert displays with candies, cupcakes and pretty colored macaroons are all the rage in wedding world – and I am definitely not complaining! If I have the chance to daintily stuff three or four mini bits of goodness into my mouth rather than look like a lil' piggy on piece of wedding cake number two – I will take the first option any day!
However, lately, the traditional side of me has been tugging me back to the centerpiece of the after dinner hour – the wedding cake. I have been falling in love with some gorgeous cakes all of which feel very sweet, pink and ruffly – not to mention, romantic.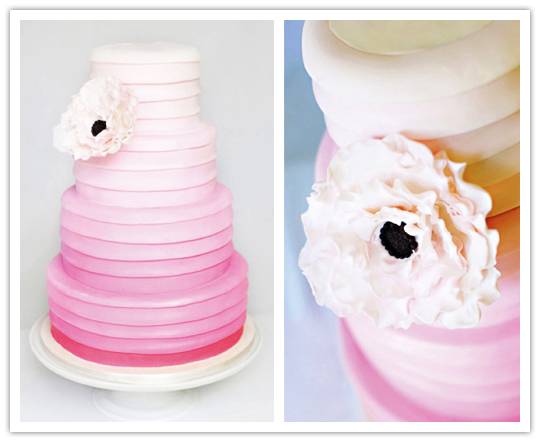 I was lucky enough to see the model of this lovely tiered white to pink gradient cake turn into the real thing, and then got to enjoy every last bite! Just a few minor modifications from model to final, but this jaw dropping beauty was designed by Gabrielle of Cake Coquette and I can't get enough of it's loveliness.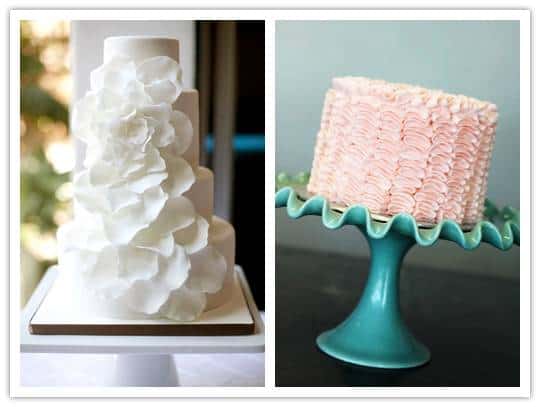 Another favorite was created by Melody of My Sweet & Saucy. The fullness of the floral focal point falling over all layers of the cake amazes me. Stunning simplicity at its best. It feels modern and soft all at the same time. The last little cake was also created by My Sweet & Saucy and feel perfect for a small backyard wedding. Pink ruffles galore contrasting with a lovely teal cake cake stand – I think a dessert display with five of these little cakes would be absolutely adorable!
Images from Janae Shields via Cake Coquette, My Sweet and Saucy, Annie McElwain via My Sweet and Saucy.
• • ♥ • •
Trisha Dean is a wedding and event planner in the San Francisco Bay Area. A background in graphic design and corporate event planning led to her love of designing and planning weddings. She is the author of Adore and a contributing blogger to Bay Area Bride Guide in addition to the Inspired Bride. She lives in Walnut Creek, California with her husband, daughter, and two cats.