She's an avid Pinterest user; he's a real handyman. Hand in hand, Ashley and Paul made their dream wedding come to life. Planning the event and working on all the details – it's amazing what you can do when you work together. They were able to make exactly what they wanted, and this beautiful wedding is chock full of DIY. They made their own sand ceremony, their own photobooth, even their own flowers! Not only does this mean a smaller over-all cost, you also have that added charm of customized handicrafts. It was also a great learning experience for the couple – Ashley even discovered her inner DIY diva!
Click image to enlarge
Like. Click to Vote
>
What is your story as a couple, how did you meet & fall in love?
We met after he found my Facebook. His cousin Tiffany and I are really great friends and one day she started calling me out of the blue every day wanting me to come and hang out. It was normal for us to make plans but she usually wasn't so persistent, but I found out later that it was because there was an ulterior motive. She was trying to set us up. I later heard that when he originally saw my pictures he said out loud to Tiffany, "I'm going to marry that girl one day!" Well, here we are five years later, married. It didn't take much convincing. I wouldn't say it was love at first sight, but maybe second glance. It only took one date and we have been inseparable ever since.
What makes the two of you a perfect match?
He's everything I'm not. We are very much different but very much the same. I'm the heart and he's the brains. We complete each other.
How did he (or you) propose?
We were in Las Vegas on vacation. It's actually a very funny story. The engagement was well overdue. We had been together for four years and already purchased our first home together. He took me to Zales before we left to look at engagement rings and I fell in love with one of them. He later told me before we left that I shouldn't get my hopes up because even if he wanted to propose to me it would take them 12 weeks to size the ring and we were leaving in 2 weeks. Needless to say, I was not expecting anything.
Our first day in Vegas it rained… Yes, I know – rain in the desert, that's crazy! We were walking down the strip on our first night after the rain stopped which was nothing new for us because we vacation in Vegas regularly. We stopped in front of Paris Las Vegas Casino and Paul said, "Let's go to the top of the Eiffel Tower and look at the lights!" A normal woman's first response would be yes, right?! Not mine. "No honey. Let's just wait. It rained today. I'll find a coupon and we can come back tomorrow!" He looked so disappointed I should have known. We continued to walk around and we stopped at the fountains show in front of the Bellagio. The show was so beautiful and it was romantic he had his arms around me as we watched. I remember saying, "How romantic." Then out of nowhere he turned and looked at me put his hand in his pocket and then got down on one knee. It seemed like hundreds of people walked by watching but in that moment it was just the two of us. Nobody we knew; no family, just us — it was perfect! Of course, I said yes because now we're married.
Later that night, after all of the happy tears and calls to my parents and all of the excitement, he revealed the original plan was the Eiffel Tower at Paris Las Vegas and how he couldn't wait until tomorrow or for a coupon — he had already waited four years! It was perfectly unplanned!
How long was the planning process? Did you think it was enough time?
I planned the wedding for one year. We were engaged on September 4, 2013 and we were married on September 20, 2014. I think a year was plenty of time but I could have used maybe three more hours! I found myself rushing out the door to my own wedding a little late!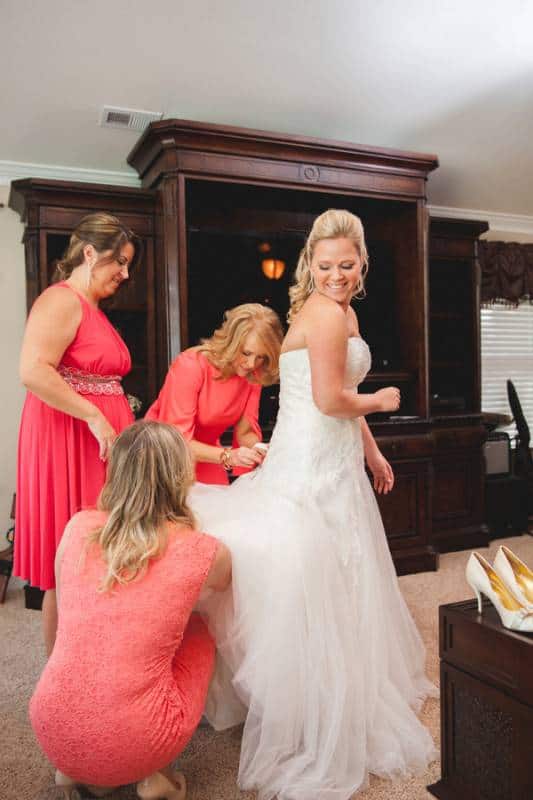 What was the best advice you received when you were planning your wedding?
Something will go wrong so don't sweat the small stuff nobody will notice but you.
What tips & tricks (can we use "hacks"?) can you share future brides that you yourself have learned during and after your wedding?
DIY flowers. Wedding wire will save your life. Always read reviews. Review all of the fine print when signing with a venue or vendor.
What were some challenges you faced while planning your wedding & what did you do to address them?
We didn't realize when we booked our venue that our sponsor at the club we were using had to be present at all times while we were in the building. She didn't live close so we felt horrible that she had to drive all the way there every time we needed in and while setting up for a few hours she had to be there.
What inspired your wedding décor? Why did you choose the things that you did?
Pinterest and our imagination inspired our wedding style. We kind of incorporated both of our personalities while decorating. My new husband is a very, very handy man. He made a lot of our decor. Pretty much anything I wanted he could make and the materials cost almost nothing. I discovered my craft bone while planning but it hasn't always been there. We had twine, burlap, and hot glue coming out of our ears.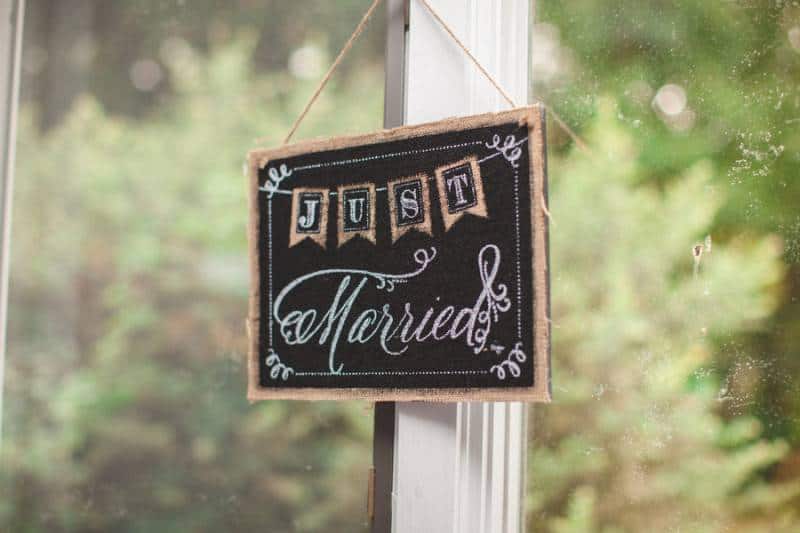 What was the wedding budget?
Not including our rings we spent about $12,000.00.
Where did you save the most money?
I did my own flowers! I purchased them online through Sam's Club of all places and they turned out perfect and they were beautiful! They came in bulk boxes and two days before the wedding we were trimming and arranging. My dad did my bouquet and the girls' bouquets and they were perfect!
What was the biggest expense?
The food and the photographer cost the most, but the biggest unexpected expense was the rentals. Linens and chair rentals are outrageous I am definitely in the wrong profession.
How many guests were invited in your wedding and what was the final guest count?
140 were invited and we had about 125 people show up.
How did you narrow down your list?
If I hadn't spoken to you in the past year then you were cut from the list. I would have loved to invite everyone we know, but with wedding costs, every additional person is an added expense with food, cake slice, chair, and linens. It was an average of about $60.00 a person. So family was top priority when making our guest list.
What songs did you use during the ceremony?
The bridal party walked to the instrumental version of "God Bless the Broken Road" by Rascal Flatts. The bride's entrance song was instrumental "A Thousand Years" by The Piano Guys. The Recessional was "A Thousand Years" by Christina Perri with the words.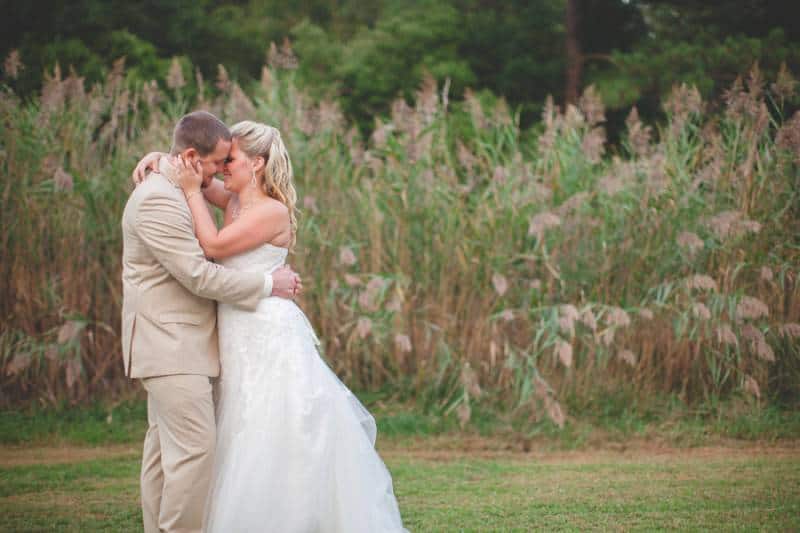 Where did you go on your honeymoon?
We went to Orlando for our honeymoon. We stayed at Orange Lake Resort and it was perfect.
What are you most excited about for the future?
Growing together and making a family.
Do you have advice for couples still in the planning process?
Enjoy it! It may be stressful, but it's over in what it seems like minutes. Slow down and try and control your inner bridezilla.
What inspired the wedding day outfits?
My Pinterest obsession. I also knew from the beginning that I wanted my matron of honor in a different dress.
What was your favorite part of the day?
Walking down the aisle and seeing my groom for the first time.
Was there any Do it Yourself (DIY) projects? If so, can you describe them in detail?
DIY flowers ordered from Sam's Club. DIY wedding arbor; bought the wood and stain from Lowe's. DIY nautical wrapped wine bottles. I had all of my bridesmaids keep all their empty wine bottles and peel the labels for me and then with a lot of patience and hot glue I tied what seemed like 1,000 nautical knots. We made DIY hanging mason jars for the aisle. I also made my own sand ceremony set up instead of buying one for $50.00. I spent $7.00 on glass and sand. We made our cake stand out of an old cheese box we bought at the thrift store. All we had to do to that was stain it. We made our own photobooth using burlap and PVC. We bought glass jars with thank you stickers and filled them with candy for party favors. We made DIY tags to hang off of the mason jars with twine. We individually stamped each and every one of them with an anchor on one side and a thank you on the other side. My husband made a boat for the beverages that was a huge hit and it's my favorite decoration from the wedding. We hand made all of the sailboat table numbers with cloth and wood pieces. We antiqued an old window and put burlap and our engagement pictures in each of the window panes and my husband made a beautiful wooded standing easel to place it on. We did so many things I could go on and on.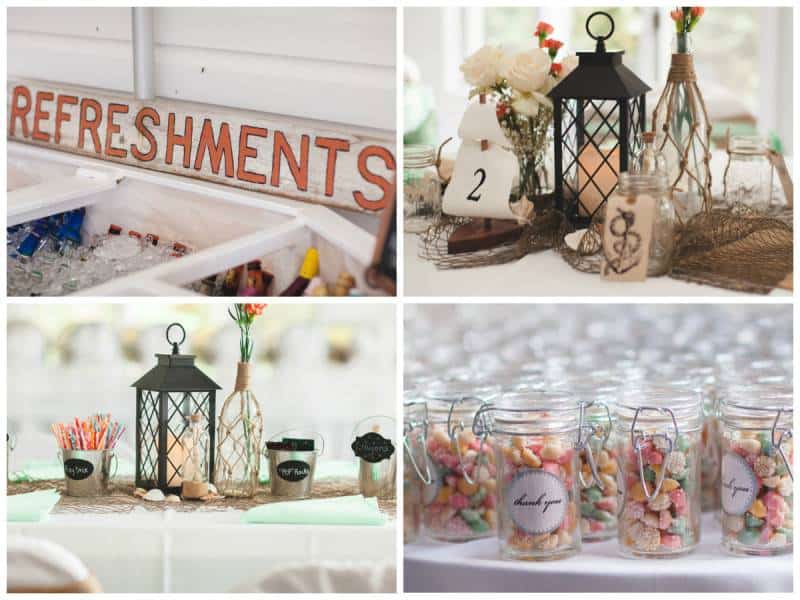 What were the highlights from the ceremony & reception?
Our sand ceremony we did differently from the normal sand ceremony and we incorporated our parents. The first dances and my father's speech were definitely highlights from the reception.
Was there a theme for the ceremony and reception?
Nautical/rustic
What part of the ceremonies do you think was the most memorable for you? (& your guests?)
The first look with my dad was very memorable for me and is something I will keep with me forever. The look in my dad's eyes when he saw me was something special. I believe the guests will remember the dancing. The dance floor was full and I do believe all of the guests were having a great time!
VENDORS
Photographer: Luke & Ashley Photography
Location: Seaford Yacht Club
Cake Designer: Simply Connie
DJ: Acme DJs of Virginia
Makeup Artist: Anywhere Beauty by Shae
Caterer: Gidi Gourmet
Event Venue: Seaford Yacht Club
Floral Designer: Simply Connie