Michelle's favorite color is teal, while Devon's is red. Syncing up their favorites and interests equal to a praiseworthy wedding day. Since both are teachers and are utterly in-love with books, they figured that a library-esque vibe set-up would be best. Decorated with almost a hundred of books, eclectic vintage finds, and lots and lots of DIY knick knacks, your hungry creative soul will be stuffed with ideas, for sure! Well, I just had a meal of arts and crafts and boy, I was satiated! Congratulations, Mich and Devon!
Click image to enlarge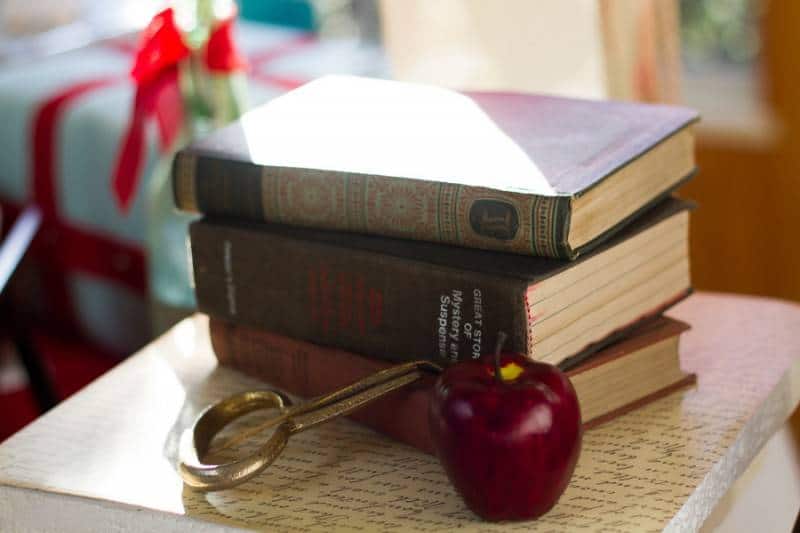 Like. Click to Vote
>
Our Story
Michelle and Devon grew up going to high school together, just separated by a few grades. Years later, they both ended up teaching at the same high school, and Michelle asked Devon to prom (to chaperone with her), and they immediately became great friends. They were 'just friends' for almost a year, until one day they both realized they were in love and wanted to get married.
They sort of forewent the dating stage, and got engaged a couple months later! They both love books, photography, and eclectic vintage finds, so this is how they decorated their wedding!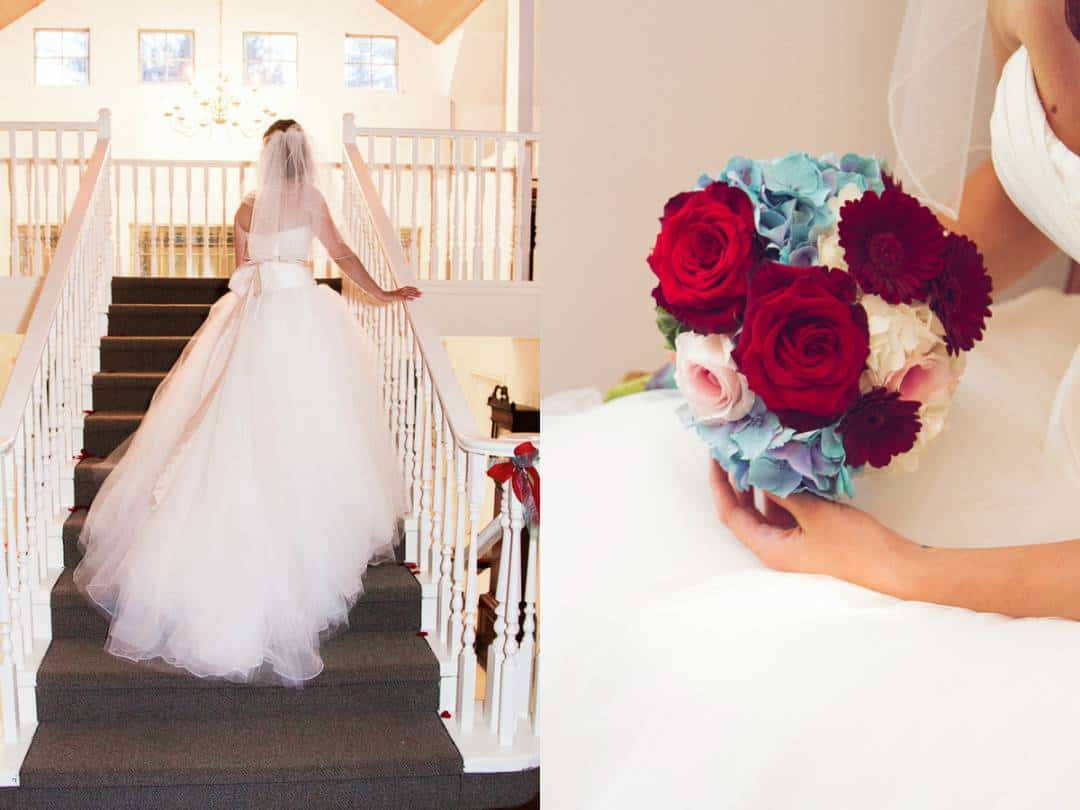 The Theme
Teal blue & red, with an eclectic antique library/teacher-esque vibe.
Wedding Outfit Inspiration
They decided to use the Bride's favourite colour teal and the Groom's favourite colour red. They found a tartan from England with red and teal for their colours, and ordered the tie for Devon. The bridesmaids wore shades of red and teal.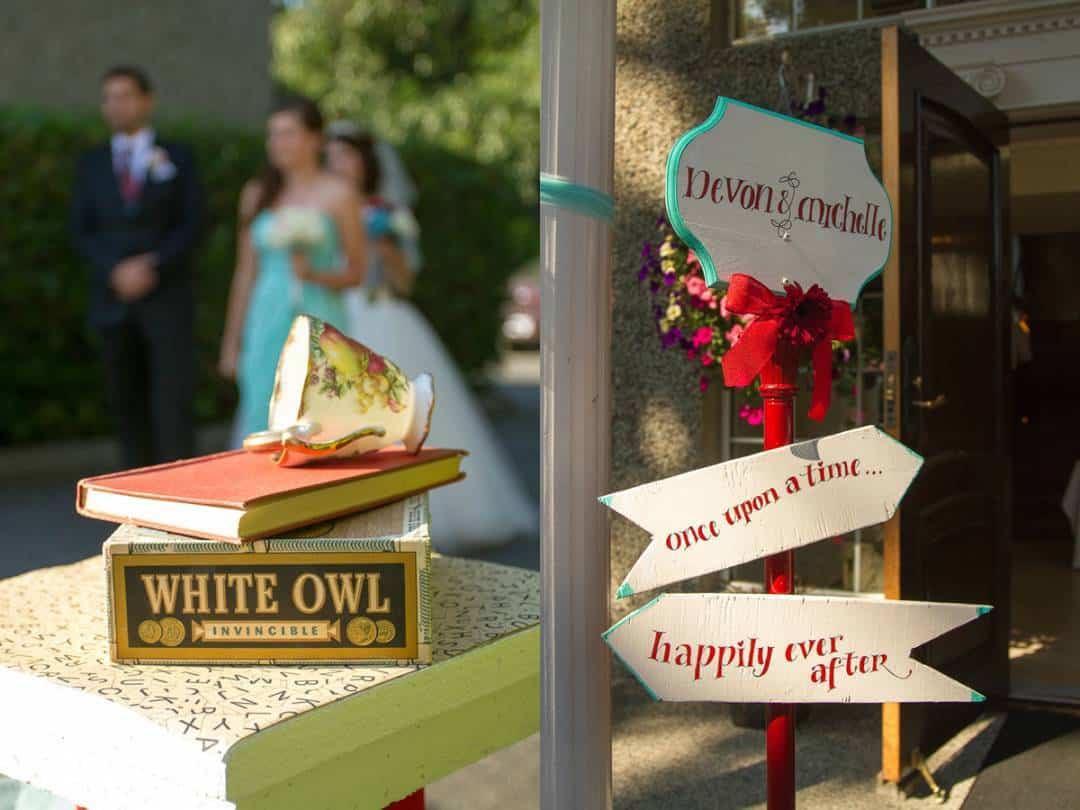 Our Do-It-Yourself (DIY) Projects
All of the Invitations were made by hand, with beautiful calligraphy all done by Devon's mom Bev Allen, and the drawing of the books was done by Devon's sister Erin. Michelle collected and made all of the decorations; the aisle pillars with all the knick knacks were collected and made by Michelle.
The reception table book centrepieces named after sections in a library were collected and made by Michelle. The flower arrangements were all done by Michelle and her bridesmaids. The whole wedding party decorated the venue. The pie/dessert stands were made by Michelle. All in all, Michelle is one crafty chick! 😉
Highlights from the Ceremony and the Reception
To get Michelle and Devon to kiss at the reception, you had to give money to a Charity called Child of Mine, supporting the construction of a school for orphans in India.
Neither Michelle or Devon really like cake, so they decided to order a ton of cookies and pies from Krause Berry Farms.
For the bouquet toss, instead of getting all the single ladies, they just asked all the women up. The person who caught the bouquet got to take home one of the wedding gifts (which was a planted fake wedding gift, and not an actual gift. I think it was a bit of an inside joke for the couple)
Favorite Part of the Day
My favorite part of the day was doing the photo session out on Michelle's parent's ranch. Such a cool little piece of property.
A Memorable Moment
I asked Michelle what their most memorable part was, and she said: "When my Dad, instead of toasting me, he roasted me! And the pie!"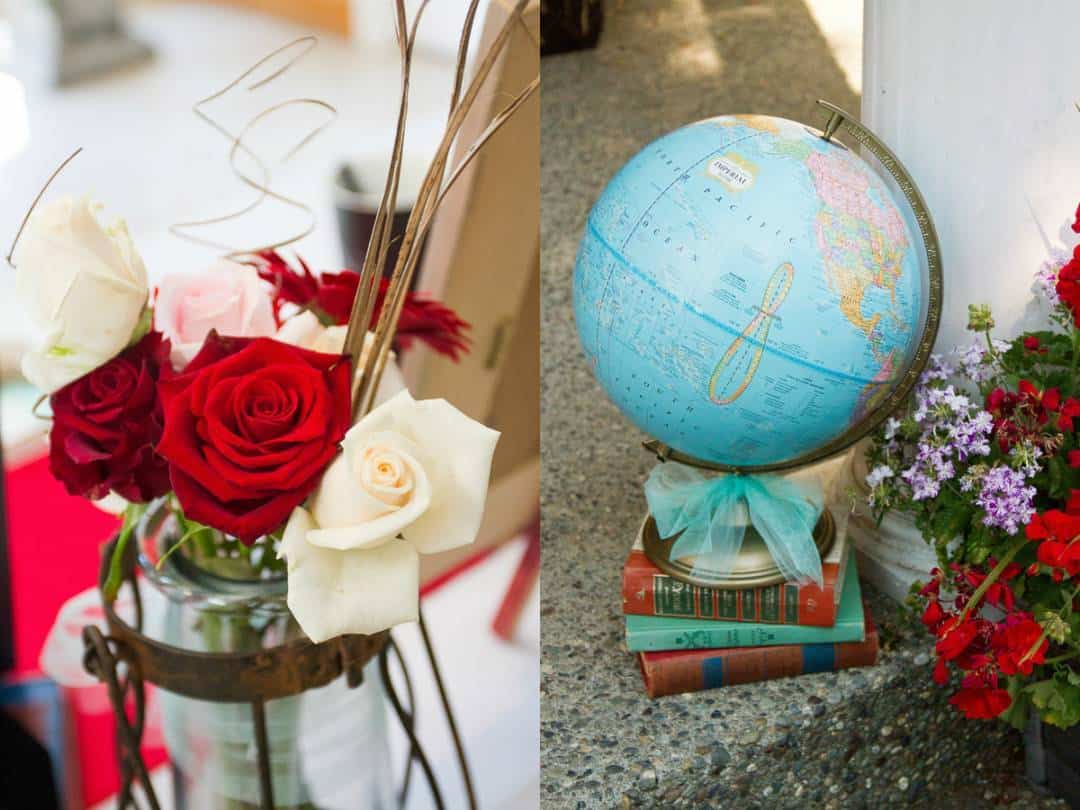 VENDORS
Photographer:  Family Creative Imagery
Dress Store: Belle Bridal
Jewelry: Era Designs
Bakery: Krause Berry Farms
Event Venue: Chateau Cargill