Tim and Katie share a love for apple picking and apple pie baking, so it's only fitting to have an apple-themed wedding. There were a lot of apples that day from table guides, favors, and decors. Tim even graphically designed an apple core that was a shape of their profiles!
Here at Inspired Bride, we love a good story, and after reading Tim and Katie's proposal tale, it was definitely feature-worthy. I'm pretty sure the scent of baking apple pies will forever be a sweet memory of the day Tim proposed. Read on to get the sweet details from their photographer, Jennifer Smutek.
Click image to enlarge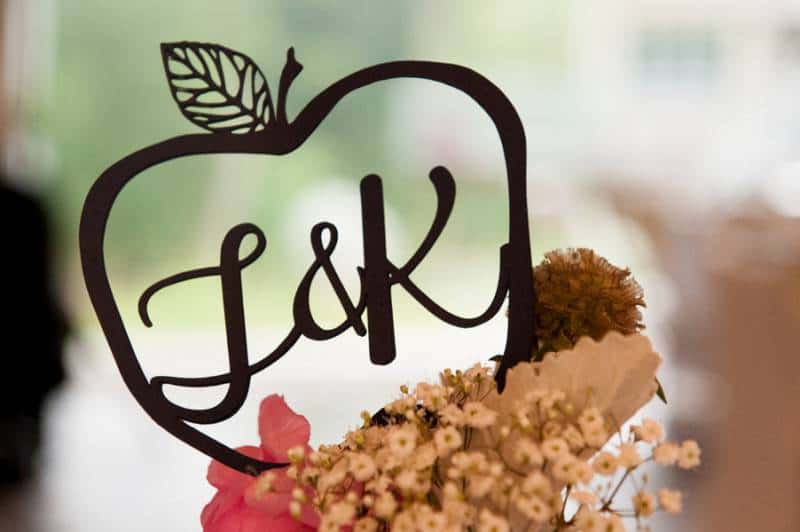 Like. Click to Vote
>
Album Story:
Katie and Tim's wedding story begins with the most amazing proposal. Every year, Katie and Tim go apple picking together and then come home and bake apple crisp pie. Tim proposed to Katie on their apple crisp day the previous fall. He asked Katie to dance after they put the pie in the oven, waited for their song to come up on the playlist, and got down on one knee and proposed. He said he wanted the smell of baking apples to always remind them of that moment (in the words of Katie, "what a thoughtful dude"). How sweet!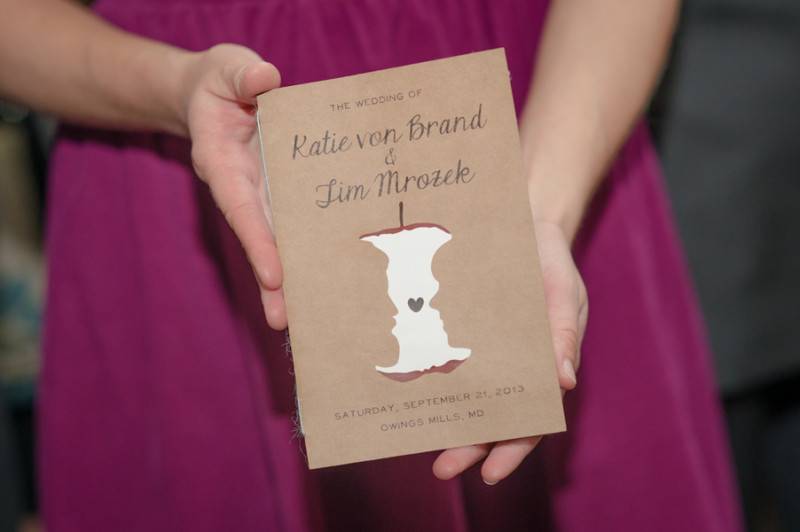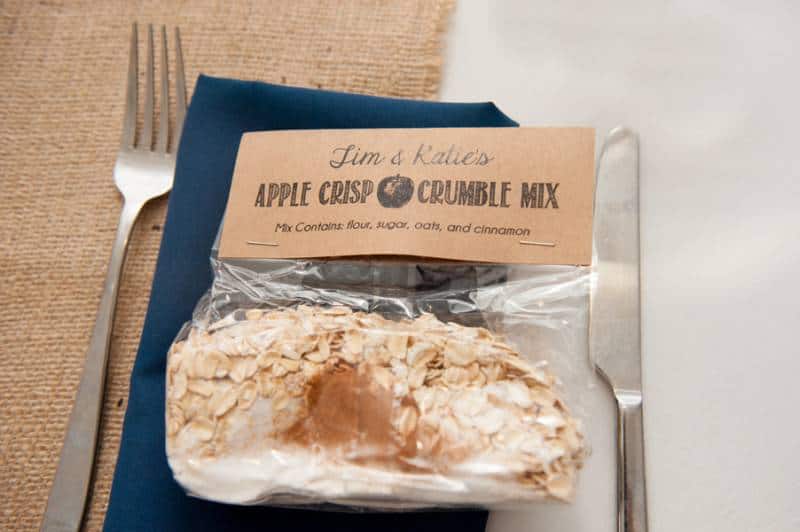 The Do-It-Yourself (DIY) Projects:
And so, it only seemed natural that Katie and Tim chose an apple-themed wedding! Using a silhouette cameo die-cutting machine, Katie and Tim made all of the table numbers, the seating chart, the escort cards, "find your seat" banner, the tag on Tim's gift, the vow and wedding readings books, and the programs. Tim even used his computer artist skills and designed the apple core on their invitations made from their profiles. So creative! They also designed, printed, and cut each of the tags for the "Apple Crisp Crumble Mix" favors and Tim, his mom, his sisters assembled and packaged them all. And, of course, the guests DIY'ed the awesome collection of drawings on their RSVP cards that they had displayed at the wedding.
The Highlights From The Ceremony & Reception:
The best part of the evening, was when Tim joined the band and surprised his new bride by singing her a song with the band.
The Theme:
Apples and Fall
Memorable Moment:
Hearing their personalized vows was such a sweet moment not just for them, but for everyone in the room!
VENDORS
Photographer: Jennifer smutek photography
Bakery: Iced Gems
Event Venue: Irvine Nature Center
Event Planner: Nouvelle Weddings and Events