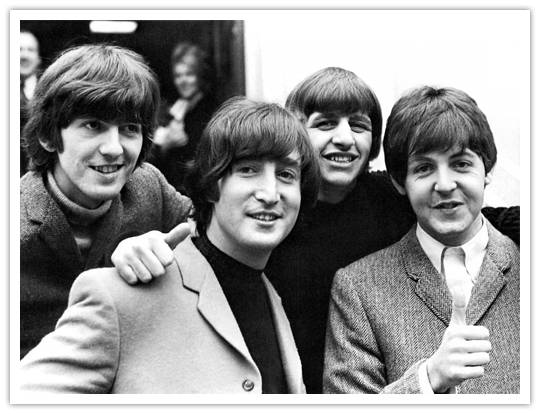 Like many people, I grew up on the Beatles. How timeless and beloved their music is, I think, very telling of how masterful they were at their art as a group.
Thirty years ago today, John Lennon was murdered. It's strange for me to think that I've only existed in a world absent of him, since he has always been such a big part of my life. Though he was certainly flawed, he was also a visionary – not many people can say they made an impact on the world around them in the way he did, politically and artistically.
So cheers, John. In honor of your life, some thoughts on Beatles influenced wedding details – since that's how we roll on this blog.
Slim tailored suits with black skinny ties are obviously a must-have for the guys.
Gig poster style decor would be fun, and this one seems particularly relevant (to a wedding and the group).
Blackbird necklaces for your bridesmaids would be a cute unexpected nod.
Centerpieces and other decor with green apple details would provide a great pop of color (and would be quite affordable!).
Some of the lyrics of "When I'm 64" are just begging to be repurposed for vows. Or "I Will". Or "Something". Or… well, let's face it, the list goes on.
Remember these cake toppers? They'd be perfect, and the Etsy shop offers 10% off using the code BBDBRIDE which is an extra added bonus.
Image via Music is Art.