Thank goodness the pizza delivery guy had no change for JJ's hundred bucks or Jeremy wouldn't pop in the fairy tale and their love story will be left untold. And since they believe that there must be no time to waste, they decided to become one. The wedding bells rang and embraced the kaleidoscopic atmosphere in their purplish, silvery, and yellowish soiree. And instead of filling the reception venue with flowers, JJ opted for lighted candles that brought warmth and gentle feels all over. They even did a DIY backdrop which looked like large shimmering sequins in front of the purple lights. And aboard the yellow pick-up truck, JJ and Jeremy drove away to their happily ever after. Good going, JJ and Jeremy!
Click image to enlarge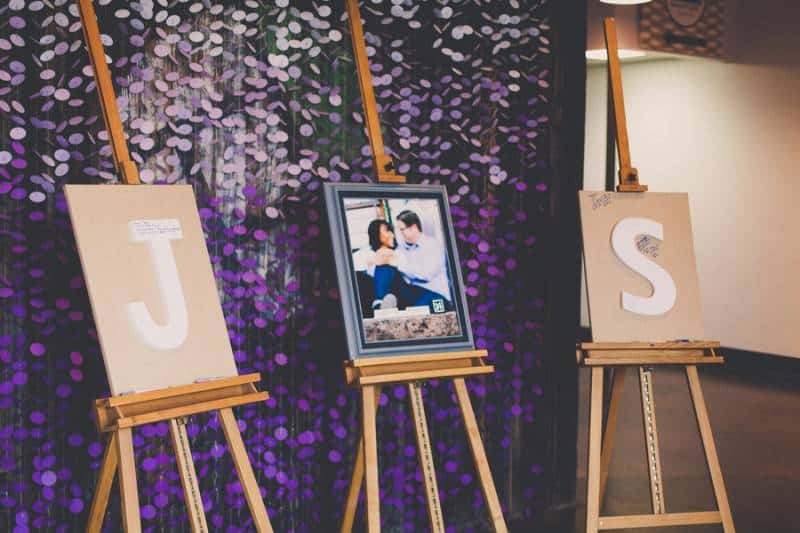 1

Like. Click to Vote
>
Our Story
We met at Park University. I was on the college radio station and Jeremy would listen. One night I was complaining how the pizza delivery man wouldn't give me my pizza because he didn't have change for a $100. Jeremy tracked down the delivery man paid for the pizza and brought it to to the station. We dated for a year and then Jeremy broke up with me because he wanted to be 100% focused on his career. "Biggest mistake of my life." A for years later he tried to find me, and finally found me in FaceBook. To both of our surprise we lived in the same city!
We Are A Perfect Match
We are the perfect match because of our fight for us. We both understand that the other is not perfect, but we're a team and we support each other. We have always believed in and encouraged each other.
The Proposal
Jeremy surprised me at work. It wasn't elaborate because he knew I would know something was up. He had listened when I had mentioned that my desire was to be surprised. I was completely surprised as we had only been dating again for almost 3 months
The Planning Process
Engaged in November married in April! We probably could have used a little more time, but I feel that the time constraints helped with decision making. There was no time to waste.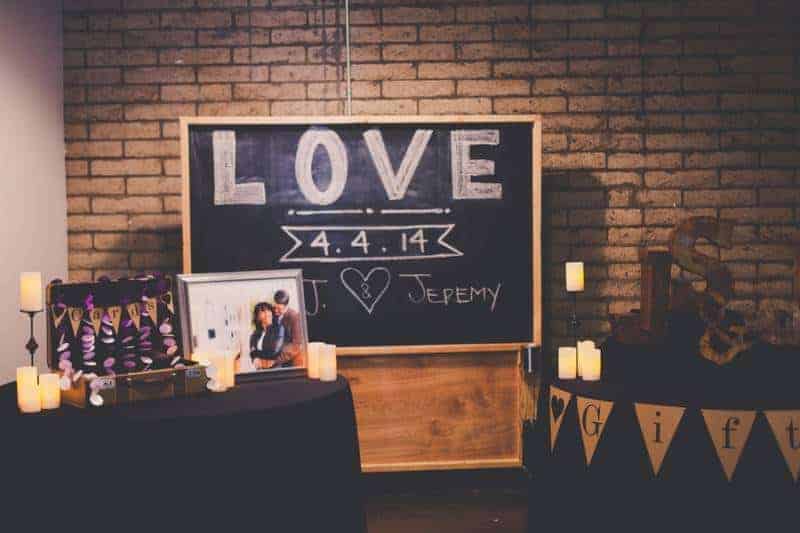 The Best Advice We Received
The best advice I received was to make sure I enjoyed the engagement as well as the wedding day. Something is not going to go as you planned, but don't miss living the moment worrying over the little things. Oh and I was told to leave for the honeymoon first thing the next morning! That was genius.
Tips & Tricks For Future Brides
Candles can be just as pretty as flowers and don't cost a fortune. Also candles can be used after the wedding in your home.
The Challenges We Faced
Finding a venue was so difficult. I felt that every place we looked was hiking up prices just because it's a wedding. I also found it difficult because we aren't the typical couple. We must have looked at over a dozen venues. My advice is look where you think would never work. We had our reception at a hotel, the last place I ever thought we would. I knew I was a ballroom bride, but jeremy convinced me to check a couple out. We found one with a terrace right in downtown, with an empty building next to that we could shine our monogram on. It was perfect.
Wedding Decor Inspiration
I thought having a theme for the wedding was crazy! It's a wedding- that's the theme. But as we were planning we wanted it to feel like us. So it was all about our love and our family. We chose things that represented who we were and what was important to us.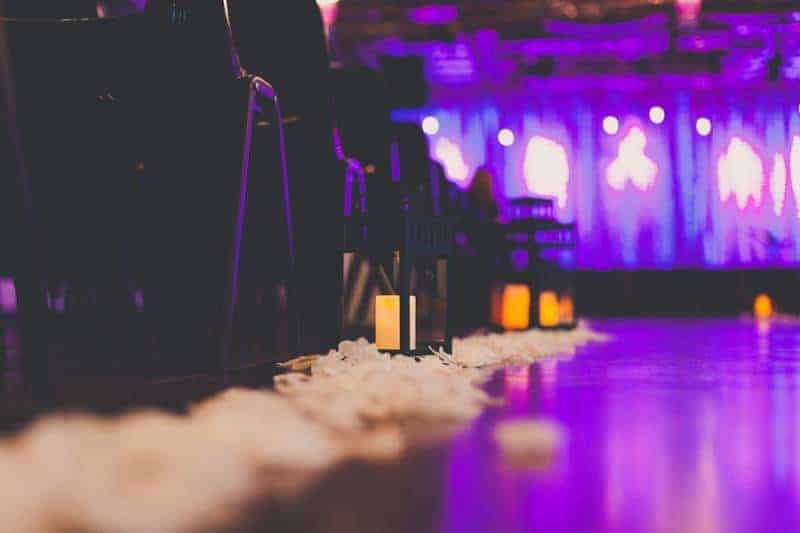 Our Do-It-Yourself (DIY) Projects
Friends and I made the backdrop for the ceremony. We cut thousands of paper circles punched a hole in every one and tied them to string.
Money Matters
We had a $7,000 budget since we saved a lot in hacing the actual wedding at our church. However, we spent much on the reception food.
The Guest List
250 invited guest to the ceremony, and 220 showed up. 125 people were invited to the reception and 120 showed for the reception.
We narrowed down our list by quarrying it down by splitting invitation between the ceremony and reception. We decided not to narrow down the list for the ceremony and have cake and punch at the church. Only close family and friends were invited to the reception.
The Songs
A jazz band played while guests arrived. The wedding party walked down to a spoken word accompanied by a saxophonist.
I walked down the aisle to a soloist singing Make Me Whole by Amel Larrieux.
For our feet washing ceremony the band sang an acoustic version of Sinking Deep by Hillsong Young & Free.
The Honeymoon
Went on a cruise and then spent a week at Disneyland
The Next Step
A new season of growth with a partner. I know I will be stretched in ways I've never been. Learn things about my husband and myself I never knew. Love and be loved in ways I never have.
Planning Advice For Couples
It's hard but enjoy it, laugh about as much as you can, and remember in the end it's about the covenant you're entering not the party
Favorite Part of the Day
Favorite part was dancing and being with our families.
Highlights from the Ceremony and the Reception
Highlights of the ceremony was during the feet washing, I went to take off Jeremy's socks and shoes so I could wash his feet and he had on rubber duckey socks! I couldn't help but burst into laughter which made the pastor explaining what we were doing stop and grab a sick and show everyone. It was such a perfect moment I will never forget. Reception- our monogram shining on the building across the street.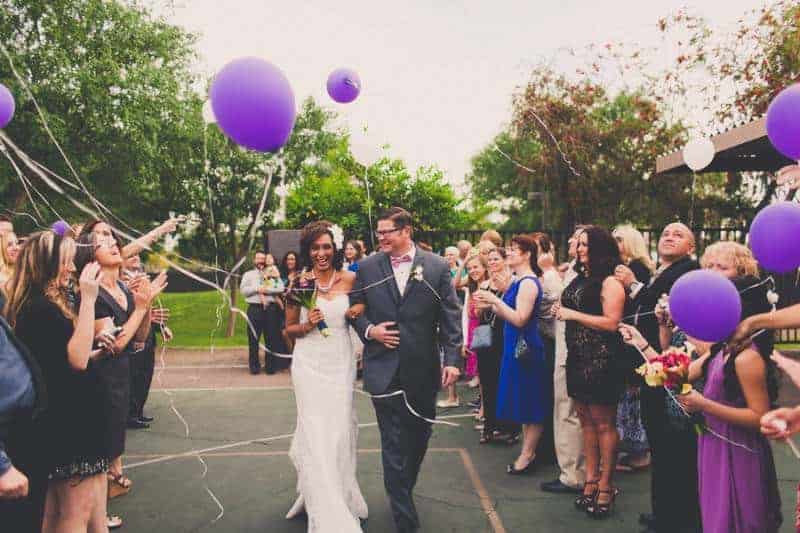 VENDORS
Photographer:  Mike Olbinski Photography
Other Location: Renaissance Hotel